Here's our weekly look at big events and big issues around Division I men's college hockey.
Jim: For the third time in five years, we're coming back to outdoor hockey at Fenway Park. Prior to Frozen Fenway part 2, I wrote a piece that said this was an idea that could become overdone. Now that the first part of Frozen Fenway 3 is over, I'm not alone as Notre Dame coach Jeff Jackson came out to say that there is simply too much outdoor hockey:
"This is a great event, and Fenway did a tremendous job, and I know all the ice guys tried to do the best they could considering the circumstances. Outdoor hockey is where the game started, but there's way too much of it going on right now. They're ruining it. There's too much. It's nice to have this event for Hockey East. It's great. But there's way too many outdoor games right now in my opinion."
This time, the Fenway ice really battled the elements. There was a constant need to fix the ice, ruts were deep and dangerous and a two-game doubleheader took a little more than 7.5 hours to play. In the end, the announced attendance was a little more than 31,000, but in no way were there that many fans in the stands. The bleachers at Fenway sat empty the entire night as did most of the seats in right field.
So I'll ask a question I've asked in this space before: When is enough outdoor hockey enough?
Todd: I think we're getting to the downhill side of the bell curve when it comes to outdoor games. Even though I'm against them, I'll be the first to admit outdoor games produce a great visual element. But what I've seen on TV from both Fenway Park and Comerica Park was a lot of empty seats, and that's not the kind of visual organizers want to see.
Part of that is the same kind of crowd loss we see on semifinal days of the NCAA regionals and Frozen Four, where some fans want to see only one game so their seat goes empty in the other. But Jackson is dead on in his assessment: This market is oversaturated.
So we've had the big years for holiday tournaments, which have fallen from their peak, and now maybe we're seeing the falloff for outdoor games. What kinds of events can be the next big thing in college hockey?
Jim: I don't think that there is a next big thing on the scale of outdoor games in the near future. There are some things I'd like to see happen both nationally and regionally. On the national scale, I personally would like to see the NCAA regionals held in two cities. Put eight teams into a mid-size venue and have them play what equals two regional tournaments over a four-day period.
One thing I recently began thinking about on a smaller scale has to do with next year's Hockey East. With Connecticut joining the conference, all six New England state schools will be in the same conference (UConn, Massachusetts, Massachusetts-Lowell, New Hampshire, Maine and Vermont). I would like to see the six count their league games against one another in a round-robin type of tournament. Make it so all of the games are completed by the third-to-last week of the season and, on that weekend, have the top four teams play a Governor's Cup tournament. It may require the teams asking for some exemptions from the NCAA to play up-to two extra games. And it's very much a pipe dream but something that's cool. How about you? Any grand-scheme ideas?
Todd: I liked the idea behind this season's Big Ten/Hockey East Challenge, where the leagues competed based on the interconference games they played, but with a six-team league and an 11-team league the numbers don't really match up.
I've wondered whether ESPN's college basketball BracketBuster idea would have any traction in hockey. Let's get together teams from Atlantic Hockey, ECAC Hockey and the WCHA (i.e., those without big TV contracts) and leave a date open in the second half of the season where we can create nonconference matchups where teams are matched based on their performance in the season so far. It would take a little bit of outside-the-box thinking, but it could create a buzz and give teams a chance at some RPI points.
Jim: I like your thought process on the bracket busters. It might be hard to sell to the masses, but it's a unique idea for certain.
Anyway, back to hockey. I have to say that Colgate opened a lot of eyes last weekend in Minneapolis. The Raiders nearly beat No. 1 Minnesota but still won in a shootout to advance to the finals of the Mariucci Classic. Then a win over Ferris State certainly answered questions on whether Friday's semifinal game was a fluke. Pretty impressive weekend for Colgate, I'd say.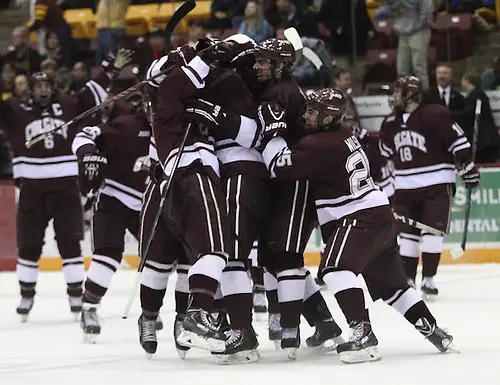 Todd: It makes you wonder where that Raiders team has been all year, doesn't it? I'm sure you'll get into that with coach Don Vaughan when he's a guest on the USCHO Live! talk show Tuesday night. What jumps out at me when I look at Colgate is that it has a lot of underclassmen leading the way, and that kind of formula often includes a healthy dose of inconsistency. If the Raiders are going to be a team to watch in the second half, they'll have to even that out.
I have to add that I was impressed by Alaska-Anchorage over the weekend. The Seawolves took it to then-No. 13 Wisconsin on Friday and lost on Saturday because of a deflected own-goal. First-year coach Matt Thomas has them playing with confidence as they head into a regular season-closing 14-game stretch of WCHA games.
Jim: Out east you also have to look at Boston College which, without key players away at the World Junior Championship, still grew its winning streak to five games. Massachusetts-Lowell continues to shine with a tie and another win against Clarkson. It was such a strange situation where the River Hawks faced the Golden Knights three times in a week because of a prearranged schedule of last week's Catamount Cup followed by a two-game series in Lowell.
On to this week. Out east, Quinnipiac will face both Rensselaer and Union this weekend in ECAC Hockey play, while Harvard and Yale will renew their rivalry on Saturday night at Madison Square Garden. Dartmouth and New Hampshire will square off in Manchester, N.H., in a battle of New Hampshire's two Division I programs. In Hockey East, Providence will travel to Boston College in an important league game.
What's to watch out west?
Todd: We get back into putting points on the line in all of the leagues, with No. 14 Wisconsin hosting No. 8 Michigan in the Big Ten and No. 17 Denver hosting No. 2 St. Cloud State in the NCHC. I'll be interested to see whether Western Michigan can keep its Great Lakes Invitational mojo going when it hosts No. 13 Miami. And we'll see how No. 3 Ferris State bounces back when it welcomes Michigan Tech.