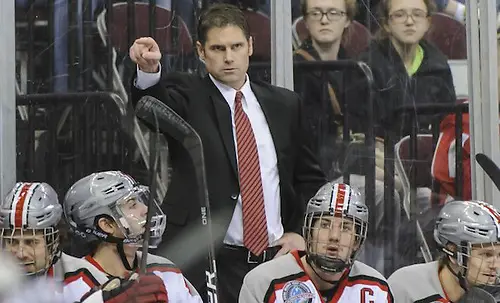 Here we are in January, about to start the second half of the season, and no one in the Big Ten has played more than four conference games. Now that everyone's had a midseason tune-up, it's time to head into conference play nearly exclusively, with just a smattering of nonleague games between now and the Big Ten tournament.
"I think our guys are excited," said Ohio State coach Steve Rohlik. "They're looking forward to it. I think everybody is just looking forward to getting back into some games."
The Buckeyes are especially looking forward to a little more action; Ohio State's midseason break was 26 days long. "It was the longest break I've experienced in college hockey," said Rohlik.
OSU tuned up for the second half with two wins over Mercyhurst, the team leading Atlantic Hockey with a 9-1-1 conference record. The Buckeyes won 6-3 on Dec. 28 and 7-2 the following night, and while Rohlik said that the first game was closer than the score indicates, he and the Buckeyes were happy with the offense's output, especially against a conference-leading team.
"They've been very successful," said Rohlik. "Rick Gotkin's taken them to national tournaments. We just happened to score some goals. They're leading that conference and they've got a chance [at another national tournament]. It was a good weekend for us.
"Any time that you go out and have success, that's a positive. For us, not playing since Dec. 2, there was a lot of concern being out that long, but I give credit to our team for being prepared."
The Buckeyes weren't the only team to find success at midseason. Wisconsin is 3-1 since Christmas, having swept Alabama-Huntsville (Dec. 27-28) and split with Alaska-Anchorage (Jan. 3-4), and the Badgers' last game was a win.
Michigan State was a shootout away from contending for the Great Lakes Invitational title, tying Michigan Tech 2-2 Dec. 27. The Spartans followed up the following night with a 3-0 blanking of Michigan in the third-place game of the GLI.
Penn State lost the title of the Three Rivers Classic 8-2 to Boston College, but the Nittany Lions at least got the chance to play for hardware after defeating host Robert Morris.
That is more than either Minnesota or Michigan can say. After disappointing midseason tourneys, both the Golden Gophers and the Wolverines are looking to use their performances as learning experiences.
"We've got a good team, but we're not a dominant team," said Minnesota coach Don Lucia. "We don't even have a 10-goal scorer on our team at this point in the season."
The Gophers tied Colgate 2-2 in their opening game of the Mariucci Classic, but the Raiders won the shootout to advance to the championship game. Lucia said that the overall outcome of the tournament was disappointing, but the Gophers did beat Rensselaer 6-2 in the third-place game.
"I think it was important," said Lucia. "You don't want to have a tie and a loss. It was good to get guys scoring some goals. It was nice to score a few goals. The power play scored a power-play goal every night."
Lucia said that heading into the second half of the season, the Gophers are relying on balance to get every single task done, including scoring. "We don't have one or two guys that are our go-to players."
Another team doing things by committee is a team that did, in fact, have a tie and a loss in its midseason tournament. After losing to Western Michigan 3-2 in overtime in the opening round of the Great Lakes Invitational, Michigan lost to Michigan State 3-0 in that tournament's consolation game.
Said Michigan coach Red Berenson: "We thought we had a little bit of momentum going into the GLI but you never know, after you take finals and you're off the ice for a couple of weeks, but nevertheless we were in a good battle with Western.
"The next day we weren't very good. We were just OK. We gave up a couple of weak goals. Michigan State played a good game with a lead. The conditions were good, so you can't look to that."
Berenson said that the tournament was a bit of a wake-up call for the young Wolverines. "I think the thing we take away from it is that we've got to be better. In the last six games, our power play has scored two goals and our penalty kill has given up six. We're on the wrong end of that. Overall, our team knows we have to play better.
"We can't be that bad [against Michigan State] and expect to win. When you win in the GLI, you use that as a building block. We'll be using the loss as a lesson."
Heading into league play, Rohlik said that no Big Ten team can be overlooked.
"All of us are in uncharted waters," he said. "Each had a little taste. Now you're going to see these guys week in and week out. It's going to be that team — knock on wood — that stays healthy through the stretch. We're going to use that last weekend as a positive."
The Buckeyes face Michigan State at home this weekend to begin the second half. "We're going to have to be a lot better," Rohlik said. "Michigan State has beaten some good teams. We're going to have to play our A game or there's no chance."
The Wolverines head to Wisconsin, and they do so with the question of who's going to start in net, freshman Zach Nagelvoort or sophomore Steve Racine.
"We haven't really been able to rotate goalies," said Berenson. "I can tell you that we have two starting goalies. In the last five or six games, we've played a single game on a weekend or during the week."
Nagelvoort had the loss to Western Michigan while Racine had the loss to Michigan State. "Racine was victimized by a couple of goals that were subtle deflections," said Berenson. "They looked soft but they weren't."
The first half of the season — with its scant Big Ten conference play — should have been a good warmup for the Wolverines, said Berenson. "I would've told you before the GLI that it helped us. We had some good games with Boston College and New Hampshire and UMass-Lowell. The [Michigan] Tech games were one-goal games, and the games against Ohio State and Ferris State were good. But the GLI was kind of a stinker for us.
"We've got a lot of young guys. We have 10 freshmen on our team and nine of them have played a lot in the first half, so that should help us."
The Gophers are looking at some interesting scheduling to begin the second half.
"We're going to have a quick turnaround," said Lucia. "It'll be a critical four-game segment."
Minnesota faces Penn State on the road this coming Sunday and Monday, then hosts Ohio State the following Friday and Saturday (Jan. 17-18).
"We haven't seen so many of the teams yet," said Lucia. "We haven't seen Ohio State, we haven't seen Penn State, we haven't seen Michigan. Our kids haven't been at Yost, they haven't been at Ohio State, they haven't been at Penn State. Now as you start to wind down the second half, things are new.
"I'm just glad we're 3-0-1 in league play going into the second half of the season."
Coming up in the second half, Minnesota also has the Minnesota Cup (Jan. 24-25) at the Xcel Energy Center in St. Paul, Minn. That tournament features St. Cloud State, Minnesota State and Minnesota-Duluth as well.
Penn State hosts Boston College on Jan. 25. Michigan State has an exhibition game against the U.S. Under-18 Team on March 1. Otherwise, it's all Big Ten play from here on out.
Speaking of rotating goalies …
Why have just a few goaltenders on your roster when you can have six?
Ohio State has had six goaltenders on its roster this season. The latest edition is freshman Christian Frey, who earned those two wins against Mercyhurst in his first two collegiate games.
"If we can't win with one, we'll put six of them in there," Rohlik quipped. "You can't make this up. You just have to keep up with it."
The Buckeyes began the season with freshmen Matt Tomkins and Logan Davis, plus sophomore Collin Olson. Olson, playing behind Tomkins, left the team in November to seek more playing time in the USHL. That's when Tomkins was injured and third-string walk-on Davis became the starter.
Backing him up were junior Aaron Gretz and sophomore Aaron Kahn. Gretz was and is the starting catcher for the Buckeyes' baseball team; in fact, he's returned to baseball and is no longer playing hockey. Kahn was the starting goaltender for the Ohio State club team. He gave up his entire year of club eligibility to be the interim third-string goalie for the Buckeyes.
Now there's Frey, who comes to Ohio State from the Dubuque Fighting Saints of the USHL, where he posted a 10-4 record in the first half of the season with a 2.29 GAA and .911 save percentage.
"He played in Dubuque the first half of the year," said Rohlik. "I've never been around when a guy plays games and he hasn't even taken a class yet."
Yes, you read that correctly. Frey has two wins to his credit before he's even stepped foot in the classroom at Ohio State.
With all the chaos surrounding the goaltending position, Rohlik said that the Buckeyes coaching staff "basically went into recruiting mode."
"Joe was familiar with a lot of goalies," said Rohlik. "Both Brett and Joe hit the trail and looked at a lot of kids."
Joe is assistant coach Joe Exter, who was a goaltender at Merrimack from 2000 to 2003. Brett is assistant coach Brett Larson — not a former goalie, it should be noted. Larson was a defenseman for Minnesota-Duluth (1991-95).
"There's a lot to it," said Rohlik. "You've got to see a kid, talk to a lot of people, ask how his character and his work ethic are, and then obviously ask about academics. And you don't want to be involved with taking a kid out of junior hockey in the middle of the year. They're there to develop."
Rohlik credited Dubuque coach Matt Shaw, a former New Jersey Devils assistant, with making the acquisition of Frey go much more easily.
"It's a great opportunity for one of his players," he said. "For the way they handled it there, I tip my cap to them. It affects a lot of things. There's a lot of moving parts. It was a tough situation all the way around. It's tough for the team if we're taking a kid in the middle of the season."
Frey seems to be a good fit with the team, said Rohlik, and the entire goaltending experience has done a lot to help the Buckeyes in unexpected ways, like learning to roll with certain punches.
"I think our guys have really handled it in a great fashion," said Rohlik. "They've become closer. They've learned they have to play a better defensive game."
For the record, Tomkins — a 2012 draft pick of the Chicago Blackhawks — is expected to return soon.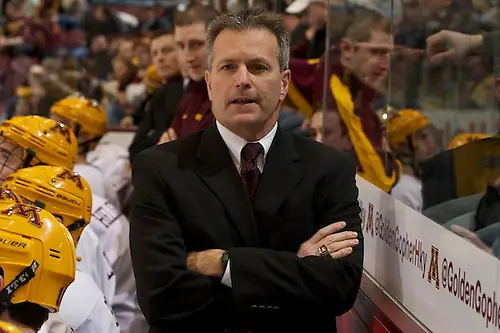 Malmo is lovely this time of year, but the trip was a bit short
Lucia's recent trip to Sweden ended more quickly than he would have liked. The Minnesota coach was the head coach of the U.S. team that bowed out to Russia in the World Junior Championship tournament in Sweden.
The coaching staff also included Boston College associate head coach Greg Brown, Denver assistant coach David Lassonde and St. Cloud State head coach Bob Motzko.
"It was a tremendous experience," said Lucia. "The hockey was really good. It's amazing how competitive and good all the teams are."
The U.S. team lost a single-elimination game to the Russian team after losing its pool in a close game to Canada. In spite of the disappointing outcome, Lucia said he couldn't have asked his team for anything more.
"I really enjoyed our team," he said. "They bought into how our team needed to play for our team to be successful."
Lucia said that there was a "four-minute stretch against Canada" that the U.S. team would've liked to have had back, and the squad took some uncharacteristic penalties in that game.
"Their goaltender played well," Lucia said. "We probably should have been ahead after the first. We played a really disciplined tournament overall, but there were a couple of penalties. You're going to get some calls in international hockey that maybe aren't called that way here.
"The experience really was tremendous. I like the kids we had on our team. Like I said, it was phenomenal."
As a coach, Lucia said that he learned a lot from the tournament.
"You get exposed to a level of play. That's one thing," he said. "How competitive those games are. You can win or lose a game based on one shift, on one penalty. That's how tight those things are. It reminds me of the NCAA tournament, to be quite frank.
"We had a really good staff to work with, too. Jimmy Johannson [director of international activities] does a terrific job with USA Hockey."
Lucia said that he especially enjoyed working with the other three coaches and enjoyed exchanging ideas with each of them.
"There's not enough of that in what we do because you spend so much time recruiting," he said. "There's not enough job enrichment at times. Just watching the international coaching was interesting, too. You can bring some good ideas back."
Lucia said that he texted the Minnesota players who made the 2014 U.S. Olympic roster when he returned from Sweden.
"It's a little different than what the NHL guys are going through," Lucia said. "It's such an unbelievable honor. To be named, it's just a special moment for every team, every player."
Twenty of the 25 players on the U.S. men's Olympic team played NCAA hockey. Decades after all Olympians were required to be amateur athletes, this is significant, said Lucia.
"It is different," he said. "It's always going to be pros playing in the Olympics. That's why the Olympics — there's no question for me — is going to be the best hockey there is."
Players of the week
It's all about the juniors this week.
First star — Minnesota junior forward Travis Boyd: Boyd had two goals and two assists in the Mariucci Classic, with a career-high three points (a goal and two assists) in Saturday's 6-2 win against Rensselaer. Boyd has surpassed his goal total of four from the 75 games played in his first two seasons; he now has five goals and seven assists.
Second star — Minnesota junior forward Kyle Rau: Rau had two goals and an assist at the Mariucci Classic, including the a helper on the game-tying goal against Colgate Friday — his 100th career point. Rau has five goals and 14 assists on the season.
Third star — Wisconsin junior defenseman Jake McCabe: McCabe had two goals and an assist in Wisconsin's 4-3 win over Alaska-Anchorage last Saturday, earning the Badgers a split on the weekend. McCabe's third-period goal in that contest was the game winner, his first of the season. In 18 games this season, McCabe has five goals and 10 assists; McCabe had three goals in each of his first two seasons with the Badgers.