Oliver Wahlstrom is 13 years old, a seventh-grader at Maine's North Yarmouth Academy and has made a verbal commitment to his home-state Black Bears.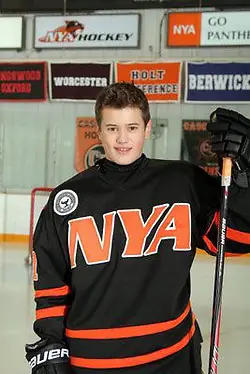 The college hockey recruiting world took notice of that last fact when it started making the rounds Thursday night after his school and family got the publicity going.
In addition to being the first player from the 2000s to have given a college hockey team a verbal commitment, Wahlstrom, 5-foot-9, 155-pound forward, is the youngest known player ever to have verballed in hockey.
Is he ready at age 13 to make that call when he won't be a college player until the fall of 2019? That's impossible to say, but his coach at North Yarmouth Academy said Wahlstrom has traits beyond his years.
"I think what's unique about Oliver is his maturity at his age, as funny as that sounds," said Eric Graham, the second-year varsity coach at the prep school. "He's a very mature kid. He's very committed to working hard and reaching his goals, much more beyond a typical seventh-grader for sure.
"He's very rigid and very structured in his approach to the game, and I think that's helped him get to this point. I think it also helps that he's a Maine kid. And obviously, every Maine kid grows up dreaming to go to the University of Maine."
Five years ago, while I was covering Wisconsin for The Capital Times, I talked to 14-year-old Jordan Schmaltz, who had just given the hometown Badgers a verbal commitment before he started high school.
His father, Mike, said it was "surreal" that his 14-year-old son was getting a scholarship offer.
Schmaltz is currently in his second season at North Dakota, proof that careers don't always progress as originally planned.
Wahlstrom has earned his share of attention, even before his early commitment.
YouTube helped with that:
[youtube_sc url=https://www.youtube.com/watch?v=6TxGVSw6Ayw]
[youtube_sc url=https://www.youtube.com/watch?v=1USRRFzwR04]
Graham said being a viral phenom helped turned Wahlstrom into a known commodity.
"He's definitely someone that has had attention following him around, and I think it was only a matter of time once he started playing at the high school level that some colleges were going to start catching onto the buzz," Graham said.
That transition to varsity came this season, and Graham said Wahlstrom's skating ability makes the seventh-grader able to compete at the higher level.
His awareness of where everyone else is on the ice doesn't show up in those YouTube clips, but it may be one of the better parts of his game.
"I think that is so far beyond a typical 13-year-old skill set," Graham said. "It's really off the charts, especially with the ice awareness."
Maine coaches aren't able to talk about Wahlstrom until after he signs a National Letter of Intent, and that day is quite a ways away.
No one knows for sure what will happen by 2019, when Wahlstrom is now scheduled to join the Black Bears. Will his career stay on the same advanced arc? Will Maine have the same appeal to him? Will major juniors get in the picture?
Given all that, let's just take this development as what it is: another sign that college hockey recruiting is going younger, yes, but also just a nonbinding commitment.