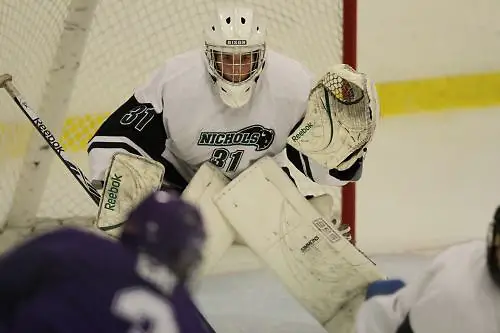 Our slew of men's Division III columnists is back in the saddle this week with their weekend predictions.
How will games the next few days shake out? Our people have some ideas…
ECAC East – Tim Costello
The first picks of the second half finished at 3-1-1 (.700), which continues this season's solid performance at 22-7-4 (.727) overall.
This week finds excitement at Frozen Fenway for two of the nation's best (played Thursday night) and several other key matchups and I won't shy away from picking the tough ones. It is just a question of how well I can pick them.
Friday, Jan. 10
University of New England @ St. Anselm
The second half did not start so well for the Hawks, but home ice could be a welcome venue against a very game Nor'easters squad. The Hawks need to get more consistent in their overall game and this weekend's conference matchups bring that focus to the still young team. St. Anselm 4-3.
Skidmore @ Plattsburgh
The Cardinals fell from the No. 1 perch nationally this week so what better way to send a strong message on their quality of play than a quality win against a strong ECAC East opponent. There is too much firepower and disciplined play from the Cardinals for the Thoroughbreds to run amok on the road. Plattsburgh 5-3.
Norwich @ Massachusetts-Boston
What a weekend with three teams being nationally ranked facing each other. The venue is not a Frozen Fenway locale, but the intensity is just as high at the Clark Center for these teams battling for top spots in the standings. It is a playoff-type atmosphere but the Cadets defense is just good enough to hold off the high-powered Beacons. Norwich 4-3.
Saturday, Jan. 11
Castleton @ Plattsburgh
It's the back end of the travel partners playing against the leaders from the SUNYAC conference and while this one is close, the home team takes it on the strength of special teams for a weekend sweep. Plattsburgh 3-2.
League leaders or other match-ups are all important points and potential tie-breakers – drop the puck!
ECAC Northeast – Nathan Fournier
Friday, Jan. 10
Manhattanville at Curry
Curry continues to struggle after dropping games last week to Oswego and Wisconsin-Stout. It doesn't get any easier with Manahattanville coming into town. Manhattanville will be playing its first game of the New Year. They possess a potent power play at 28.6 percent. I expect them to have no problem with Curry in a 5-1 victory.
Hobart at Nichols
This will be a very entertaining game with Hobart playing a very competitive schedule and Nichols off to a strong start. Hobart relies on everyone on the roster to contribute, while Nichols has four guys with ten or more points. Both teams are very good on the penalty kill. I expect this game to be a tight game. I will go with Nichols 3-2.
Western New England at Utica
This should be a very wide-open game with Western New England scoring 44 goals in 12 games with Utica scoring 46 goals in 13 games. Utica is 3-2 at home, while Western New England is 1-3 on the road. I think Western New England doesn't have the depth as Utica and I have the Pioneers taking this game 5-3.
Saturday, Jan. 11
Curry at Connecticut College
Both teams are looking for wins, so I expect it to be a competitive game. The Colonels will have to try to keep JC Cangelosi in check who has six goals and eight assists in 11 games for Connecticut College. I will go with Curry in a 3-2 game.
Morrisville at Nichols
Morrisville has struggled this season, so it could a trap game for Nichols. The Mustangs have a very good power play at 25.4 percent. Two of their three wins this season have come on the road. I will go with the Bison of Nichols in a 6-4 contest.
Hobart at Salve Regina
The Seahawks will have a tough test against Hobart. They also need a victory as they have lost six in a row. The good news is they return home where five out of their seven wins have come come from. Hobart will be playing their second game in a row. In a high-scoring affair, I will take the Seahawks 5-4.
Canton at Suffolk
Canton is 1-2 against ECAC Northeast opponents this season, picking up a victory over Becker while falling to Western New England and Nichols. This should be a competitive game with Suffolk. The Rams are 3-1 at home, which I expect to help them as they look for their first victory of 2014. Suffolk in a 5-2 contest.
Sunday, Jan. 12
Morrisville at Becker
The Hawks are hoping for a better start in the second half of the season after a rocky first half. They should be ready to go as they wait for Morrisville to roll into town. Cody Edwards is expected to be a leader for Becker offensively. If he can get going, Becker will be a very tough team to play against. At the end of the day, I will take Morrisville in a 4-3 game.
Canton at Curry
Curry will be playing their third game of the weekend. There will be some tired legs for them, but Canton should have some bus legs of their own. It won't be the greatest game to ever be played, but it will a competitive one. I will take the home team in this one and I predict Curry picking up its second win of the weekend in a 2-1 game.
Monday, Jan. 13
Stonehill at Western New England
Stonehill is a team to be respected and Western New England will have its hands full. They are very good on the penalty kill and have four wins on the road. They also have five guys with 10 points or more. The Golden Bears are 6-1 at home. Western New England will take this game 6-3.
Tuesday, Jan. 14
Western New England at Assumption
Assumption has struggled this season and I believe Western New England should have no problem with Assumption. The Greyhounds have a respectful penalty kill which could frustrate the Golden Bears, if they can't get their power play going. Western New England takes this one 7-1.
Manhattanville at Nichols
This is will a very good midweek nonconference contest. The key for Nichols is to make sure Manhattanville doesn't get out to a lead in the first period. The Valiants are 6-0 when they leading after one period. I expect Alex Larson to see a lot of pucks in the game. In the end, I see him backstopping Nichols to a 4-2 win.
Salve Regina at Oswego
The Seahawks play another strong nonconference opponent in Oswego. It will be a good test for Salve Regina heading into in conference play. If Salve Regina can outshoot Oswego, they could have a chance as the are 6-2 when they are outshooting their opponents. Still, I think Oswego will take this game 7-4.
Wednesday, Jan. 15
Stonehill at Becker
Stonehill has offensive firepower that I believe will be tough for Becker to contain. They are very good at closing games with a 5-1 record when leading after two periods. I have Stonehill winning 6-2.
ECAC West – Dan Hickling
Friday, Jan. 10
Western New England (8-5-0) @ No. 8 Utica (9-2-2) – Utica 4, WNEC 2
WNEC is a Jekyll and Hyde bunch — can't lose at home, can't seem to win on the road. Utica, which has been ambushed before at home (remember Morrisville?), will not be caught laying back this time.
Saturday, Jan. 11
Hobart (4-4-4) @ Salve Regina (6-7-0) – Hobart 5 Salve Regina 1
Here you have two teams heading in opposite directions. Hobart is fresh off its win against (then) top-ranked Plattsburgh eager to get back into the national picture. Salve is in a free-fall having lost six straight after a 6-1-0 start. No change in trajectories this time out.
MASCAC – Nathan Fournier
Saturday, Jan. 11
Worcester State at Massachusetts-Dartmouth
Both teams have struggled so far this season, but at times, UMass-Dartmouth has been competitive and I believe they will come out on top. If Worcester State can outshoot UMass-Dartmouth, the Corsairs haven't won a game when outshooting their opponnet. I have the Corsairs winning 4-2.
Plymouth State at Salem State
Even though Plymouth State is traveling to Salem State, I give them the advantage because I think Salem State will have a let down game after playing in Fenway Park. Plymouth State will be hungry for a victory, so I will take the Panthers in a 5-3 victory.
Framingham State at Westfield State
This should be a very good contest. Framingham State is coming off a tough loss to Western New England last weekend. Both teams have four wins in the conference. I think Westfield pulls it off in a 3-2 win.
Tuesday, Jan. 14
Westfield State at Southern New Hampshire
Southern New Hampshire has a strong club and have scored 59 goals and have a 36.1 percent conversion rate on the man-advantage. Westfield will have to tighten up their power play. I will take Southern New Hampshire in a 6-4 game.
Thursday, Jan. 16
Massachusetts-Dartmouth at Framingham State
A game that sees last season's MASCAC playoff champion and the team that has finally reached their potential this season in Framingham State. I expect it to be a very tight game, but I believe UMass-Dartmouth will get snakebitten in a close game once again. The Rams will take it 4-3.
Salem State at Westfield State
Salem State should be refocused and take on a Westfield team that will be playing their second game in three days. In a tight conference, this game means a lot to both teams who are looking to be one of the top four teams in MASCAC. The Vikings take this one 6-3.
Fitchburg State at Plymouth State
The Falcons of Fitchburg State could climb to the top half of the MASCAC with a victory. They spread their offense over four players who have accumulated 10 or more points this season. Picking up a win over last season's regular-season champion will be a confidence boast. The Falcons win it 4-3.
MIAC/WIAC – Brian Lester
As we enter the second weekend of January, teams in the MIAC and WIAC find themselves involved in several crossover games.
They are the type of games that provide good tests for the teams from both leagues and can turn out to be launching pads for success in league play or hamper the momentum teams hope to carry back into conference play during the second half.
The delay is over, though. It's time to take my best shot at predicting the outcomes of this weekend's games.
Here are the picks. Enjoy your weekend.
Friday, Jan. 10
St. John's vs. Wisconsin-Sout
The Johnnies enter this game at 6-6 overall and will be looking to take care of business at home. They haven't been bad offensively, scoring 31 goals on the year, but only two players have four or more goals. Josh Gross and Tyson Fulton have tallied four goals apiece and will be counted on to play well this weekend.
But the big key for the Johnnies is to get the job done on defense behind the play of goalie Saxton Soley. He has allowed 19 goals and has racked up 200 saves on the season. If he plays well, the Johnnies are going to be in a position to win.
Stout has won two of its last three and is 4-8. The Blue Devils seem to have found their footing after losing five consecutive games and they are capable of matching the Johnnies from an offensive standpoint.
Kevin O'Donnell leads the Blue Devils with seven goals. Stout has scored 33 goals in all. But Stout has allowed 37 goals on the year and the play of goalie Corey Koop could make or break Stout's chances in this game. He has allowed 34 goals and has tallied 378 saves. I'll give the Johnnies the edge because they are at home. St. John's, 3-2.
St. Olaf vs. Adrian
The Oles have played a rigorous schedule already, facing off against several nationally-ranked teams, and it doesn't get much easier playing top-ranked Adrian.
St. Olaf comes in on a three-game winless streak and is 3-8-2 overall. For the Oles to have a shot, Dan Cecka has to be on top of his game offensively. Cecka has racked up seven goals and three assists on the year. The Oles will have to be on top of their game defensively as well. They have allowed 40 goals on the year.
If St. Olaf can steal momentum early, it might have a shot, but it won't be easy against an Adrian team that is 12-0-1 and ranked No. 1 for the first time in program history.
The Bulldogs have punched 63 goals into the net, including 15 by Josh Ranalli, and have allowed only 16 goals on the season. Adrian simply has too many offensive options to come up short in this one. Adrian 5-1.
Bethel vs. Wisconsin-Superior
Bethel hasn't had an easy season, sitting at just 1-9-2 on the year, and it has yet to win a game at home. The Royals have been competitive, though, losing six games by a goal, and I expect them to battle hard again on Friday.
Bethel needs to be productive on offense. It has scored only 24 goals on the year, with Brock Rafaelle and Travis Payne tallying five goals apiece. If others can step up around them, the Royals could be in a position to grind out a win.
Superior is only 4-7-2 and has tallied 32 goals on the season. Pat Dalbec and Cody Hotchkin have struck for five goals apiece. The Yellow Jackets have allowed 37 goals, though, while Bethel has given up 40.
The team that takes control early is going to be in good shape and skate to the win. Superior is on a four-game winless streak but I expect them to end that against the Royals. Superior, 4-3.
Wisconsin-Stevens Point vs. Lawrence
The Pointers are No. 2 in the country and 11-1 on the season. They have won their last two games and nail down another win at home.
With 69 goals on the year, Stevens Point will be tough to deal with. Garrett Ladd leads the way with 12 goals and Joe Kalisz has tallied eight goals. Five other players have scored at least five goals, and that balance can be a pain to deal with for any opponent.
If the Pointers are clicking offensively, they are going to be just fine because I don't think Lawrence will be able to keep pace with their offensive attack.
The Pointers have also been tough on the power play, having scored 14 goals in 52 opportunities. Opponents are just 6-of-58 on the power play against the Pointers.
Lawrence, after all, has struggled to keep opponents off the scoreboard. It has allowed 58 goals on the season and has scored just 36 goals. Blake Roubos leads Lawrence with six goals and nine assists.
Goalie Anton Olsson will be tested for Lawrence, and if he plays his best game of the year, perhaps the Poiners will be upset. I don't see it happening. Stevens Point, 6-1.
Saturday, Jan. 11
Gustavus Adolphus vs. Adrian
Gustavus is having a pretty good season. The Gusties are 7-3-2 and haven't lost a game since Nov. 15. It has picked up five wins during that seven-game stretch, but keeping that momentum going won't be easy against the Bulldogs.
Gustavus has scored 40 goals this season, including eight by Corey Leivermann, and John McLean has racked up 229 saves while fashioning a 2.52 goals against average. Gustavus should be able to hang around, but pulling off the upset will require its best effort of the year. Again, I think Adrian's offense will be too much to handle. Adrian, 5-2.
Concordia (Minn.) vs. Wisconsin-Stout
The Cobbers are 9-3-1 and have won three consecutive games. Caleb Suderman has been pivotal to Concordia's success, having scored nine goals and dished out seven assists on the season.
If he has a big game, the Cobbers are going to be in a position to take care of business. Concordia has tallied 43 goals in all and should have the edge offensively against Stout. The Cobbers will also be able to lean on the play of Chris Neamonitis, who has a goals against average of 1.82. If he is on top of his game, the Cobbers won't have any problems winning this nonconference battle. Concordia, 5-2.
St. Thomas vs. Wisconsin-Superior
The Tommies have a MIAC championship in their sights this season and the last thing they want to do is have that momentum slowed down by a nonconference opponent. St. Thomas is 8-2-2 and has lost only once in its last seven games.
The difference-maker could be goalie Drew Fielding, who owns a goals-against average of 1.64. He has racked up 319 saves on the season and he will make it difficult for the Yellow Jackets to cash in on scoring opportunities.
Plus, the Tommies aren't bad on offense either. Alex Altenbernd leads the way with six goals, but his teammates are more than capable of stepping up at any given time. I don't expect St. Thomas to have a tough time picking up another win. St. Thomas, 4-1.
Wisconsin-Eau Claire vs. Lawrence
Eau Claire is starting to find its stride a bit, having won three consecutive games, and this will mark the second time this season the defending national champions have played Lawrence.
The Blugolds earned a 5-0 win in the last meeting and I don't expect that result to change too much this time around.
Joe Krause leads Eau Claire with eight goals and seven assists and the Blugolds have scored 45 goals as a team while allowing only 25. Offensively, they should be able to overwhelm Lawrence and make it tough for goals to be scored as well. Eau Claire, 4-0.
NESCAC – Tim Costello
The snow storm on New Year's did raise some havoc with the schedule, including the postponement of Trinity vs. Becker. I still finished at 3-1-0 (.750) for the week and now stand at 15-2-2 (.842) overall. Back into league play this week and everything is up for grabs for just about everyone in the conference.
Here are the picks:
Friday, Jan. 10
Wesleyan vs. Williams
The Cardinals really have shown their balance in scoring across key players like freshman Elliott Vorel, senior Keith Buehler and last week's conference player of the week, Jay Matthews. Only problem is the Ephs just don't give up too many goals. In this case, the defense wins out at home. Williams 3-2.
Trinity @ Middlebury
Congratulations to coach Bill Beaney on his 500th win at the school last weekend. He is just 14 wins away from 600 for his overall career and the Bantams would be a big win for his team that looks to continue their current winning streak on home ice. Middlebury 4-2.
Saturday, Jan. 11
Hamilton @ Colby
The Continentals have two big time players in Michael DiMare and Joe Quattrocchi and their leadership will be a big difference maker against a still-maturing Colby squad that is looking for consistency in their overall game. Hamilton 4-2.
Amherst @ Bowdoin
The Polar Bears will need to find their game in high gear to start their move up the standings and beating a team above them is a good way to start move north. Hopefully, the holidays have a healthy lineup paying dividends for the home team. Bowdoin 3-1.
Williams @ Johnson and Wales
The Ephs have had an interesting New Year already with a holiday tournament, date at Frozen Fenway and two tough league opponents right out of the gate. That said, they won't take J & W lightly on Saturday night on the road. Williams 4-1.
It's time to see who is going to get hot and who is still on break – drop the puck!
SUNYAC – Dan Hickling
Friday, Jan. 10
Skidmore (6-4-4) @ No. 3 Plattsburgh (10-1-2) – Plattsburgh 3, Skidmore 1
The Cardinals are bound to be feeling a little owly after suffering their first loss of the year last weekend and being toppled from the No. 1 ranking, and on home ice, no less. Skidmore is a solid club, but Plattsburgh will likely be on its full game.
Sunday, Jan. 12
Morrisville (3-8-1) @ Becker (1-9-2) – Morrisville 5 Becker 3
An interconference tilt pitting a pair of victory-starved clubs. Should be interesting. Should be a win for the 'Stangs.