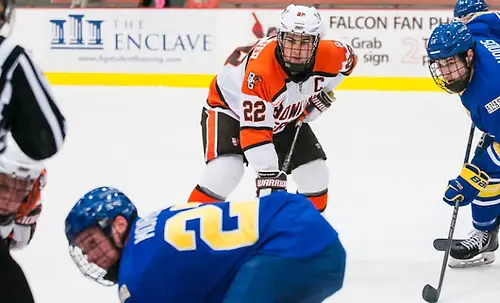 Fool me once, shame on you. Fool me twice, shame on me.
That cliché summed up the mind-set of Bowling Green junior forward Ryan Carpenter last week as he once again prepared to make his regular season debut for the Falcons.
Carpenter, an all-WCHA preseason first-team selection, missed the Falcons' first 24 games of the 2013-14 season because of two separate injuries.
He finally returned to the lineup last week at home against Alaska and got a goal to top it off as the Falcons took three of four league points to move into second place in the WCHA.
"I've gotten my hopes up so many times — I was prepared but I didn't want to get my hopes up," Carpenter said Friday after BGSU's 3-0 win over Alaska.
Carpenter broke a finger during an Oct. 5 exhibition when he was hit by a shot. Then, just two days before he was supposed to return against Ferris State, Carpenter broke his foot in practice courtesy of another shot.
It wasn't until a week ago that Carpenter finally let his guard down.
"I knew when it felt good on Thursday, I knew I was playing. It was a good feeling," Carpenter said.
"I usually nap before the game, but my mind was just racing. I didn't know I was going to play until Thursday. My foot kept progressing."
Carpenter led Bowling Green with 18 goals and 15 assists as a sophomore center last year in the CCHA.
Against the Nanooks, he was at wing, although coach Chris Bergeron said that will change when the team returns to action Jan. 24-25 against Lake Superior State with Carpenter returning to his natural position.
"He obviously reminded us all of how positive a presence he is on the bench, in the dressing room," Bergeron said during his weekly news conference on Tuesday. "He was rewarded Friday, could have been rewarded Saturday. He had a couple good chances, especially in the first.
"He is progressing to where I think he's pretty close to 100 percent, if not there. Now it's make sure he is in condition and in shape. The only thing he didn't do, which I'd like to see him do, is kill penalties. At least be in that conversation."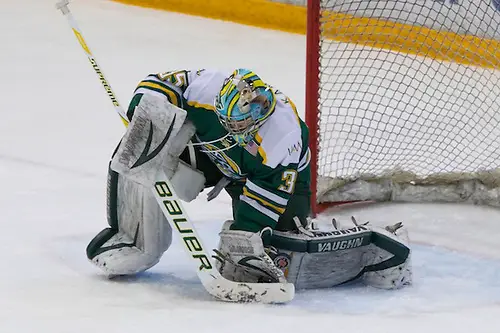 Kamal emerges for Seawolves
Alaska-Anchorage senior goaltender Chris Kamal's first action of the season came in a relief appearance against Minnesota State in Mankato on Nov. 30. His team trailed 3-1 in the first period, and he gave up four more goals the rest of the way in what ended up as a 7-3 loss.
Fast forward six weeks, and Kamal was shutting down the Mavericks in Anchorage. Despite a lopsided shot advantage in favor of Minnesota State, Kamal allowed just two goals on 64 shots in a pair of upset victories, 2-1 and 3-1.
After that first appearance in Mankato, Kamal sat out another three games before getting his first start of the season on Dec. 14 against Lake Superior State. He recorded a 19-save shutout that night. He has started the Seawolves' last five games, going 4-1 in that stretch, including an impressive road split at Wisconsin.
"It's been fun for me," Kamal told the Anchorage Daily News after his 35-save performance against Minnesota State on Saturday. "These guys are playing such good hockey."
Before Kamal moved in, another senior, Rob Gunderson, got most of the action, playing in 12 games. Freshman Michael Matyas played in six games.
Big series in Mankato
One of the most anticipated series of the first season of the new-look WCHA will take place this weekend when Ferris State plays at Minnesota State.
The teams were the top two picks in both preseason polls (coaches and media), with the Mavericks being the overwhelming favorite and the Bulldogs following in line at the time.
The standings don't reflect those late-summer picks, however. No. 2 Ferris State leads the WCHA by five points with four games in hand on second-place Bowling Green and has yet to lose a league game. Third-place Minnesota State, which has played two more games than Ferris, is six points behind in the standings.
The Bulldogs boast the WCHA's top offense (3.39 goals per game) and defense (2.09), while the Mavericks have the conference's best power play (21.2 percent) and penalty kill (88.5).
Ferris has been unbeatable so far in the WCHA at 12-0-2. The Bulldogs have captured 26 of 28 league points, but FSU coach Bob Daniels said the team is not chasing points.
"What we're trying to do is chase performance," Daniels said Saturday following a sweep of Michigan Tech. "We want to have good performance night in and night out. That's what we'll talk about over the course of this week as we get ready for Mankato — chasing good performances, chasing good hockey."
Around the WCHA
• Northern Michigan redshirt freshmen goaltender Mathias Dahlstrom has quietly emerged as one of the league's best goaltenders, boasting a .946 save percentage and 1.53 GAA in league games this year to lead the WCHA in both categories. Overall, Dahlstrom ranks fourth in the league in GAA (2.10) and third in save percentage (.930). His team in front of him is averaging only 2.25 goals per game in conference play and 2.30 goals per game overall.
• Since sweeping Alaska in Fairbanks Nov. 29-30 for its first two road wins of the season, Michigan Tech has won just once — Jan. 4 at Lake Superior State — since then, going 1-5-4. The one win and four losses all were decided by a goal. The Huskies have played in 13 consecutive games that ended in a tie or one-goal margin dating to a 2-2 tie on Nov. 23 at Alaska-Anchorage. In 20 games this year that were decided by a goal or ended in a tie, Tech is 5-9-6.
• Lake Superior State freshman forward Alex Globke was credited with an assist on all three Lakers goals against Bemidji State. Globke leads LSSU in scoring with eight goals and 13 assists. He's fifth in the league in overall points and third in assists. Globke also leads all WCHA freshmen in scoring.
• Bemidji State not only snapped an eight-game winless streak with its sweep at Lake Superior State last weekend, but with its sixth and seventh wins of the season, it surpassed last season's win total of five.
• Seven WCHA players are included in the Hobey Baker Award's online ballot for the fan voting phase of the selection process. Fans can log on and place one vote a day during the process. The WCHA players include: Alaska's Cody Kunyk; Bowling Green's Dan DeSalvo and Bryce Williamson; Ferris State's CJ Motte and Garrett Thompson; and Minnesota State's Jean-Paul LaFontaine and Matt Leitner.
• This week's WCHA players of the week were Bemidji State forward Cory Ward (offensive) and goalie Jesse Wilkins (rookie) and Alaska-Anchorage goaltender Chris Kamal (defensive).
• The WCHA now features a top plays video highlight package on its website uploaded every Wednesday afternoon. Here's this week's edition:
[youtube_sc url=https://www.youtube.com/watch?v=JKnGi5tKwow]