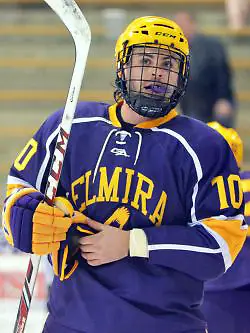 Lumps.
Nobody wants to take them, but to most hockey squads, they are utterly unavoidable.
Such was the case for Elmira last season when they bid adieu to a strong class of 10 seniors and welcomed a like-numbered group of talented, but untested, freshmen.
The result was the Soaring Eagles' first losing campaign (10-16-0) in the last eight and a whole lot of lump taking.
But that was last year.
It seems like eons ago, given the way those newbies have blossomed as sophomores.
The Eagles are off to a solid start (8-6-0, 4-2-0 ECAC West), including two wins out of three in their first action since the Christmas break.
Moreover, Elmira's scoring list, headed by sophomore Jarryd ten Vaanholt (6-10-16) is dominated by second-year men, who take up five of the top seven and seven of the top 10 spots.
"We had that big recruiting class last year," said Aaron Saul, Elmira's fifth-year bench boss. "We knew we had talent in there. This year, it's starting to pay out."
Indeed, it has.
Just look at the weekend just completed that included a 5-1 pasting of No. 12 Geneseo.
The three-game goal haul totaled 16 tallies, with sophomores (headed by four from Michael Collins) netting 11 of them.
Lumps? What lumps?
Any growing pains seem to lessened by a stiff dose of playing time and the confidence that comes with a bit of success.
"We knew that most freshmen have a tough time competing when they get here, finding ways to get to that next level," said Saul. "We went through a little bit of that last year. A lot of our games were close, but our record certainly wasn't where we wanted it to be.
"Now that big sophomore group is playing with a lot of confidence. You can see it on a daily basis. They're getting better by the week, it seems like."
That youthful improvement will likely have to accelerate if the Eagles are to return to the NCAA tournament for the sixth time in seven years.
Elmira will resume its conference schedule on Jan. 24 at Neumann and since the ECAC West has no automatic qualifying bid, every game from here on out promises to be a food fight, as Elmira's league foes such as Utica, Hobart, Neumann and Manhattanville all try to prove their worthiness to the NCAA selectors.
"In our league, we know what our deal is," Saul said. "We know how important in-conference games are, especially in the second half. We don't want to get too far ahead of ourselves. We're starting to do some good things. Let's hope we can continue to do that and take it week by week."
And the winner is …
The ECAC West awards for last week were spread across the league, with one player each from Manhattanville, Neumann and Hobart having been so honored.
Craig Simchuk of Manhattanville copped player of the week plaudits for racking up five points in a pair of Valiants' nonconference wins.
After racking up a pair of assists in a 7-1 win over Curry, Simchuk, a senior, chipped in a goal and two more helpers against Cortland and also recorded a plus-five rating.
Junior netminder Ben Curley backboned a pair of Neumann wins over Fredonia, allowing one goal on 75 shots, earning him goalie of the week honors.
The nod for rookie of the week went to Statesmen blueliner Carl Belizario, who notched a goal (the game-winner) and an assist in Hobart's win over Nichols. He followed that the next day by setting up three tallies in a 5-2 triumph over Salve Regina.
Belizario now has a team-leading seven assists to go with his three goals.