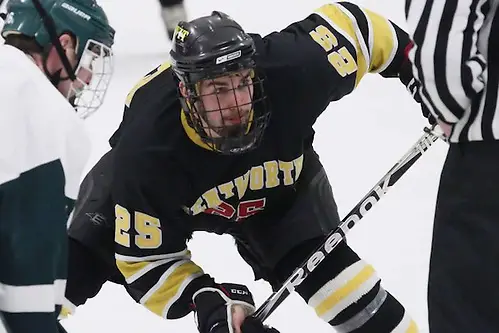 The defending ECAC Northeast champions have some work to do
After a 16-9-3 record during the 2012-13 campaign, Wentworth is just 4-10-1 this season despite not losing much off the roster from last year's team.
If the Leopards want to make a turnaround in the second half of the season, everyone in the program will need to get better at what they do.
"From our perspective, myself included, we have to do a better job and turn the corner and overcome a little adversity," Wentworth coach R.J. Tolan said. "Hopefully, [we] can start winning some games here."
Last year, Wentworth was tied for fourth in the conference in goals scored with 86 and tied for first in goals allowed with 64. On special teams, the power play was at 20.8 percent (22 goals on 106 chances) and the penalty kill was a respectable 81.1 percent, just allowing 20 goals on 106 chances.
This year the Leopards have 34 goals through 15 games played and have given up 50. In 64 opportunities on the man-advantage, they have only tallied eight goals. The penalty kill is nearly similar to last year's numbers at 78.7 percent.
Tolan said his squad is working on all aspects of its game.
"I think it's a little of everything," the coach said. "One night, we need one more goal and we don't score the goal. We need to prevent [the opposition] from scoring and we're just not making enough plays to win college hockey games, which is obviously the goal."
Forwards Sean McLaughlin, Mike Cox and Devin Smith each lead the team with seven points.
McLaughlin, who is a junior, had seven points in both his sophomore and freshman years. As a freshman, Cox had five goals and 16 helpers in 27 games. Smith is entering his freshman year after putting up 10 goals and 12 assists with the New Hampshire Jr. Monarchs and Valley Jr. Warriors of the former Eastern Junior Hockey League.
For Tolan, he said isn't looking for anyone in particular to step up their game offensively.
"A lot of our players who have been here for a long time have learned to overcome some adversity," Tolan added. "I would say at 4-10-1, we need to win games to be successful. I am hoping for some guys to step up in the second half. We all can do a little better to turn the corner here.
"For us, the last couple of years when we were winning quite a bit, I think it's been the sum of all of our parts. We haven't had any real star or anything like that."
There is some light at the end of tunnel as the Leopards are still in the thick of the conference regular-season title with a 2-3 record, only four points behind Salve Regina, which is 4-1 in conference play.
Tolan isn't looking past the final weekend of nonconference play where the Leopards face Assumption on Saturday before returning back to ECAC Northeast play against Becker on Jan. 25.
"I think anything is possible in sports," Tolan said when asked about the ECAC Northeast crown. "For my group, we have a game this weekend and we have to go out and try to make enough plays and move on from there."