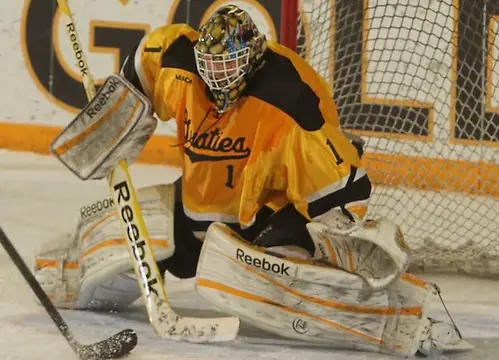 How will this weekend's Division III men's games play out? Our columnists have a pretty good idea … right?
ECAC East – Tim Costello
It was the first week of picks that didn't knock it out of the park as I finished at 3-2-0 (.600) last week.
That sub-par performance brings the season total to a still respectable 25-9-4 (.711) for the season.
The matchups don't get easier this week with several ranked teams facing each other, but I will still endeavor to pick the challenging ones, too.
Friday, Jan. 17
Babson @ New England College
The first time around, the Beavers won by a 3-0 score at home. The confines at Henniker are more conducive to the Pilgrims' game, but two goals doesn't get it done against a Babson team that knows how to score just enough to win. Babson 4-2.
Castleton @ University of New England
The Spartans have been stung by the upset bug against the Nor'easters not so long ago that the upperclassmen don't remember that feeling. New team and different coach, but if the Spartans want to stay in the hunt for a home-ice seeding, these are the games they need to win. Castleton 5-3.
St. Michael's @ Norwich
The past week-plus has seen the Cadets play some serious competition from Frozen Fenway and Babson to Massachusetts-Boston and a midweek game with Plattsburgh. They won't be looking ahead to their other in-state rival in Middlebury on Saturday and take care of business with their travel partner. Norwich 6-3.
Saturday, Jan. 18
Middlebury @ Norwich
It's one of the oldest and best rivalries in D-III hockey and while the Cadets host St. Mike's on Friday night, the Panthers get to play a high-octane game against Plattsburgh before traveling to Northfield. Very tough to play back-to-back big games, so the advantage goes to the home team in a close one.
Norwich 3-2. Skidmore @ University of New England
The Nor'easters have played everyone tough and don't have a lot of wins to show for the effort, but this one gets them the two points in league play. Colby Drost has been very reliable in goal for Brad Holt and makes the difference in this one for the home team. UNE 3-2.
Great matchups both in conference and out of conference play with some traditional rivalries in the mix – drop the puck!
ECAC Northeast – Nathan Fournier
Friday, Jan. 17
Curry at Buffalo State
Buffalo State has already faced another ECAC Northeast opponent in Johnson and Wales a few weeks back. They played them tough, losing both games 2-1. I expect the Bengals to fare batter against Curry, which only has three wins this season. To the Colonels' credit, they picked up a win last weekend over Canton. I will take the Bengals in a 6-1 game.
Johnson and Wales at Potsdam
The Wildcats have done what they have to do during their nonconference schedule by going 8-1-0 this season outside the ECAC Northeast. The Bears have also played well outside the SUNYAC, going 5-2-0 . Johnson and Wales is on the cusp of making the USCHO.com Division III Men's Poll as it received nine votes this week. Another good weekend may pot them in the top 15. I have Johnson and Wales in a 4-3 game.
Saturday, Jan. 18
Johnson and Wales at Canton
Canton has split four games this season with ECAC Northeast teams. They have beaten Becker and Suffolk, while losing to Western New England and Curry. This will be a tough test as Johnson and Wales is only allowing 1.29 goals per game this season. After a close game against Potsdam, I like Johnson and Wales to take this one 5-1.
Curry at Fredonia
This should be a very competitive game between two teams who look to get some momentum heading into conference play. This will be the first game for Fredonia against an ECAC Northeast opponent. Curry has played well last weekend and I expect them to take one game this weekend. I have the Colonels in a 4-2 hockey game.
Southern New Hampshire at Salve Regina
It will be a fun game as both teams know how to put the puck into the net. Southern New Hampshire is scoring four goals a game. Salve Regina is putting 3.6 goals per game this season. Both defenses will have a hard time stopping the other team's offense. Salve Regina hasn't played well outside the ECAC Northeast. I will take Southern New Hampshire in a 6-4 game.
Franklin Pierce at Suffolk
The Suffolk Rams are still looking to get on track for 2014. They are 1-3-0 this month, but Franklin Pierce isn't doing much better with a record of 1-3 after losing to Fredonia on Wednesday. I will take Suffolk as the home team in a 3-2 game.
Assumption at Wentworth
This is Wentworth's final nonconference contest of the season. Both teams are struggling. I believe Wentworth coach R.J. Tolan will be fine-tuning his squad for the stretch run. They are still in the thick of things in ECAC Northeast, so this will be a nice tune-up game. Assumption pulled off an upset over Western New England last week and I think they will take this one 3-1.
Sunday, Jan. 19
Nichols at Assumption
While Assumption is playing Wentworth on Saturday, the Bison are waiting for them in Worcester. Nichols is looking to bounce back from a 8-5 defeat against Manhattanville. This a very winnable game for them. I see them doubling up Assumption 6-3.
Tuesday, Jan. 21
Becker at Worcester State Both teams need a win to get some confidence going into their respectful conference play. Worcester State has played well out of conference with a 4-1-0 mark. Becker's only win of the season came out out of conference with a 6-4 win over Tufts. This should be a very tight contest and I will take Worcester State out of the MASCAC to defeat Becker in a 2-1 game.
Thursday, Jan. 23
Canton at Curry
Another game for the Colonels that is a game that they can win. If they can go 2-1 this week, it's the step in the right direction for them. Canton will be as hungry as Curry is. It will be a fascinating contest and I have Curry winning 4-1.
ECAC West/SUNYAC – Dan Hickling
Friday, Jan. 17
Hobart (6-4-4) @ Cortland (4-9-2) – Hobart 5, Cortland 4
Hobart is trending as one of the hottest teams in the country and although Cortland can score goals in bunches, their attack might not be able to get it done this time.
No. 14 Geneseo (11-3-0) @ Neumann (7-5-3) – Geneseo 3 Neumann 1 The second of a two-game set between two squads of Knights which saw the G-Knights win the opener 3-2. Genny had its speed bump a week ago in losing big to Elmira, 5-1, and is ready to settle down for the stretch run.
Saturday, Jan. 18
No. 10 Oswego (9-2-2) @ Elmira (8-6-0) – Elmira 5 Oswego 3 Both teams are hot right now in what was supposed to be a rebuilding season for each. The Pioneers have been filling the net lately, and get the nod here.
MASCAC – Nathan Fournier
Saturday, Jan. 18
Massachusetts-Dartmouth at Plymouth State
These two teams aren't having the seasons they were expecting to have. In the first matchup this season, the Corsairs took it 4-3. Shaun Walters had two goals for UMass-Dartmouth. Since that game, he has only had five points. Plymouth State has gone 3-5 since that game. I think this game will be a tone-setter down the stretch and whoever comes out on top could get the spark they need. I will take the home team in Plymouth State in a 5-3 contest.
Framingham State at Salem State
A very intriguing game between with the Salem State Vikings 6-1 at home going into the game and the Framingham State Rams trying to stop a two-game losing streak. The Rams, who have been in the top half of the MASCAC the first half of the year, look to keep pace with the Vikings, who are ahead one point going into Thursday's games. In the first game, the Rams took it 6-3. I like how the Vikings are playing right now and I will go with them in a 3-2 game.
Fitchburg State at Worcester State
If Fitchburg State wants to host a home playoff game, this game could be pivotal for that to happen. Going into Thursday's games they would be hosting a quarterfinal game. The two teams met on Nov. 16 with the Falcons defeating the Lancers 7-3 in that contest. I will take Fitchburg State in an 8-4 contest.
Thursday, Jan. 23
Westfield State at Fitchburg State This should be a good battle for playoff positioning. Westfield State is very comfortable playing inside the MASCAC with 6-2 record after beating Salem State on Thursday night. The first game on Nov. 21 was a high-scoring affair with the Owls. Tyler Prendergast potted two goals for Westfield State. I expect this to be another high-scoring affair with the Owls in a 7-6 contest.
Salem State at UMass-Dartmouth
This a game that could surprise Salem State. This won't be an easy victory for a couple of factors. They haven't played much on the road yet this season. The other thing, the Vikings needed overtime to defeat the Corsairs 4-3. UMass-Dartmouth has played them tough. This will be a tight game and with the Corsairs' home rink 185 feet by 80 feet, I expect it to be a defensive game. UMass-Dartmouth with the slight 2-1 upset to tighten up the standings even more.
Framingham State at Worcester State
Legs will be the key in this game. The Rams should have fresher legs coming into the game as it will be three games in five days for Worcester State. By Jan. 25, they will have played four games in a week. I expect that to play a huge role in the game. Even if the Lancers' schedule wasn't an issue, Framingham State has played better overall, but the last four games overall, Worcester State has had the slight advantage with a 1-0-3 record. I will take Rams in a 5-4 affair.
MIAC/WIAC – Brian Lester
Time for another week of making picks.
And with the exception of the St. Thomas-Wisconsin-Eau Claire game on Saturday, every game this weekend is a conference matchup. This is the time of the year where the conference championship race begins to really take shape and it will be interesting to see how it all shakes out in the end.
Without further delay, here are my picks for the weekend.
Augsburg vs. Gustavus Adolphus
Augsburg has dropped three of its last four, but is still very much in the hunt for a league title and conference tournament berth. The Auggies have scored 69 goals and Ben McClellan has paved the way with 10. If he has a big weekend and goalie John Bretzman can step up — he has a goals against average of 2.55 — Augsburg will have a chance to climb in the standings. The Gusties haven't been as productive offensively, racking up only 42 goals, but have been competitive in nearly every game, tying three times in their last six games. Gustavus is chasing a MIAC title as well and a strong effort this weekend would add momentum to that title push. John McLean has a goals against average of 2.43 and I think defense will be a key factor in the outcome. Gustavus, 3-1, Augsburg, 4-2.
St. Mary's vs. Bethel
The Cardinals have struggled, losing two of their last three, and if they are going to make any sort of push for a playoff spot, they need to start building momentum now. It starts with playing well on defense. St. Mary's has allowed 41 goals on the season and has managed to score only 29. The Cardinals also have to capitalize on power-play chances, which they have done at times this season, having scored 11 power-play goals. If they can can do that and get an all-around defensive effort, they should be poised for success. The thing about Bethel, though, is the Royals are no pushover despite having won only twice. They have lost six games by just one goal and have tied twice. Bethel will be in both games and if it can get going early offensively, it should be in good shape. Brock Raffaele and Travis Payne lead the Royals with six goals apiece. Bethel, 4-2; Bethel 3-2.
Hamline vs. St. Olaf
Hamline has won only twice all season and finding a way to thrive in this weekend series with St. Olaf will not be easy. The Pipers have managed only 23 goals and have allowed 56. Kevin Novakovich and Tyler Gonzales have tallied four goals apiece and they will need to be on top of their games for Hamline to win. The Pipers are also going to need a strong defensive effort. But St. Olaf, despite being on a five-game winless streak, has proven it can play at a high level. The Oles nearly knocked off No. 1 Adrian this past weekend, playing the Bulldogs to a 4-4 tie, and I think they have the weapons on offense to win both games in this series, especially if Dan Cecka steps up again. He has nine goals this year. St. Olaf, 5-2; St. Olaf 4-2.
St.Thomas vs. Wisconsin-Eau Claire
This will be one of the biggest games in the country as the two nationally-ranked teams square off in a nonconference battle. Goaltending is going to be huge for both teams. The Tommies feature Drew Fielding, who has allowed only 20 goals and has a goals against average of 1.52. When he plays well, the Tommies thrive, and Fielding will no doubt need to play well this weekend. Eau Claire could go with Tyler Green or Jay Deo. The Blugolds enter the week on a five-game win streak and have shut out their last four opponents, with Green and Deo each tallying two shutouts during the run. Either one is capable of playing well in goal. The team that gets the best goaltending effort will prevail. The defending national champions are at home and get the slight edge in this showdown. Eau Claire, 2-1.
Wisconsin-Stevens Point vs. Wisconsin-River Falls
In a battle of two of the top teams in the league and in the country, Stevens Point will be tested as it plays on the road against River Falls. The Pointers have been very effective offensively, racking up 78 goals, and they haven't been scored on often, allowing only 24 goals. Garrett Ladd has led the way for the Pointers, tallying 13 goals and 13 assists, and he is likely to turn in another stellar effort this weekend. Brandon Jaeger has given up just 22 goals and has made 260 saves. River Falls has lost two of its last three and Stevens Point will be the third consecutive nationally-ranked team it has played. The Falcons have managed only 45 goals and have allowed 29. Willie Hess leads the Falcons with 10 goals while goalie Tanner Milliron has a goals against average of 1.45, while Scott Lewan has a 2.45 goals against average. Either one can play at a high level and both will need to be ready to go this weekend. Stevens Point, 4-2; River Falls, 5-4.
Wisconsin-Stout vs. Wisconsin-Superior
Stout will have to be on top of its game defensively to have a shot at earning at least a split out of the weekend series with Superior. The Blue Devils have given up 46 goals and Corey Koop has spent most of the time in goal and has tallied 457 saves. If Koop plays well, the Blue Devils will be in a position to win. It has given up three or more goals in seven of its nine losses and that number has to come down for Stout to have a shot. Superior has had a hard time finding wins lately. The Yellow Jackets have only one win in their last six games and have been blanked twice during the stretch. Superior needs to be able to get going offensively early, with players such as Cody Hotchkin and Pat Dalbec getting involved and making an impact. If those two play well, Superior could get back on track this weekend. Drew Strandberg and Dayn Belfour have combined to allow 38 goals and have 192 and 126 saves, respectively, this year. I'm expecting this series to end in a split. Superior, 4-3, Stout 5-3.
NESCAC – Tim Costello
Ouch!
A 2-3-0 (.400) week certainly derailed the early season success last weekend, but the overall season record of 17-5-2 (.750) still looks strong headed into a very challenging week of key conference and nonconference matchups.
Friday, Jan. 17
Manhattanville vs. Williams
The Ephs stumbled in a nonconference game at Johnson and Wales last weekend, so look for them to be ready at home against the Valiants. Plattsburgh is on Saturday, so important to focus on the task at hand and win a quality non-conference game. Williams 4-2.
Plattsburgh @ Middlebury
Just which Panther team is going to show up in this great rivalry that has spanned decades in nonconference play, the Primelink tournament and the NCAAs? As is usually the case, goaltending is a key and the home team gets one more save than the visitors to take the win and avenge a bad first period and loss at the Primelink in November. Middlebury 4-3.
Bowdoin @ Trinity
The Polar Bears have come out firing on all cylinders in the second half and now take their show on the road. Trinity has been very good all season and Benjamin Coulthard will make life difficult for the offensive firepower Bowdoin brings from Maine. An empty-netter is final goal and difference-maker in this one. Bowdoin 4-2.
Saturday, Jan. 18
Amherst @ Tufts
It was a tough weekend for the Lord Jeffs in Maine last weekend, so it is back to basics against a Tufts team that has difficulties in stopping teams from scoring in bunches. Pressure, timely scoring, good goaltending and special teams are all part of the formula that works for Amherst against the Jumbos. Amherst 3-1.
Plattsburgh @ Williams
The Ephs should have enough in their tank after playing Manhattanville on Friday, but what do the Cardinals have left in theirs after Middlebury the night before is maybe the better question. Dougherty vs. Cadieux is a great match-up and the visitors supporting cast is just a bit better in this one. Plattsburgh 3-1.
Some great match-ups among some ranked teams highlight a tough schedule – drop the puck!
NCHA – Katie Carito
For the first time in over a month, the NCHA will have a full slate of conference action this weekend.
St. Scholastica at Adrian
The Bulldogs (13-0-2) are the top-ranked team in the country and even in some close games, have found a way to battle it out. St. Scholastica (9-3-3) will be one of the toughest teams for Adrian to overcome. I don't think the Bulldogs are ready to end their reign on the season, especially at home. Adrian 3-2, 2-1
Finlandia vs. Northland Finlandia (1-12-1) has yet to win a conference game. The Lions most recently dropped 4-3 nonconference game to Bethel. Northland's (2-13-0) two wins have come from NCHA opponents. Last weekend, they dropped 5-4 to Hamline. I think each team will win at home. Finlandia 3-2, Northland 2-1
St. Norbert vs. Concordia (Wis.)
This home-and-home series will be a battle. St. Norbert (12-2-1) is the fourth-ranked team in the country and has rolled through most of the competition this year. Concordia (8-4-3) is on a six-game win streak and is flying high with confidence. I'm going safe with each team winning at home. Concordia 4-2, St. Norbert 5-2
Lawrence vs Milwaukee School of Engineering
Another home-and home series sees Lawrence (4-10-1) facing off with MSOE (2-12-1). Lawrence is on a four-game losing streak, being shut out in two of the losses. Since the beginning of December, MSOE has been battling to turn its season around after losing nine straight to open the season. I think MSOE has the fight to pull to wins this weekend. MSOE 2-1, 2-1
Marian vs. Lake Forest
In this Saturday and Sunday series, Lake Forest (6-8-1) and Marian (4-9-2) will exchange hosting duties. After a hot three-game winning start to the season, Lake Forest has found a way to tie and win their games last season. Marian is in a slump going 0-2-1 in the new year. Again, I'm going with home-team wins. Lake Forest 2-1, Marian 5-4