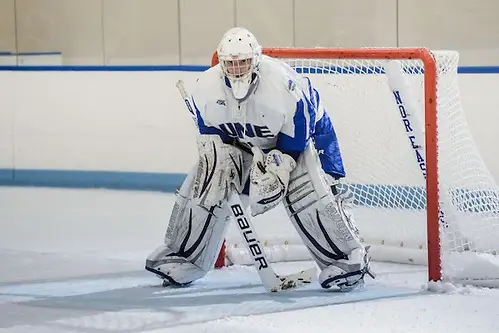 With seven games remaining on the schedule, the University of New England has already surpassed its win total from last season and sits just three points out of fifth place in the conference following only their second-ever conference weekend sweep since their inception as a varsity program in the ECAC East conference for the 2009-10 season.
The balance of the schedule is not an easy road for the Nor'easters starting with Friday night's matchup with league-leading Norwich, but optimism is growing as the Nor'easters have stayed with each and every opponent faced this season.
"We are striving to be competitive every night," stated UNE coach Brad Holt. "We are getting better, but this league is really good so we need to continue to work hard and bring that competitiveness to the ice against everyone we play. Norwich will be a huge challenge for us on Friday night as will St. Michael's, where we have not had any success over the years. I used to live about a mile from their rink and it is nice to go back and see friends, but it would be really nice to play well and get a good result."
One of the keys to the recent success for Holt's team has been the play of junior goaltender Colby Drost.
Drost was named co-goaltender of the week this week following his 39 saves against Castleton in a 5-3 come-from-behind win last Friday night that saw UNE outshot by a 2-1 margin. The following afternoon, Drost stopped 31 of 33 shots and 15 in the third period against Skidmore to preserve a 4-2 win and secure the conference weekend sweep.
Overall this season, Drost has been the goaltender of record in all seven team victories, sporting a 7-5-1 record overall and a save percentage at a solid .908. His 70-save performance this past weekend shows his durability and focus and confidence the team has playing in front of the reliable netminder.
"No question that Colby has kept us in games," stated Holt. "He has been pretty consistent and obviously, last weekend gave us a chance to come back against Castleton and get it going in the second period against Skidmore. We need Colby to keep up his game and I give a lot of credit to our senior goalie, Ian Edwards, who pushes Colby in practice and really helps to keep him sharp with his overall level of competitiveness and effort to practice hard and stay sharp."
While balance may be the key word to describe the Nor'easters' offensive prowess this season, senior Zach Lokey currently leads the team with eight goals, including three last weekend. Two of the three goals came as crucial empty-net goals to provide the final margin in close one-goal contests. The senior has played 85 games in his career at UNE, which leads all rostered players this season, and his leadership on and off the ice have been key elements in the maturation process for a still-young team on the rise.
"Zach has proclaimed himself our empty-net specialist," joked Holt. "Seriously, we have eight or nine first-years that are playing every night for us. Many of them are really now just starting to do things consistently on the ice like we saw them play in juniors before they came here. We love a guy like Trevor Fleurent, who I don't think had a goal in the first half, but has worked really hard and has seen his game make a big jump in the second half. We only have three seniors that are really important for leadership with our young team. We just got Sean Sullivan back after breaking his thumb blocking a shot, so the leadership and focus has been important from the guys who have been a big part in building the UNE program."
Last weekend's wins came on home ice. The Nor'easters are building some momentum this season on the large ice surface in Biddeford and their overall record of 5-3-0 on home ice is proving they are a tough opponent in their arena.
One area where the Nor'easters clearly will need to show improvement if they want to continue their rise in the standings is their play on the road. To date, UNE is 0-5-0 on the road in conference play and 2-6-1 overall away from their home rink. The remaining schedule finds four of the seven played on the road, all in conference play and three against the top three teams currently in the standings.
The challenge is there for UNE, who now knows it can compete with the league's best following a December win against nationally-ranked Babson by a score of 3-1. While that game took place at home just prior to the semester break and included 41 saves from Drost, including 32 in the final two periods of play, it clearly built confidence for UNE, who has posted a .500 record at 3-3-0 in 2014.
"Of course, we love playing at home," noted Holt. "We have a beautiful rink and draw very well there, so it is an exciting place to play for the team and easier to get ready without the bus trip and hotels that the road brings to the equation. We need to bring a better competitive level to our road games. Everyone in this conference is good and usually pretty good at home, so we need to be ready to play. With our better depth this year, I think our practices are more competitive for players wanting ice time and I think on any night, players know that if they aren't competing hard, there are guys not dressed in the stands that would love the chance to play."
All of the remaining games are against teams the Nor'easters have faced earlier in the season. The coach loves the schedule format and hopes his team will continue to strive to play their best hockey at the right time of the season.
"We have seen everyone once already and know what they bring," said Holt. "Now, the venue and order of the opponents changes the second time around. We can't hurt ourselves with penalties and certainly, our special teams need to be better and I think we are getting better. Monday was our hardest practice of the season. We had a good weekend, a great weekend, but can't sit back and expect it is going to be easy after a couple of nice wins. We are going to have really compete if we want to continue to get results."
If Drost can keep up his magic in the crease and give UNE a chance, don't count out the Nor'easters from a late-season move up the standings.