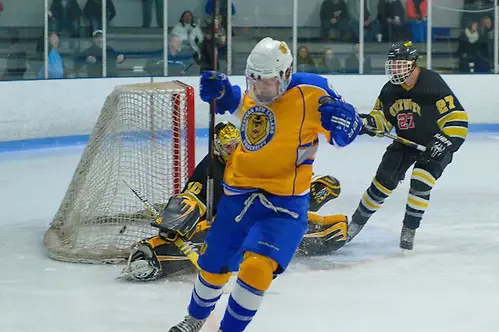 The ECAC Northeast has finally ended its nonconference portion of the schedule and returns to in-conference games this weekend.
The conference has seen mixed results playing outside of the conference, but the race remains wide-open for the regular-season title and conference tournament positioning.
Salve Regina is on top of the conference with a 4-1-0 record (6-10-0 overall) and eight points. Nichols is one point behind them with a 3-1-1 record (10-4-2). Johnson and Wales (13-3-0) and Western New England (9-7-0) both are 3-2-0 in league play.
Suffolk University is in fifth 2-2-1 (5-9-1) with five points. Last year's conference champion Wentworth holds the final conference tournament berth one point back of Suffolk with a 2-3-0 (4-10-2) record.
Becker is the lone team to not have a conference victory as they sit 0-3-2 (1-12-2) with two points along with Curry, which is 1-4-0 (4-9-2)
"It's a real exciting league to be watching, especially since the league has gotten better and better every single year," Western New England coach Greg Heffernan said. "There is no night off and I think it's fantastic. I think we got teams right now that could be anywhere from first to last. We only got five games out of the 14 that count under our belt, so the truth is it's anybody's season."
Looking at his team personally, Heffernan is ready for a strong finish to the year.
"I don't think the 2-4 in the six games accurately reflect what happened in those games," Hefferan added. "We know where we are at. We are very confident we can put together another solid finish to the year this year. We are excited to get back into conference play."
Overall, WNE was 6-5-0 outside of the ECAC Northeast.
Heffernan has been pleased with his team's play at home with a 7-1 record, but knows it will need to better on the road.
"Where our Achilles heel has been, we haven't figured out how to win on the road just yet," said Heffernan. "That's something I have to take better stock in, preparing our guys better on the road because if you can't win on the road, you aren't going to win down the stretch."
Western New England gets its first test on Saturday traveling to Johnson and Wales and then back home to face Nichols next Thursday. Heffernan knows they have to face two solid goaltenders in Joey Ballmer (Johnson and Wales) and Alex Larson (Nichols).
"It's the tale of the league, [but] we have a very goaltender ourselves in Eric Sorenson," Hefferan added. "If I expect anything, it will be good, solid games. Nichols is a great club [and coach] Kevin [Swallow] has done a wonderful job with them."
Hefferan also said Johnson and Wales has done great things for the league this year with its nonconference record of 10-1-0.
"We are definitely excited for the wins against some of the teams we have, the SUNYAC's and Williams are all big for us," Johnson and Wales coach Erik Noack said. "We are definitely excited what we have the last 10-11 games."
The Wildcats face two of the four top teams in the conference this week in Western New England and Salve Regina.
"I talk to the guys about it a lot, what we have done in nonconference has been great, the best we have ever been in nonconference, obviously, but we are still 3-2 in the league," Noack said. "Salve is 4-1 and Western New England is 3-2 . Obviously, they are two huge games for us."
Noack hopes his team can take the confidence with them into the stretch run, but hopefully, they stay focused for the task at hand.
The Salve Regina game will be played at the Dunkin' Donuts Center – the home of the Providence Bruins of the American Hockey League – in downtown Providence, R.I.
Noack hopes playing at that venue will become an yearly event.
"It's expensive to get in there, our administration has made a commitment to doing things for the athletic department and this one of them," Noack said. "It was going to be a big night for us. We're hoping to get 5,000 fans, I don't know, maybe we will get 3,000. Alumni are coming back, donors are coming in, there will be a big Chancellor's dinner. We have really promoted it on campus and in the community as much as we can."
Noack added despite Salve's woes outside of the conference, his squad still has a strong group of forwards and the Seahawks beat them twice last season. He is also not overlooking Western New England, who they are tied with in the standings.