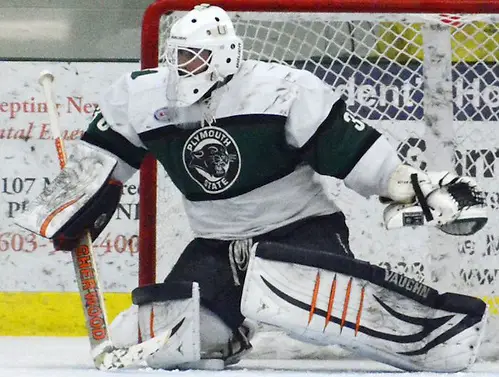 Admittedly, Plymouth State had sub-par goaltending the first half of the season.
That looks to change with the addition of Gordon Ceasar, who played the past year and a half at Utica.
"In the first semester, it was no secret that our goaltending wasn't great," Plymouth State coach Craig Russell said. "It wasn't absolutely killing us, but it definitely wasn't helping us."
That's where Ceasar comes into play.
The sophomore goaltender played two games with the Pioneers last season, putting up a 1-0 record with a 1.22 GASA and a .952 save percentage.
Ceasar was looking to get more playing time, something he wasn't getting at Utica.
In six games so far in 2014 with the Panthers, Ceasar has a 3-30- record with a 2.01 GAA and a .938 save percentage.
"It took a couple of games for me to get back in game shape after not playing for almost a year, which I wasn't use to," Ceasar said. "After a game or two, I regained my confidence back, seeing shots which was good for my transition. Since then, I have been trying to get wins for this team. It has gotten better and better as the weeks have gone on."
Ceasar's hope is to lead the Panthers to a second-half push at the MASCAC title and a possible chance at the NCAA tournament.
"I think there's a lot of upside here, we have a lot of young guys here and a bright future," Ceasar added. "Obviously, my expectations stay the same whether I am here or at Utica."
This past weekend, Ceasar was named MASCAC goalie of the week with a 4-1 win over Fitchburg State on Thursday (Jan. 16) and a 1-0 win over Massachusetts-Dartmouth two days later.
"He's a big kid (6-foot-1, 180 pounds), he takes up a lot of room," Russell added. "He can track the puck well, he can see over traffic or around it. We have been trying to play well in front of him not to allow second and third opportunities."
Russell recruited Ceasar when he was playing junior hockey with the Rochester Stars of the frrome Eastern Junior Hockey League. Ceasar was primarily looking at a couple ECAC West schools and ultimately chose Utica.
"Knowing him from junior hockey, I knew he was capable of stepping in right away, but he had to earn it," Russell explained. "He had to earn the player's respect right away and he's a hard worker. The results have been decent, but not great personally. The team is starting to form around him."
Ceasar also knew PSU junior defenseman Kyle Brumfield from his days with the Stars.
Bringing in Ceasar meant senior Tyler Ingerson, who finally got his chance to be the team's starter after sitting behind Jack Astedt the previous three seasons, found himself back as the backup.
It wasn't an easy decision for Russell.
"Any time when you bring someone in halfway through the semester, you wonder what the dynamic will be like, but Tyler, Zac [Enstrom] and Max [Motew], who is a freshman and hasn't gotten his chance yet, have all accepted Gordon right away," Russell stated. "They respected him right away because of how hard he has worked and has gone about his business."