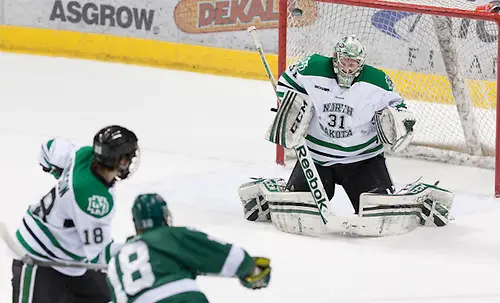 At 8-0-1 in its last nine regular season games, North Dakota has been on a serious roll recently, one that has seen it climb up near the top of the NCHC standings.
If No. 18 UND's recent success is to continue this weekend in a big series at No. 16 Denver, however, it will have to make it happen without one of the key pieces that has gotten the team to where it is.
UND coach Dave Hakstol confirmed Wednesday at his weekly news conference that sophomore goaltender Zane Gothberg, who has been the goalie of record in every game of UND's nine-game unbeaten streak, suffered a lower-body injury in practice Tuesday.
Hakstol was vague about the nature of the injury, as hockey coaches are wont to do, and especially so in the later parts of the season.
"Zane is going to be out indefinitely with a lower-body injury that he sustained yesterday in practice," Hakstol said. "So I won't make any more comments and I won't have any more updates on that for probably one to two weeks."
Gothberg was statistically the NCHC's best goaltender over UND's current run, posting a .923 save percentage and a 1.76 GAA over those nine games. In all this season, he's 10-5-3 in 18 appearances with a .914 save percentage and 2.26 GAA.
Back into the fold, then, comes senior Clarke Saunders, a transfer from Alabama-Huntsville before last season and the only other UND goaltender that has seen playing time so far this season.
He's had a more difficult time of it than Gothberg, however, posting only a 2-2 record in seven appearances with a .900 save percentage and a 3.60 GAA.
Freshman Matt Hrynkiw will be bumped up into the role of the primary backup while Gothberg is out.
UND has performed better in its own end of the ice than it did before its current extended run of good form began. That said, Hakstol made it clear Wednesday that, although Saunders has done well recently in practice, the senior understudy is going to have to continue to improve in a hurry ahead of UND's meeting with the Pioneers.
"I think Clarke went through some real ups and downs just before Christmas in his performance in practice," Hakstol said. "And I think the bright side of that is he's practiced extremely well over the last couple of weeks.
"He's back, he's settled, he's competing and he's been very good in practice, and now he just has to transition that into game action. And our guys have to work hard in front of him and give him the opportunity to do that, and vice versa.
"He's got to work hard for the guys in front of him, and I think that'll happen."
Western Michigan keeps winning 'survival' games
Western Michigan is also rolling lately, but Broncos coach Andy Murray isn't getting a big head about it.
Almost the opposite, in fact.
Western Michigan has played 12 games decided by one goal — only Clarkson (15) and Michigan Tech (14) have been involved in more. The Broncos' current 5-0-0-1 streak — all of them one-goal games except the shootout win — is on the back of three one-goal losses in their previous four games.
It's because of all those close calls going either way that Murray is keeping his team in what he calls "survival mode."
"In the new league, every night you're just in survival mode," Murray said. "You're just trying to survive, and the competition is so good that you're just trying to survive. And if you ask our [players], they probably don't know how many games we've won here in a row or whatever.
"We're just trying to put everything we have into every game and see what we get, and there isn't any sense here of real accomplishment yet."
In a certain light, that sounds harsh considering what the Broncos have done lately and the competition against which they've done it. Since just after Christmas, Western has knocked off two in-state rivals to win the Great Lakes Invitational, swept preseason NCHC favorite Miami at home and, last weekend, picked up a shootout win and regulation win at first-place St. Cloud State.
Western Michigan had a bumpy first half of the season in which results on a given weekend often went really in the Broncos' way or really not. Although they still sit in fifth place in the NCHC, they're only three points below St. Cloud State.
That said, Murray doesn't feel much has changed lately with the way his team has gone about its business on the ice.
"There isn't a whole lot different to what we're doing now than what we were doing earlier," Murray said. "We're getting an extra save now or we're getting a goal when we need it, and it's just a fine line every single night.
"That's kind of what we're at now, and I'm being very honest when I say we're just in survival. I think every team in our league is, because you're just trying to win whenever you can in each game because you don't know how the league is going to shake out."
With just one regulation win's worth of points separating first place in the league from fifth, Murray couldn't be more right.
SCSU, UMD prepare for inaugural North Star College Cup
The NCHC's playoff championship weekend will have an air of unfamiliarity for all teams involved, but when St. Cloud State and Minnesota-Duluth play in St. Paul, Minn., this weekend, they won't be entering entirely uncharted territory.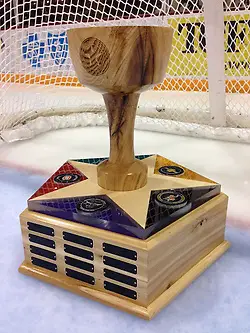 This weekend will mark the first time four of Minnesota's five Division I men's hockey programs come together to compete for the North Star College Cup at St. Paul's Xcel Energy Center, the former home of the WCHA's Final Five.
The Bulldogs will play the tournament's first game Friday afternoon against Minnesota State. Afterward, the fifth-ranked Huskies will take on top-ranked Minnesota in the second semifinal.
The bracket-style competition will conclude Saturday, with a third-place game taking place before Friday's winners meet in the tournament final.
A rotation system will be implemented for the tournament, with one of the five Minnesota Division I teams sitting out in any given year. Bemidji State will make its debut in the 2015 edition, and St. Cloud State will sit that one out.
Minnesota-Duluth will sit out the 2016 edition of the tournament, while Minnesota State will stay home from it in 2017. The Golden Gophers, however, will take part in the tournament every year as host.
Players of the week
Offensive player of the week — Shane Berschbach, Western Michigan: If it seems like Berschbach has been named the recipient of this award a lot this season, there's a reason for that. The senior forward picked up the award this week for a third time so far this season after picking up a goal in both games last weekend at St. Cloud State, including the Broncos' game-winning goal in the third period of Western's 2-1 win on Saturday.
Defensive player of the week — Kenney Morrison, Western Michigan: it's an OPOTW and DPOTW sweep for the Broncos, as Morrison was also a beast for the Broncos against St. Cloud. The sophomore blueliner dished out four assists over the two games against the Huskies — three of them coming in Friday's 5-5 tie and eventual shootout win for WMU — and also two blocked shots and a plus-1 rating.
Rookie of the week — Austin Ortega, Nebraska-Omaha: The freshman forward scored in each game of UNO's series at Miami last weekend. Both goals came on the power play, and the second came in the third period of UNO's 5-1 win Saturday that snapped the Mavericks' seven-game winless streak.
Goaltender of the week — Sam Brittain, Denver: The senior netminder further strengthened his case to be named the NCHC's goaltender of the season by winning the league's GOTW honor for a fifth time. Brittain posted a .940 save percentage and 1.85 GAA last weekend in Denver's two overtime contests at Minnesota-Duluth. He made 23 saves in a 3-2 Pioneers win Friday before making 40 through 65 minutes the following night and making two saves in a shootout loss to the Bulldogs.