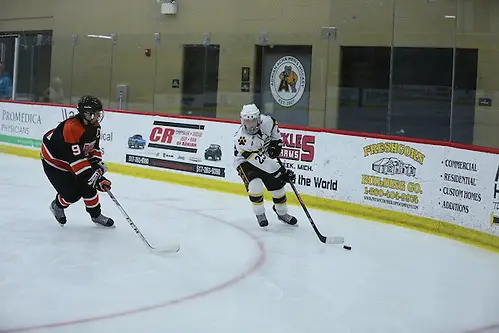 Whatever trepidation Adrian coach Chad Davis held coming out of summer camp has faded into a distant memory.
The Bulldogs (14-3-0 overall, 7-3-0 NCHA), seemingly on their way to eclipsing last year's program-best 20-win season, have locked onto success in a way that rubs against the grain of conventional wisdom in regards to a roster occupied with new faces.
"On a game-to-game basis you can find eight to 10 freshmen in our lineup every night," said Davis. "It really has been a seamless transition for most of the new players. When looking at our team dynamic, our returning players really embraced all the new players in our locker room this season."
Davis' group of rookies have aggressively attacked the proverbial learning curve from the beginning. Davis, now in his third season guiding the Bulldogs, envisioned a scenario where an incoming cadre of freshmen would offer up consistent contributions quickly.
"Our players know we expect them to contribute right away, and earn their opportunities; with that said, as coaches we try to find ways to set them up for success," said Davis. "Our freshmen have also helped us create an extremely competitive situation when it comes to practice.
"The contributions from our young players, combined with returnees Kelsey Kusch, Hannah McGowan, and senior Danielle Smith to name a few, has given us a more balanced attack on offense then in the past."
The Bulldogs are averaging a healthy 4.82 points per game overall, a significant uptick from the 3.85 last season.
Since opening her collegiate career with Concordia (Wis.), Kusch, the dynamic forward from St. Claire Shores, Mich., is methodically making a run at the Bulldogs record books. Kusch recently moved ahead of Brooke Zaleski (2008-2012) into third place on the all-time scoring list with 72 points. Kusch is now third in the nation in scoring.
McGowan (8-12-20), a junior, and Smith (7-12-19), have combined for three game-winners, six power-play markers and a short-handed goal.
Up front, forwards Kristen Lewicki and Kaylyn Schroka have made their presence felt in a very productive manner. Lewicki, a native of West Virginia, is second on the squad with nine goals and 20 points. Schroka has produced a dozen points thus far.
"Kristin has been a game changer," Davis said. "She is a very dynamic player and has a gear most players can't match with her speed. She has great hands to compliment her speed and is a threat every time she touches the puck."
"My experience as a freshman playing on the best team I could ask for has been unbelievable so far," Lewicki said. "The upperclassmen made us feel like a family right away; the first time skating on the ice together everything just clicked. Our season has been great so far. We've lost a few games we should have won, but we keep working hard and improving every day to show we have what it takes to win it all at the end of the season. Coming in as a freshman, getting to play every game and being on the second line is such a privilege."
In their own end, the Bulldogs rely heavily on Lexie Tzafaroglou, who has joined Alix Vallee, the sole senior defenseman on board.
"Lexie is an outstanding addition to our blue line," said Davis of the Livonia, Mich., native. "She has stepped right in and played a huge role for us. She plays a ton of minutes for us, which includes all special teams."
Tzafaroglou has collected three power play goals.
"She's very reliable and is going to be a key to our success late in the season," said Davis of Tzafaroglou.
Averaging 1.12 points per game, Vallee is on track for her most productive season. She has netted two game-winning goals, tying her best from a year ago.
Freshman goaltenders Jade Walsh and Brooke Gibson have also joined the group of instant contributors. Walsh has a sparkling 10-2-0 record to go along with a .921 save percentage, while Gibson has filled in admirably, posting a 4-1-0 slate with a 1.77 GAA.
"They have given us the confidence we need as a team; Walsh has shown she will be a big-game performer and win, and we look forward to her leading our team down the stretch," said Davis.
"The college experience was a brand new thing to us; we all connected fast and adapted to school and hockey quickly," Walsh said. "We are currently on an eight-game winning streak, which we all want to keep going. We have great potential on our team and hope to take it to a championship."
"We are not content with that (20-win season)," Davis said. "Our team's goal is to compete on a national stage. The team knows we need to earn that privilege. We really respect our competition in the NCHA and the top teams can compete with anyone in the country. This means the NCHA championship is going to be a battle and it will take playing our best hockey of the season. We are a grounded team and know there is a lot of work ahead."