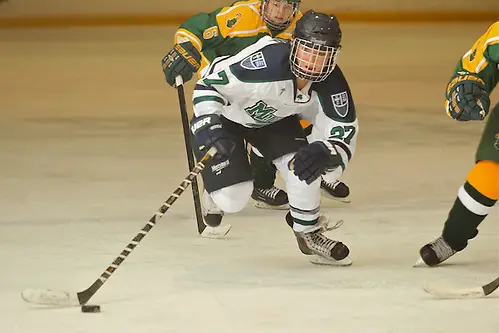 When you watch enough movies or television programs in a certain genre, you start to get a feel for how the plot will unfold.
Following Mercyhurst hockey is a bit like that. It may look like their world is about to blow up around them, but the Lakers always manage to cut the right wire at the right time. They have reached the NCAA tournament a record nine consecutive years and have claimed regular-season titles in all 11 CHA campaigns.
As the seasons unfold in any drama, it gets tougher to convince the audience that the protagonist might fail to succeed. The creators of the current season of Mercyhurst have done a great job of producing a cliffhanger; the Lakers lost their opening game to Minnesota State and followed with losses to Ohio State and Providence, all unranked teams, and have been in scramble mode ever since.
"It almost feels like we've been playing must-win games since September, which can be pretty draining on a young team," coach Mike Sisti said.
The Lakers have won most of those games after that shaky start of three losses in five games. They rallied with a win and a tie at Clarkson, a team ranked No. 3 at the time, to right the ship and get themselves headed in the right direction. There were a few stumbles along the way; November losses at Robert Morris and RIT put the team's record at 7-5-2.
"On nights if you're putting up two to four goals, you've got to limit your mistakes for sure," Sisti said. "That's something that a young team, the quicker they learn it the better, and sometimes they've got to learn it the hard way."
Mercyhurst shows signs of learning, playing at a 7-1-1 clip over its last nine games, the blemishes coming the last time out against highly ranked Cornell. Sisti thinks his young team, with just three seniors and four juniors, is getting better.
"I think a lot of teams would be loving sitting here with only six losses heading into late January and just for our standards, we're obviously not happy with it," he said.
The unhappiness is derived from the fact that the team's present mark of 14-6-3 and 7-2-1 in the CHA is not enough to take it where it wants to go.
"I love winning; I love making it into the national picture," said senior assistant captain Christie Cicero. "I think that's kind of how each team looks at it. We want to uphold the Mercyhurst tradition. I think that's extremely important when talking about our school in particular, because we've had so much success, we never want to drop the ball. We want to play for each other. We want to play for our coach. We want to play for the players in the past and make sure that this school will always have a great reputation and always be known as Mercyhurst, that tough team, that team that always makes it."
This season, Mercyhurst may not make it to the national tournament, sitting a precarious 10th in the PairWise Rankings and 11th in the Ratings Percentage Index that provides its foundation.
"We actually over the 15 years of our program, through graduation and what not, we've rebuilt it four or five times without ever having a rebuilding year, so to speak, which is almost impossible to do," Sisti said. "I credit our past and present staffs and players for being able to do that. We've had a lot of new pieces over the last few years. We've managed to kind of figure it out as the season goes and win enough games along the way to be there when the smoke clears. It's a very difficult challenge."
The challenge has been made more difficult this year by the emergence of a new CHA power at Robert Morris. The Colonials established a program wins record of 19 games two years ago when Paul Colontino left his job on Sisti's staff to take command at Robert Morris, and his current teams has already matched that total with five weeks remaining in its regular season.
"I think clearly [the Colonials] are one of the best teams in the country this year," Sisti said. "They're sitting there with only three losses, and they've got their best, deepest team they've ever had, and they're getting great contributions through experienced players and young players, too. I believe [freshman goaltender Jessica Dodds] is undefeated, so obviously, that's got to bring a lot of confidence for her and the team. They clearly have earned their rankings, and I personally think they should be ranked higher than they are, given what they've done this season, but they're a quality team that's really deep and can beat you in a lot of ways with great defense and explosive offense."
No. 8 in the USCHO poll and fifth in the PairWise, Robert Morris also threatens to usurp Mercyhurst as boss of the league. RMU holds a one-game lead atop the standings as it prepares to visit Erie for a weekend series with the Lakers that will go a long way to deciding the title.
"The league has changed since I've been a freshman until now," Cicero said. "We were definitely never the underdog, per se, in our league until probably last year, this year. When people say, 'Oh, you're playing Robert Morris,' people kind of look over that essentially in the schedule. For us, this is us playing Wisconsin this year in the WCHA or North Dakota. It's definitely a lot more fun and it gives almost like a playoff-type pace to the game, which makes it a little bit more interesting and a little bit more fun."
When the teams met in November, the intensity spilled over and resulted in five majors and five game misconducts at the final buzzer that ended the series on a sour note.
"We all know that this is a huge game and we can't do what happened at the end of the game," Cicero said. "I've definitely grown and learned my lesson there. I don't want to let my team down personally. We know that we just have to be mature and play our game and not let any big emotions get to us, because we obviously need these wins."
Penalties can at times be Mercyhurst's undoing. It is the second-most penalized team in the country, and those infractions have led to 20 power-play goals for opponents, a sizable chunk of the 44 goals that the Lakers have allowed.
"Coach always tells us that we need to limit to a maximum of four penalties a game, and that's definitely been a big concern for our team this year," Cicero said. "I think another reason why our PK has been maybe a bit down in the rankings is because of the amount of penalties that we do have to kill. I think when we kill fewer penalties we do a lot better and our players don't get as tired as we normally would. It's definitely a huge focus for us."
Previous Mercyhurst teams have had success in spite of posting some sizable penalty totals in large part because the rosters contained a number of people like Megan Agosta, Bailey Bram, Jesse Scanzano, and Valerie Chouinard, all of whom racked up at least 200 points as Lakers.
"When you're really deep and you have that offensive firepower to get five, six goals a night, you obviously have a greater margin of error and you're able to get away with a few more mistakes," Sisti said.
This year's roster is less equipped to simply outscore opponents. Christine Bestland has surpassed that 200-point mark, but Cicero is next with 89 career points.
"We're definitely more the type of offense [where] we need to work together," Cicero said. "It's not an individual process anymore, and we're not going to win on talent alone. We need to work on hard work and grinding and battling. We're the type of team that needs to go into a war every single Friday and Saturday night that we play."
The outcome of those battles figures to hold the key to Mercyhurst's face.
"Hockey, as complicated as it seems sometimes, it's pretty simple," Sisti said. "Hockey is hockey. You've got to do the little things well. The team that wins those battles and does the little things better usually is the team that wins. We've got to get a lot of wins here late in the season if we want to accomplish our goals. You can't get them all at once. We can't worry about factors that we don't control. All we can do is try to be the best team we can be this season and win as many as we can along the way. Certainly, we're not getting ahead of ourselves. We just want to play really good, smart, competitive games this weekend."
If they do that and pick up wins over Robert Morris, that CHA trophy could land in Erie once again.
"We're sitting here, late January, and we're still in the mix," Sisti said. "We've accomplished an awful lot over the years, and it is getting to make or break time for this team. I feel we've improved a lot over the season, and hopefully, we can just keep getting better down the stretch."