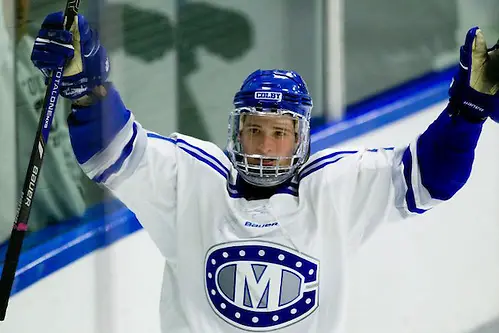 In the summer of 2012, then-new coach Blaise MacDonald arrived at Colby without the benefit of a recruiting class to call his own and started with a team that had seen the transition of three coaches in three seasons.
The Mules had struggled with any kind of success, lacked depth and found ways to beat themselves early in the season last year. But things began to change for the Mules towards the end of the season and this year, the results and confidence level have the Mules back among the league leaders in the ultra-competitive NESCAC.
"Believability is a big key to success," stated MacDonald. "These kids that have been here through all of the transitions had not seen a lot of success or wins on the ice. We needed to change some things and that started with this year's recruiting class. The first season, we only had six defensemen on the roster and used two converted forwards at defense to create depth. Lacking the bodies really makes it challenging to play, but also to practice effectively and develop. We have eight defensemen on the roster this season, including a transfer from Middlebury [Alex Walsh], and three freshmen, so that has helped. We also have received terrific leadership from our senior class and especially our captain, Nick [Lanza] and assistant captain, Brendan [Cosgrove].
"We started having some success late in the first season and now that positive attitude and confidence is showing itself on the ice and creating positive results the team can believe in."
A perfect example of that confidence and believability might be found in the Mules' improbable come-from-behind overtime victory at Wesleyan last weekend.
"There wasn't an overwhelming feeling of overconfidence or overt attitude that we were coming back from two goals down being a man down with two minutes left in the game and having just surrendered a shorthanded goal," explained MacDonald. "It was more a quiet confidence that we could get back into this thing with a goal and that we were not out of the game despite the circumstances."
Robert McCormick scored a shorthanded goal with less than two minutes remaining and Lanza tied the game with just 10 seconds remaining in regulation and an extra attacker on the ice for Colby. The comeback was completed by Lanza, who scored the game-winning goal with an assist from Ben Chwick less than two minutes into overtime.
"Nick and Ben have been really terrific for us all season," noted MacDonald. "It has been great to see the value of their leadership with the team this year and their terrific performance on the ice virtually every night for us. They are two of the most explosive players in the conference and really have scored NHL-like highlight goals for us this season. They are our leaders on the ice and have some special offensive skills that have led to some big goals for our team this season."
For MacDonald, season two has been a settling into the rigors of NESCAC hockey and the traditions of Colby hockey. The expectations for Colby hockey are not lost on its new coach and the traditions are something he embraces and looks forward to building on in his tenure on campus in Waterville.
"You look at the history here with Charlie Holt and Jack Kelley and it is a program steeped in history," MacDonald said. "My first recruitment letter back when I was looking at colleges was from Mickey Goulet, so I know the traditions that are part of this program and the history of great coaches that have been here through the years. It is the biggest sport on campus and without question, the rivalry with Bowdoin is among the best rivalries in college hockey. It definitely compares with a BU-BC or a BU-Maine. It is really great to be a part of the history of Colby hockey and of course, we want to bring the program back to successful years seen in the past.
"We don't play for moral victories; we play to win here at Colby. We added a standings board for the locker room this season and we want to see where we are in the conference and compete at the top of this very competitive league. These kids have been great in working to bring the program back and we are excited about the games ahead and our ability to compete with anyone in the conference."
This weekend actually adds another level of hockey lore to the Colby hockey tradition. The school will be honoring Kelley and over 75 alums and dignitaries from the hockey coaching community will be coming to pay tribute to Kelley, who now calls Waterville home year-round.
"The first letter I received when I took the position here at Colby was from Jack Kelley," said McDonald. "I have conversations and lunch with Jack often and really relish his stories and coaching ideas from his lifetime history in the game. I think Jack Parker and "Toot" Cahoon are coming this weekend to honor Jack and it will be a great event to recognize one of the giants of the college game and mentor to so many players and coaches who are still in hockey today."
The traditions are many and the belief in success is rekindled by a new coach and determined group of players. Williams and Middlebury come calling this weekend at Colby, so the road is challenging, but confidence is high and the success is being proven one game at a time.
Bowdoin raising awareness for Wounded Warrior Project
This Friday night at the Middlebury-Bowdoin game, the Polar Bears will be raising awareness and fundraising for the Wounded Warrior Project.
Sophomore goalie Max Fenkell has led the Bowdoin support and relationship with the WWP, which includes auctioning of special jerseys worn by the team for Friday's game and sales to the public of replica shirts to the public to raise funds for the initiative.
For more information on purchasing a replica jersey and supporting the event, inquiries can be made to Fenkell at [email protected].