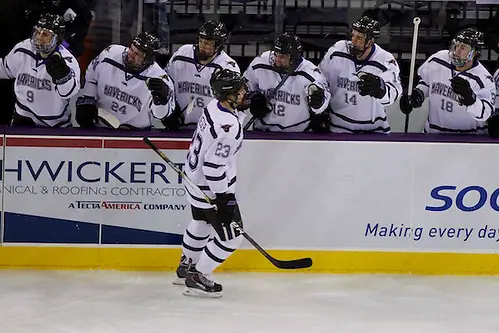 When the college hockey season began, one of the encouraging aspects of the new WCHA was the geographic rivalries that existed in the league.
Alaska and Alaska-Anchorage ended up in the same conference for the first time. Northern Michigan and Michigan Tech were reunited in the WCHA 17 years after the Wildcats left for the CCHA. And Bemidji State and Minnesota State were left together after three other Minnesota teams excited.
But what the league needed was real rivalry.
Not one signified by state borders but one defined by the games themselves. Something more than bragging rights has to be at stake, and something might even have to carry over from meeting to meeting.
We're talking Minnesota-North Dakota stuff here.
A little more than halfway through the season, the WCHA just might have its first big rivalry: Minnesota State and Ferris State.
"It's rivalry for sure now," Mavericks forward Jean-Paul LaFontaine said after the Mavericks swept the Bulldogs last weekend in Mankato, Minn.
The two teams went into the series as the top teams in the conference. The Mavericks got nearly all of the league's preseason accolades, but the Bulldogs entered the weekend as the No. 2 team in the country and looked to be running away with the MacNaughton Cup.
Minnesota State won both games, including a 4-3 Saturday win before a boisterous crowd of 4,636 at the Verizon Wireless Center.
"It was a big playoff atmosphere, especially tonight," LaFontaine said Saturday.
Mavericks coach Mike Hastings agreed.
"That was a playoff hockey game," he said. "What wasn't involved in that game, right?"
Following a 6-2 Mavericks victory on Friday, Saturday's rematch was a tighter-checking, harder-hitting affair that heated up in the second period and boiled over in the third.
After Ferris State captain Scott Czarnowczan was ejected for a hit on Minnesota State's Bryce Gervais in the second period, he egged on the Mankato crowd as he exited the arena. LaFontaine scored on the ensuing power play, and the fans went into a frenzy.
In the third period, a multi-player skirmish resulted in two Mavericks players being disqualified (Teddy Blueger and Zach Stepan) one Bulldogs player getting a DQ (Justin DeMartino) and several other game misconducts, including one to Ferris State goalie CJ Motte.
"At one time, I think they had one [defenseman] left, and we had three," Hastings said. "The guys competed. I think Bobby [Daniels, Ferris State's coach] would tell you the same thing: You don't go into a game thinking that's going to happen."
In all, the two teams combined for 43 penalties and 216 penalty minutes. And at the end of the weekend, just two points separated them atop the WCHA standings.
Minnesota State will play in the inaugural North Star College Cup Friday and Saturday at the Xcel Energy Center, an event that also includes three of the Mavericks' old WCHA foes — Minnesota-Duluth, St. Cloud State and Minnesota — in a four-game tournament.
While it will be nice for the Mavericks to face those geographic rivals again, they now know they have another real rival in their new conference.
Siemer makes big impact on home ice
Speaking to a small gathering of Northern Michigan Blue Line Club members last Friday before a series against Alaska, Wildcats coach Walt Kyle said the fans would notice true freshmen forwards John Siemer and Gerard Hanson in their first two games at the Berry Events Center.
While both scored Friday in their first home games with the Wildcats, Siemer continued to shine Saturday, adding what Kyle called two "major league assists" plus a goal in the third period to earn WCHA rookie of the week honors.
The first assist came on a give-and-go, two-on-one breakaway with senior forward Erik Higby. Siemer then went coast-to-coast on the second to set up Higby again.
"He's legit," Kyle said about Siemer. "He's going to score a lot of points here. He may be our single biggest offensive dynamic guy."
Siemer and Hanson both had to sit out the first part of the season because they were academically ineligible by NCAA standards. Siemer was able to make his debut with the Wildcats on Dec. 14 at North Dakota while Hanson had to wait until Jan. 3 at Bemidji State.
Siemer has five points in five games, though before last weekend he had only an assist against Bemidji.
Siemer's teammates aren't expecting him to slow down anytime soon, though.
"He's a very skilled player," Higby said. "He's definitely going to be a big impact going down in the playoffs and late in the season. As long as we can keep the chemistry going, we should be good."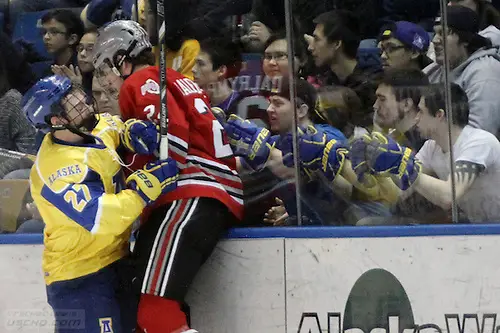 Morley brothers rescue Nanooks
As good as the Wildcats' Siemer was on Saturday with a goal and two assists, Alaska's Morley brothers, Tyler and Brandon, were that much better, allowing the Nanooks to escape from Marquette with a split.
After both scored a goal in Friday's loss, Tyler Morley, a sophomore, scored two goals while Brandon Morley, a freshman, had a goal and an assist on Saturday to lead the Nanooks to their first win in Marquette, Mich., since 2005.
"Both are tremendous competitors, that's the thing that I love the most about them," Alaska coach Dallas Ferguson said. "They compete hard every shift. They're going to give you everything that they got."
The Burnaby, British Columbia, natives and Alaska linemates both played in the BCHL. Tyler, now 22, was recruited as a 20-year-old out of Surrey. Brandon, now 19, also played for Surrey before being traded to Coquitlam.
Brandon has three goals and two assists in his freshman season, having appeared in all 24 games for the Nanooks.
Tyler, who had 10 goals and 11 assists as a freshman, has 12 goals and 11 assists this year, which tied senior Cody Kunyk for the team high in goals. He trails Kunyk by two assists for the team high in points.
"Brandon has come in and is getting better every day, every week. That's the positive for him," Ferguson said.
"Tyler is a guy who finds ways to score goals in tough areas. For his stature, to go out there and compete the way that he does, he's a big asset to our team and to our program.
"They're great kids to coach and we're proud to have them in our program."
Around the WCHA
• Alabama Huntsville picked up its third WCHA point this season, tying Alaska Anchorage 1-1 last Friday. The tie ended an eight-game losing streak for the Chargers. Huntsville has 12 conference games remaining. In recent years, the lowest point finish in the WCHA standings is six (Michigan Tech in 2010-11, Alaska-Anchorage in 2002-03).
• Alaska's come-from-behind victory at Northern Michigan on Saturday snapped an 11-game-winless streak in Marquette. The Nanooks' last win there came on Feb. 5, 2005. The two teams were both members of the CCHA before joining the WCHA this year.
• Lake Superior State's losses at Notre Dame last weekend left the WCHA with an 0-12 record against Hockey East. All 12 of those games were in Hockey East rinks. The WCHA is 25-42-12 this year in nonconference play, with a 14-7-5 record at home. Minnesota State plays the league's final two nonconference games this weekend in the North Star College Cup. Two wins could get the league's neutral ice record above .500. It sits at 4-5-1.
• Bemidji State wrapped up nonconference play with an 0-5-3 record after tying and falling to North Dakota last weekend. Six of those games came against former WCHA members: St. Cloud State (0-1-1), Minnesota (0-2) and North Dakota (0-1-1). The Beavers also played Miami (0-1-1).
• This week's WCHA players of the week are Minnesota State forward Johnny McInnis (offensive), Bemidji State defenseman Matt Prapavessis (defensive) and Northern Michigan forward John Siemer (rookie).