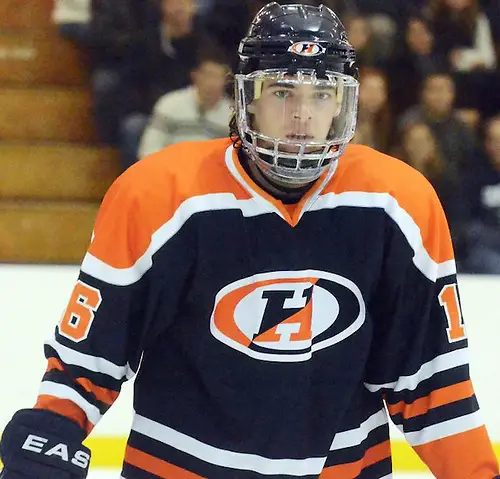 Let the jockeying begin.
After having tasted out-of-conference action for the past several weeks, the ECAC West's sextet is set to battle each other in earnest for standings positions.
The top five teams, headed by Utica, are separated by just six points.
And who knows, for one or two clubs, maybe an NCAA tournament bid will be up for grabs.
That said, it's probably a good time to take a tour of the league's rinks for a little insight on each club.
ELMIRA: The Soaring Eagles' offense has been clicking at a rate of better than four goals per game and it continued to do just that in Tuesday's tilt at Fredonia. However, even a 52-shot barrage leveled at Fredonia goalie Jeff Flager wasn't sufficient to prevent a 5-4 setback.
Elmira might have escaped Steele Hall with at least a tie if not for a power-play tally by Blue Devils' forward Stephen Castriota with just 47 seconds remaining.
Netminder Sal Magliocco was named the league's goalie of the week for stellar work in Elmira's twin wins over Cortland and Oswego. Senior forward Jesper Strale made the ECAC West honor roll for garnering four points (goal, three assists) in Elmira's win against Cortland.
The Eagles have a crucial two-game set at Neumann, against whom they hold a three-point standings lead.
HOBART: Speaking of goal-scoring, the Statesmen all but filled the net in carding two one-sided wins, scoring a total of 13 times against Cortland and Potsdam.
The effort earned Hobart a handful of ECAC West plaudits, with junior defenseman Ryan Michel taking the league's player of the week honors for racking up a total of five assists.
Michel was joined in the limelight by freshman forward, who earned rookie of the week plaudits, and goalie Lino Chimienti, who made the league's honor roll.
Hobart sits in third place in the conference and holds a one-point edge over Manhattanville, whom they will face twice this weekend.
MANHATTANVILLE: A mixed bag was the Valiants' take in last week's action, with a loss to nationally-ranked Williams followed by a win over Morrisville.
Junior blueliner Anton Racklin, who leads all D-III defensemen in scoring, upped his total to 19 by amassing seven points (two goals, five assists) on the weekend.
NAZARETH: The Golden Flyers head into the home stretch still looking for its first league win to go with its three nonconference triumphs.
One of those wins came during their last outing, a 4-2 count at Cortland.
Nazareth will have its hands full this weekend, when it will take on a pair of nationally-ranked squads.
Friday, the Flyers will play host to ECAC West-leading No. 10 Utica, then will travel to Geneseo to face No. 14 in its final nonconference tilt on the schedule.
NEUMANN: Lost twice last week to nationally-ranked Geneseo, 3-2 and 4-1.
The Knights got one goal each from Nick Perrucio, Casey Rogers and Dan McDougall.
Seated in fifth place with five points, Neumann could conceivable vault into second spot with a sweep of visiting Elmira.
UTICA: There are no "gimmes" in college hockey, which is why the league-leading Pioneers will likely not be looking past ECAC West cellar dwellers, Nazareth, whom they will visit on Friday.
Utica will follow that up the next night by hosting Hamilton in a nonconference tilt.
The Pioneers played just once last week and were held to a 2-2 tie by Brockport.