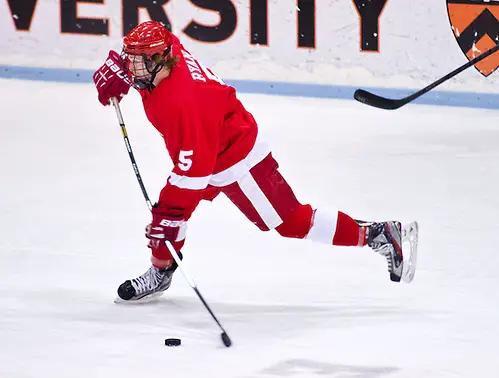 Hello again, and welcome back to another week of the Hobey Watch!
Last week, I started by looking at a few story lines that I had my eye on at the close of last season: the effects of conference realignment on Hobey Baker Award candidates (and Hobey finalist candidates), the play of two of last season's most promising goaltenders (Jon Gillies of Providence and Connor Hellebuyck of Massachusetts-Lowell), and the red-hot play of Boston College forward Johnny Gaudreau and whether he might be the first of the Jerry York-era small Eagles forwards to capture college hockey's top individual honor. Among the responses was one that asked if I've ever heard of ECAC Hockey. Well then.
Yes, I've heard of the conference, as it was my introduction to this wonderful world of college hockey back in my undergraduate days at Dartmouth. Moreover, I had the chance to see two of the conference's teams in action at Madison Square Garden a couple of weeks ago in the "Rivalry on Ice" game between Harvard and Yale. It was a great event, and having done some work with the Leverage Agency to help put things together, it was rewarding to see it unfold on the ice. And, during a pregame reception at the Refinery Hotel, I had the chance to chat briefly with the conference commissioner, Steve Hagwell.
We talked briefly about the season, the continued strong performances of Union, Quinnipiac and Yale, and of course about the Hobey race and my commentary on it. We didn't talk much about this year's candidates, but we did discuss some of the top Hobey contenders to come out of the conference in recent years. And looking at the conference's top Hobey candidates this year, I think they face the same problem that past ECAC Hockey stars have faced in recent years … and they're not the only ones.
Take, for example, Greg Carey, the senior forward for St. Lawrence. Carey was the No. 4 scorer in the country last season, averaging 1.34 points per game on totals of 28 goals and 23 assists in 38 games, and he's come back even stronger in his senior campaign. Through last weekend's games, Carey was second in the country in points per game at 1.82, with 14 goals and 26 assists in 22 games. That's the good news.
The bad news is that his Saints are struggling mightily this season, sitting in 11th place at 2-6-2. While it's not impossible for a player to win the Hobey on a less-than-successful team, it's rare. The only two such Hobey winners who come to mind, in fact, are Chris Marinucci at Minnesota-Duluth in 1994 (team record: 14-21-3) and Matt Carle at Denver in 2006 (which went 21-15-3 but missed the NCAA tournament).
This was the main thing that Austin Smith was missing two years ago, when he had 36 goals and 21 assists in 39 games on a Colgate team that went 19-17-3. While I certainly see Carey as a Hobey finalist on the strength of his individual performance this season, I don't see him faring much better in the final voting than Smith did.
On the other hand, the most successful teams in the conference — the five projected to make the NCAA tournament as of this week's Bracketology blog — don't have Hobey contenders with top-flight individual stats. Quinnipiac has a pair of intriguing forwards in freshman Sam Anas and senior Kellen Jones, but neither is a top-20 scorer. While that wouldn't preclude Jones from a finalist nod (leaving Anas aside since freshmen rarely get Hobey recognition), it's hard to see him as someone who could claim the Hobey. That's not a knock on Jones as a player — far from it — just a recognition of how these things generally go and where Jones fits into the picture.
Union, meanwhile, has a top-20 scorer in senior forward Daniel Carr and a highly regarded junior defenseman in Shayne Gostisbehere. Carr has been on the score sheet in all but four games for the Dutchmen this season, while Gostisbehere is a top-20 scorer among defensemen with six goals and 10 assists, coming off of a sophomore season that saw him capture All-America honors. Both have strong cases for inclusion among Hobey contenders, but neither statistical profile rises to the level of a potential Hobey winner.
Cornell may have the most intriguing Hobey candidate of the conference's top teams in Joakim Ryan. The junior blueliner is second in the nation in defenseman scoring, and his numbers likely will carry more weight than the rearguard ahead of him, Bentley's Steve Weinstein, due to tougher conference opposition.
I'd keep a close eye on Ryan as a potential Hobey finalist, with the potential to do more depending on his performance down the stretch. His current points-per-game average (1.06) may not rise to the level of Matt Carle's 1.35 PPG in his Hobey-winning 2005-06 season, but it compares quite favorably with Jordan Leopold's 1.09 PPG in 2001-02 and Mike Mottau's 1.05 PPG in 1999-2000, especially when you consider that Cornell's style of play — the Big Red is 30th in the nation in scoring offense and seventh in scoring defense — doesn't have the reputation of Minnesota or BC for lending itself to big offensive numbers.
Clarkson is a team without an obvious Hobey contender. The Golden Knights do not have a top-100 scorer in terms of points per game, and a goaltending tandem of sophomore Greg Lewis and freshman Steve Perry. Bottom line: Don't stop believin' in the Golden Knights as a team, but don't expect to hear much about them in the Hobey race.
Finally, there's Yale. The Bulldogs have had a consistently strong offense under Keith Allain, but the scoring is often spread out, and that's the case again this year. Seniors Kenny Agostino and Jesse Root lead the way with 15 and 13 points, respectively.
The team's freshman goaltenders, Alex Lyon and Patrick Spano, have performed admirably, with Lyon doing the lion's share of the work. But, again, this looks like a strong team without a real Hobey contender.
The real takeaway that I have from looking at all of this is that ECAC Hockey is having another impressive season, and after Yale brought home the conference's first NCAA title in more than 20 years, we could (or at the very least, should), see the conference's reputation start to come closer in line with reality as the "EZAC" chants fade.
The question, however, is where that leaves this year's Hobey contenders from the conference. The bottom line is that good numbers on a strong team or great numbers on a struggling team may get you a Hobey finalist nod, but they probably won't get you much further.
The best candidates tend to be those who combine strong individual and team performance, and on that score, I'd pay the most attention to Ryan, keep an eye on Gostisbehere, and be here next week for another edition of the Hobey Watch.