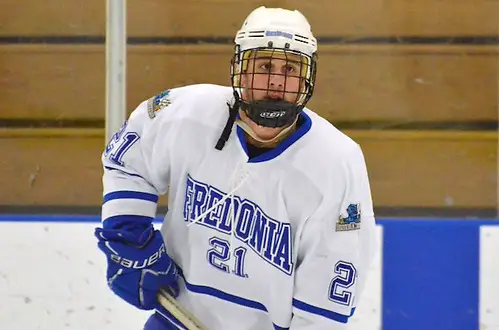 Believe it or not, but playoff pictures are starting to become less blurry as teams are jockeying for positioning in their respective conference standings.
That said, the games are decided on the ice and this weekend, there is no shortage of games to go down in Division III circles.
Here is what our group of columnists has to say about this weekend and beyond.
ECAC East – Tim Costello
It was another mediocre pick week as I finished at 3-2-0 (.600) last week. That less-than-stellar performance brings the season total to 28-11-4 (.698) for the season, which is below my target of 70 percent. The weeks in the season are dwindling down, so more pressure on the teams and subsequently, me.
Here are this week's picks:
Friday, Jan. 24
Babson @ Massachusetts-Boston
The two teams chasing the Norwich at the top of the standings play a home-and-home series this weekend. Both teams are nationally-ranked and looking to make a statement in the conference. The Beavers take the opening round and just maybe need overtime to do it. Babson 3-2.
New England College @ Castleton
The Pilgrims have quietly stayed in the top four and are playing very good hockey, as evidenced by last week's conference player of the week Cheyne Matheson. The Spartans are still struggling with consistency in their game and the Pilgrims will take advantage of mistakes. NEC 5-3.
Southern Maine @ St. Michael's
The Friday night game in Winooski is billed by the hosts as the second annual Alzheimer's Awareness Game, which seeks to provide awareness and raise funds around this debilitating disease. The hosts are playing better, but wins continue to be hard to come by and the visitors eke one out here. Southern Maine 4-3.
Saturday, Jan. 25
Massachusetts-Boston @ Babson
It's the return engagement and quid pro quo, the visitors look to steal two points from the home team. Another close one between two very talented teams and this one is decided by special teams, but in regulation time. Massachusetts-Boston 3-2.
New England College @ Skidmore
The Thoroughbreds have had a rough stretch since the calendar turned to week two in 2014. Points and lots of them are needed quickly if Skidmore looks to move into the upper half of the playoff bracket. This is a game they need to win, but the Pilgrims keep their momentum going. NEC 4-3.
St. Anselm @ Castleton
The Hawks have been up and down all season, but their goaltending, especially Nick Dries, has been very consistent. Last two road games this weekend before five straight at home, so a win here at Castleton could get the Hawks jump-started to a long-term winning streak. St. Anselm 3-2.
Weekends, good or bad, can make a big difference in where your team stands on Monday morning – drop the puck!
ECAC Northeast – Nathan Fournier
Saturday, Jan. 25
Suffolk at Curry
This is a very intriguing matchup with Curry 2-1-1 in its last four games, while Suffolk has lost its last two games. Suffolk is sitting in the fifth playoff seed, one point ahead of Wentworth, who holds the final playoff seed. Curry is still in the mix for a conference playoff berth as they are two points back of Wentworth. I see Curry picking up the crucial two points in a 5-3 game.
Western New England at Johnson and Wales
Both teams currently have six points and sit in third place in the conference. If the conference tournament started today, Johnson and Wales would hold the No. 3 seed. It's an important game for both clubs as Western New England is 1-6 on the road this season and Johnson and Wales is still trying to get into the USCHO.com Division III Men's Poll. I will take Johnson and Wales as they have the hot hand in a 6-4 game.
Salve Regina at Nichols
In the battle of the top two teams in the conference, this is the marquee game on the schedule. Salve Regina is glad to back in conference play as it has lost the last nine games – all nonconference games – with their lone loss in ECAC Northeast coming to Wentworth. Nichols has had better luck outside ECAC Northeast and I see them overtaking first place in a 5-1 game.
Becker at Wentworth
A win for Becker would do wonders for the Hawks. They have one win on the season and a win against Wentworth would put them in a tie for sixth place with the Leopards. Wentworth earned a tie last weekend with Assumption, but still haven't won since Dec. 10. I think they get the monkey off their back in a 3-1 game.
Tuesday, Jan. 28
Salve Regina at Johnson and Wales
The two Rhode Island schools have the stage at the Dunkin' Donuts Center in Providence for the lone ECAC Northeast game of the night. Depending how Saturday night's games go, it could decide first place in the conference. It's a game I believe Johnson and Wales is able to defend home ice and come away with a 4-2 contest.
Wednesday, Jan. 29
Curry at Becker
This is another game that could tighten up the bottom of the standings. It's the first of two games between them. They will meet in the final game for both clubs. I will take Becker to win their first game at home all season 3-2.
Wentworth at Suffolk
Another rivalry game between two Boston-area schools. This another game I could see Wentworth use to climb up the standings. It's a rivalry game, so Suffolk will hang win with them and make it a game. I will go with Wentworth 4-3 in OT.
Thursday, Jan. 30
Nichols at Western New England
This game will be a battle. Nichols has the proven goalie (Alex Larson), while Western New England brings the offense. That will be an interesting dynamic to watch for. I believe Larson, who has allowed 12 goals in his last two games, will steal a game on the road in a 3-2 victory.
ECAC West – Dan Hickling
Friday, Jan. 24
No. 10 Utica (10-3-3, 5-1-1) @ Nazareth (3-12-1, 0-6-1) – Utica 5, Nazareth 1
This could be considered something of a trap game for Utica, given the Golden Flyers' penchant for playing top teams tough. And what few slip ups the Pioneers have had generally have been to upset minded lesser lights. But an upset here? Don't count on it.
Saturday, Jan. 25
Hobart (8-4-4, 2-1-3) @ Manhattanville (10-6-0, 3-3-0) – Manhattanville 4, Hobart 3
This game is the ECAC est — a league in which one good weekend, or one bad one, can make or define your season — in a nutshell. Hard fought. Evenly matched. A white-knuckle ride to the final horn. This one goes to the home team.
MASCAC – Nathan Fournier
Saturday, Jan. 25
Fitchburg State at Framingham State
Both teams have been struggling as Fitchburg State has lost its last two games, while Framingham State is 0-3-1 in its last four games. In the first game of the season between the two teams, the Falcons defeated the Rams 5-2 on Nov. 23. The Falcons move to 2-0 on the season against the Rams with a 3-1 victory.
Westfield State at Massachusetts-Dartmouth
The Westfield State Owls have been playing well in 2014. UMass-Dartmouth is still looking for consistency this season. The Owls have been putting up 4.50 goals per game where UMass-Dartmouth has been allowing 3.40 goals per game. The Corsairs played the Owls tough in their first matchup, losing 3-2 on Nov. 23. I think Westfield State wins by a bigger margin this time around in a 6-3 contest.
Worcester State at Plymouth State
The Panthers seem to have found some solid goaltending in sophomore Gordon Ceasar. He was the MASCAC goaltender of the week this past weekend. Worcester State has won its last two games against UMass-Dartmouth and Fitchburg State. This a very intriguing game between two teams who are looking to host a quarterfinal game. I have Plymouth State winning in a 4-3 game.
Tuesday, Jan. 28
Franklin Pierce at Framingham State
This is the last nonconference games for the MASCAC. Framingham State will have have a great chance to get some momentum going into the final month of the season. Franklin Pierce is 1-1 this season against MASCAC teams having beaten Westfield State 3-2 and dropping a 4-2 decision to Fitchburg State. I have Framingham State winning 3-0.
Salem State at St. Anselm
This is St. Anselm's first game against a MASCAC school. They are 4-0-0 when they leading after one period. The Salem State Vikings are 2-4-1 when trailing after one stanza. They also score a little over half a goal less in nonconference play. I think the Vikings can get it done on the road in a 3-2 game
UMass-Dartmouth at Stonehill
The Consairs have their hands full with Stonehill, who is scoring 3.59 goals per game. In their lone game against a MASCAC opponent, they lost to Plymouth State 3-2. I believe they will have better success this time around in a 7-3 win over UMass-Dartmouth.
Thursday, Jan. 30
Plymouth State at Framingham State
In the first contest between these two clubs, Eric Ward had two goals in the Rams' 4-2 victory. Last season, they lost all three games. The Rams are playing confident this season, so like the first game this season between the two teams, I expect another close game. I believe Plymouth State will pick up a big 5-3 road victory.
Fitchburg State at Salem State
Another game on the schedule where its a game that could separate the standings. Salem State has 10 points and Fitchburg State has six points. Fitchburg State can close the gap or the Vikings could make it a top tier of the three teams between Westfield State, Framingham State and themselves. With the Vikings strong home record, I have them winning 6-4.
Worcester State at Westfield State
Dalton Jay recorded a hat trick against Worcester State on Dec. 5. Frank Zuccaro and P.J. McCadden assisted on all three goals in the 6-2 win. The Owls' offense has been strong in conference play and I expect it to continue in this contest against the Lancers. Westfield State wins it 8-5.
MIAC/WIAC – Brian Lester
As we close in on the final month of the regular season, the conference races are beginning to heat up in the MIAC and WIAC.
The standings are tight in both leagues. Gustavus Adolphus is in first place in the MIAC and four points ahead of second-place St Thomas. St. John's is in third with 15 points.
River Falls leads the WIAC, but the teams behind the Falcons are all well within striking distance.
So without further delay, here are my picks for the weekend.
MIAC
St. Thomas vs. Hamline: The Tommies will look to gain ground in the standings when they play a home-and-home with the Pipers.
St. Thomas should have the edge. It has racked up 40 goals and allowed just 24. Alex Altenbernd leads the team with six goals and eight assists. Drew Fielding owns a 1.55 goals-against average.
Hamline has managed only 25 goals and has given up 65. Kevin Novakovich leads the Pipers with five goals and six assists. It will take a tremendous effort by the Pipers to steal a win in this series. My guess is the Tommies sweep. St. Thomas 5-1 and 5-0.
Augsburg vs. Concordia (Minn.): The Auggies and Cobbers are both vying for a spot in the tournament and this series should be highly competitive.
Augsburg has scored 46 goals and allowed 38 and Ben McClellan leads the team with 10 goals and three assists. Nicholas Widing has five goals and seven assists.
Concordia has tallied 55 goals on the season and has given up 42. If the Cobbers can get going early offensively, especially if Caleb Suderman has a strong effort — he has 11 goals and nine assists — they could very well sweep this series. I'm thinking these teams will split even though Concordia is at home. Concordia 4-2; Augsburg 5-3.
St. Mary's vs. Gustavus: The Gusties own first place at the moment and it is big for Gustavus that this series will be played on its home ice. Corey Lievermann leads Gustavus with 10 goals and seven assists, while John McClean has been tough in goal with a 2.30 goals against average.
St. Mary's knows it needs to get at least a split to keep its playoff hopes alive and there is no question the Cardinals could do it. They have scored only 35 goals and will need to be efficient offensively while getting solid play from Christian Gaffy, who has a goals-against average of 2.76. Gustavus 4-2, St. Mary's 4-3.
WIAC
Wisconsin-River Falls vs. Wisconsin-Eau Claire: The Blugolds are riding high after five consecutive shutouts and it's going to be tough for the Falcons to score on them.
Tyler Green has earned three of those shutouts and Jay Deo has the other two. Green and Deo have goals-against averages of 2.08 and 0.66, respectively. The Blugolds have allowed 25 goals in all while scoring 56. Joe Krause leads the offense with eight goals and eight assists.
River Falls earned a split with Wisconsin-Stevens Point last week and will be looking for one against Eau Claire. It's going to have to find a way to sneak in a goal here or there, perhaps off a rebound, and play tenacious defense.
The Falcons have tallied 47 goals and have allowed 33. Willie Hess has struck for 10 goals and three assists while Scott Lewan has come through with 240 saves and has fashioned a goals-against average of 2.51. I can see at least one game ending in a tie. Eau Claire 3-0; River Falls 1-1.
Wisconsin-Superior vs. Wisconsin-Stevens Point: Superior has been a little up and down lately, going 2-3-2 in its last seven, but it will be up for the challenge of taking on the Pointers.
The Yellow Jackets have scored 41 goals and have allowed 43 and they will need to be tough on defense to to get the job done against Stevens Point. Goalies Drew Strandberg and Dayn Belfour have combined for 372 saves. Cody Hotchkin and Pat Dalbec have tallied 14 and 12 points, respectively, with Dalbec racking up six goals, while Hotckin has struck for five goals.
The Pointers have lost only once in their last six games and they could very well keep things rolling in the right direction this weekend.
Stevens Point has been phenomenal on offense, scoring 82 goals, and it has allowed only 26. If Brandon Jaeger is on top of his game in goal — he owns a 1.71 goals-against average — and Garrett Ladd turns in another strong effort — has scored 13 goals and dished out 13 assists — the Pointers are going to be in good shape. Stevens Point 5-2 and 4-1.
NCHA – Katie Carito
All but Lake Forest and Concordia (Wis.) are playing conference action this weekend and I'm not predicting any upsets for the eight teams who will be battling it out.
Finlandia at Adrian
Adrian (14-0-2) remains the No. 1 team in the country after forcing an overtime situation twice last weekend against St. Scholastica. The Bulldogs came out of the series with a tie and a win. Finlandia (2-13-1) earned its first conference win of the season against Northland on Saturday after a 5-4 OT loss on Friday night. Adrian 4-1, 3-1
Northland at Marian
Marian is 4-11-2 on the season and hasn't won a game since Nov. 22. In January, the Sabres have had to go to overtime to decide a game, but haven't been able to get the win. Northland (3-14-0) has most recently split a weekend series with Finlandia. Marian 2-1, Northland 2-1
St. Scholastica at Lawrence
Lawrence (4-12-1) is looking to snap a six-game losing streak as it hosts St. Scholastica (9-4-4). The Saints will look to get some of their momentum back (they have had to battle to overtime in their last four games) and only have one win on the second half of the season. St. Scholastica 3-1, 2-1
St. Norbert vs. Milwaukee School of Engineering
MSOE (4-12-1) is on a bit of a hot streak compared to their first-half performance. After losing the first nine games of the season, the Raiders have rallied to go 4-3-1 since Dec. 13. They most recently swept Lawrence, including a 1-0 shutout. St. Norbert (14-2-1) is tied for first in the standings with Adrian, and trampled Concordia (Wis.) 11-1 on Saturday night. St. Norbert 2-1, 2-1
NESCAC – Tim Costello
Back-to-back weekends with 2-3-0 (.400) picks certainly is diminishing my early season success. The overall season record of 19-8-2 (.690) is now below the cherished 70 percent goal, so time to break out of the deep freeze in winter doldrums and start getting a few right.
Here are the picks:
Friday, Jan. 24
Williams @ Colby
The opening game of the season saw a 1-1 tie in Williamstown and both teams have shown since then that they can play high-intensity hockey. It's another close one, but Sean Dougherty outduels Sam Parker in a NESCAC goalie classic. Williams 3-2.
Geneseo @ Hamilton
Another SUNYAC vs. NESCAC matchup this week that finds the home team facing a very tough nonconference opponent. The Continentals are game and competitive, but don't have enough in the tank against this upstate New York opponent. Geneseo 4-1.
Amherst @ Concordia (Wis.)
The Lord Jeffs are amidst games seven and eight of ten straight on the road and this weekend takes them way west to face two NCHA opponents. Last week's conference sweep got Amherst back to its winning ways and this one is close with an empty-netter providing the final margin for the visitors. Amherst 4-2.
Saturday, Jan. 25
Trinity @ Connecticut College
While Williams may be garnering most of the attention at the top of the standings, the Bantams are showing the rest of the league that they are right near the top for a reason – they are playing good hockey. The Camels see it first-hand and suffer a hard-fought loss. Trinity 3-1.
Wesleyan @ Tufts
The Cardinals are 0-4 in conference play the last two weeks, including three tough one-goal losses. Karma doesn't always balance things out perfectly, but the visitors will take a win by any margin against the Jumbos. Wesleyan 4-2.
Williams @ Bowdoin
The Polar Bears got thumped 5-2 back on the road in November, so the home-ice advantage is something Bowdoin hopes to leverage and stay above the .500 mark in conference play and continuing to move up in the standings. Bowdoin 3-2.
The battle to be in the playoffs and seeded well continues with just four weekends remaining – drop the puck!
SUNYAC – Dan Hickling
Friday, Jan. 24
Brockport (4-8-3, 1-4-1) @ Morrisville (4-10-2, 1-6-1) – Morrisville 4, Brockport 2
One of these two clubs is bound to make a late season charge to the SUNYAC playoffs. The guess here is that the Mustangs take the first step.
Saturday, Jan. 25
Cortland (4-11-2, 3-5-1) @ Fredonia (5-8-3, 2-3-2) – One of D-III's hottest clubs over the past few weeks, Fredonia should have the upper hand on home ice. Perhaps Stephen Castriota, (AKA Mr. Clutch) will pop in another game-winner.