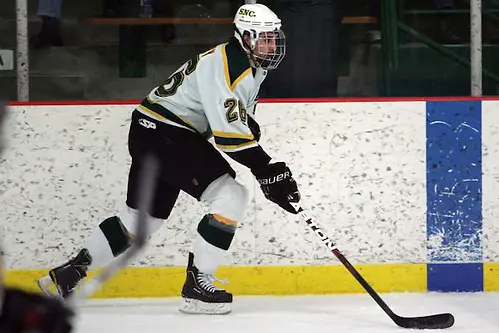 A series involving two teams that are at the top of their conference and tied for first is bound to be an exciting matchup.
A pair of teams that are No. 1 and No. 2 in the nation and competing against each other for the first time in the regular season is historic.
Combine those facts with two powerhouses of Division III hockey and everyone can agree that fans of the game will be in for a treat this weekend.
St. Norbert is currently 16-2-1 overall and 11-1-0 in conference play, which is tied for first with 22 points. They are ranked second in the country, behind conference foe Adrian.
Senior forward Cullen Bradshaw has been key for the Green Knights this season, leading the team with nine goals and 13 assists. Senior forward Joe Perry has 13 of St. Norbert's 84 goals.
Junior goaltender David Jacobson has yet to have a loss on his record this season, going 13-0-1 with a 1.41 GAA and .933 save percentage.
Adrian has steamrolled its competition this season, holding a 16-0-3 overall record, while their 10-0-2 conference record has the Bulldogs tied with St. Norbert for first. For the first time in the program's history, the Bulldogs earned the nation's No. 1 ranking three weeks back.
The Bulldogs are now unbeaten through a school-record 19 games.
The top-performing line for the Bulldogs has comprised of junior forwards Josh Ranalli (16-10-26), Justin Basso (8-16-24) and senior forward Josh Cousineau (4-18-22). Ranalli's 16 goals are tied for tops in the nation.
Juniors Scott Shackell (7-0-1, 1.43 GAA, .943) and James Hamby (9-0-2, 1.64 GAA, .935) have split time the net this season. Both have had two shutouts.
The two games will be played at St. Norbert's Cornerstone Community Center, where the Green Knights hold an impressive 186-22-11 all-time home record.
The Bulldogs have been able to find a way to get the wins on road ice, as they are riding a 24-0-4 road unbeaten streak.
St. Norbert holds the 2-0-0 all-time series advantage against Adrian and both wins have come during the NCAA Division III tournament.
In 2010, the teams battled to a 4-3 score during the first round of the tournament. In 2011, St. Norbert again won with a 4-3 score, gaining a national championship in the process.
One thing is for certain this weekend – hockey fans will be treated to two intense and entertaining games that will have pretty powerful NCHA outcomes.
Around the League
Senior forward Huck Saunders from Lawrence was named this week's NCHA offensive player of the week. Saunders tallied three goals last weekend, helping Lawrence split the weekend with St. Scholastica.
Jacobson was the conference defensive player of the week as he stopped all 40 shots fired at him over the weekend as the Green Knights shutout Milwaukee School of Engineering with 2-0 and 4-0 scores.
Big points are on the line this weekend as there are only three weekends left in the season and playoff spots still up for grabs.
Another big series to watch this weekend will be the home-and-home battle between Marian and Concordia (Wis.). Concordia is currently fifth in the conference with 12 points, while Marian sits right behind with 11 points.