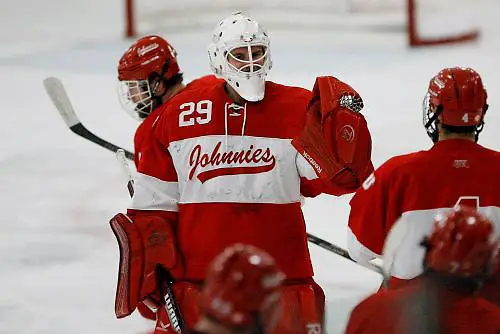 It's getting down to nitty-gritty time, so who's in and who's out?
Nothing is certain yet, but with just a few weekends left in the regular season, every win counts.
Here are the predictions for this weekend's games and then some:
ECAC East – Tim Costello
I know it is winter, or at least the groundhog says we have more coming, but I am clearly on a slippery slope and going the wrong direction.
Upsets abounded last weekend leading to a 1-3-1 (.300) pick week. That has dropped the overall season down to 32-18-5 (.627). The games aren't getting any easier, but I need to pick up my game accordingly.
Here are this week's picks:
Friday, Feb. 7
Southern Maine @ Massachusetts-Boston
The Beacons rallied for a win and a tie last weekend, but don't have a position in the top four locked up just yet. The offense is too much for the Huskies on the road and the Beacons pick up a needed two points. Massachusetts-Boston 5-2.
New England College @ St. Anselm
The Pilgrims got behind early and narrowly avoided being shut out at home before the semester break in this travel partner matchup. Turnabout is fair play and the visitors steal one on the road, leveraging an empty-net goal for the final difference. New England College 3-1.
University of New England @ Babson
The Beavers sit atop the standings late in the season and should be strongly motivated by the chance to grab the top seed if they continue their strong play down the stretch. Balance is the key for Babson at home and four different goal-scorers point the way to a win. Babson 4-1.
Saturday, Feb. 8
St. Michael's @ Castleton
It's tough to know which one of these teams is bringing their 'A' game on any particular night, so this one will go the distance and maybe an extra five minutes if the first matchup is any indication. The Spartans need the points more and the home crowd spurs them on to victory. Castleton 4-3.
Norwich @ Skidmore
The Cadets haven't dropped two games in a row in a VERY LONG time. Needless to say, coach Mike McShane will have the boys refocused to start a new win streak and stay in the hunt for the top spot in the conference. It's close, but the visitors have enough to garner a second overtime win against Skidmore. Norwich 3-2.
Three weeks, six games and 12 points are available. Who wants the points the most? – drop the puck!
ECAC Northeast – Nathan Fournier
Saturday, Feb. 8
Salve Regina at Curry
Playoff positioning is up for grabs here. The Seahawks came hot out of the gate this season, while Curry is just finding its stride. One thing for certain – I don't see another 6-3 contest like we saw on Nov. 19 with these two teams in which the Seahawks won. There will be offense in what I think will be a 5-4 Curry advantage.
Becker at Johnson and Wales
Does Becker have another upset brewing after their 4-1 victory over Nichols last Saturday? In my opinion, I can't see it happening. Johnson and Wales put up eight goals in their first meeting in November. Cody Sarmiento had a hat trick that night for Johnson and Wales. Then again, Becker gained the confidence that they can beat the top teams in the conference with the win against Nichols. I still don't think it will be enough to knock off Johnson and Wales, who have been knocking on the USCHO.com's Division III Men's Poll the last few weeks. Johnson and Wales 5-1.
Suffolk at Nichols
Suffolk handed Nichols its worst loss of the season back on Nov. 20, winning 7-1. That has been one of the few hiccups to the Bison season so far and revenge is on their minds. I don't think you will see Alex Larson give up four goals in a period like he did in the first period. Suffolk has lost some tough games lately, with a 3-2 defeat to Wentworth on Jan 29. and a 4-3 defeat to Johnson and Wales in overtime on Saturday. I have Nichols coming away with a 4-2 win.
Sunday, Feb. 9
Western New England at Wentworth
Wentworth is finally putting it together the last few weeks and are in the thick of things for the ECAC Northeast regular-season title. Western New England is fading back as they had high hopes for this season. They aren't quite out of it just yet, but need to get a win or two in the near future. The Golden Bears won the first contest 6-3 and again, I don't think we will see the same result again this time around. I will take Wentworth 4-3 in this contest.
Tuesday, Feb. 11
Nichols at Wentworth
A lot of eyeballs will be on this matchup as it could shake up the entire ECAC Northeast standings. In the first contest, it was a very good game as the Bison came away with the 4-3 victory. This time around, I think we will see the same thing happen again. Both teams need the two points and I expect it to have a playoff atmosphere. I will take Nichols in a 3-2 game.
Wednesday, Feb. 12
Salve Regina at Becker
While the Seahawks have struggled since Nov. 30, they did beat Becker in their winning stretch to start the season 5-2. I believe Salve Regina has more depth then Becker, which will be the difference-maker. Becker will probably skate with them for the first two periods, but see Salve Regina pulling away in a 6-2 contest.
Thursday, Feb. 13
Curry at Johnson and Wales
Curry's daunted stretch of games come to an end against Johnson and Wales. Curry defeated Johnson and Wales 4-3 on Nov. 16. Johnson and Wales to that point hadn't hit their stride and are 12-4-0 since that point. This will be another good contest with the way Curry has been playing the last month, but will take the home team in a 5-3 game.
Suffolk at Western New England
This is another rematch where Suffolk is the hunted instead of the hunter. They defeated Western New England 5-3 on Nov. 16. Simon Leahy had two goals in the victory, while Brandon Stroud had a pair of his own in the losing effort. Both teams will want to host a quarterfinal conference tournament game, so I expect it to be another tight contest. I will take Western New England in a 5-4 game.
ECAC West – Dan Hickling
Friday, Feb. 7
Neumann (7-8-4, 2-5-2) @ No. 15 Utica (11-5-4, 6-3-1) – Utica 5, Neumann 2
Utica is far too good a club to have won just once (last week in Elmira) in its last six starts. This would be a good time to prove it.
Saturday, Feb. 8
Elmira (12-8-0, 7-3-0) @ Hobart (11-5-4, 5-2-3) – Hobart 3, Elmira 2
First place could be on the line, here, which could make this clash the "Thrilla in the Chilla." The guess here is that Hobart's home-ice advantage will frost the Soaring Eagles.
MASCAC – Nathan Fournier
Saturday, Feb. 8
Framingham State at Massachusetts-Dartmouth
Both games between the two teams this season have been one-goal games. In the first meeting, Framingham State surprised the defending league champions in a 5-4 contest. Last month, UMass-Dartmouth came back and squeaked out 2-1 win. Saturday is the rubber match at UMass-Dartmouth and I will take the Rams in 5-3 contest.
Fitchburg State at Plymouth State
Both teams are in the thick of things when it comes to hosting a playoff game. Plymouth State has made a second-half push and are in second place in the standings and would get a bye into the semifinals. Fitchburg State would host a quarterfinal contest. It will be a de facto playoff game with two very important points up for grabs. I will take the Panthers as they are hosting this contest in a 3-1 game.
Westfield State at Salem State
Another contest with huge playoff implications. Salem State is at top of the standings and Westfield State is sitting in fourth. Westfield State has won both games this season, 8-5 on Nov. 14 and 4-3 on Jan. 16. Salem State's only loss at home has been against the Owls, so the Vikings have something extra to play for in this game. My heart says Salem State will play with that extra motivation, but my brain says Westfield State will go for the clean sweep. I will go with my brain in a 3-2 game.
Tuesday, Feb. 11
Worcester State at Assumption
While the rest of the conference beats each other up this weekend, the Lancers have the weekend off and have a nonconference game on Tuesday. They are on the outside looking into the conference tournament. This will be a good game to tinker with lineups and work out some kinks that they may have for the final two weeks of regular season play coming up. I will take Worcester State in a 3-2 game.
Thursday, Feb. 13
Worcester State at Fitchburg State
The Lancers get back in the saddle in league play Thursday. The teams have split the first two games of the season Fitchburg State defeated Worcester State 7-3 in which the Lancers were in the second game of a 1-6-1 stretch to end the first half of the season. The Lancers defeated the Falcons 5-3 in their second game of their 4-2 stretch in their last six games. I will take the Falcons at home 4-2 as they are 7-4-0 at home this season.
Salem State at Framingham State
Framingham State has had the slight advantage this season, defeating the Vikings 6-3 on Nov. 16 at home and earning a 4-4 tie in Salem St. The third matchup should be more like the second matchup where it will be a close game. I won't call it a tie because I don't believe in "kissing your sister," but this will come down to the wire. Since the last time these two teams met, the Vikings have alternated in wins and losses. If you look at the schedule, where this game falls, recent results suggest a win for Salem State.
Plymouth State at UMass-Dartmouth
On paper, this game looks like a mismatch, but with the history between the two teams the last two years, anything is possible. Both teams have split the season series so far with the Corsairs winning the first contest on Nov. 16 in a hard-fought 4-3 game. In the Jan. 18 contest, the Panthers shut out UMass-Dartmouth 3-0. I believe Plymouth State will win again with Gordon Ceasar being the X-factor once again in goal. This time, I think UMass-Dartmouth will find away to beat him, but Plymouth State wins 4-2.
MIAC/WIAC – Brian Lester
The regular season is winding down and the title races have yet to be decided in the MIAC and WIAC.
Concordia (Minn.) and St. Olaf highlight the weekend slate in the MIAC, while Wisconsin-Eau Claire and Wisconsin-Stevens Point are both looking to stay in title contention by taking care of business in their respective matchups this weekend.
You can check out all of that and more in my weekend picks.
MIAC
Bethel vs. St. Thomas
Bethel is going to need a remarkable late-season push to get into the conference tournament, while St. Thomas is still fighting for the right to win the league championship. The Tommies are in second place entering the weekend.
The Royals have dropped three consecutive games and are going to need quite an effort to take down the Tommies. Brock Raffaele and Travis Payne have eight goals apiece and will need stellar performances to put the Royals in a position for an upset.
The Royals also need to be at their best on defense, having allowed 60 goals on the season.
The Tommies have scored 60 goals this year, including nine by Alex Altenbernd, and Drew Fielding continues to be a force in goal, allowing only 26. He has racked up 440 saves.
St. Thomas, riding a four-game win streak, is just too good on both ends of the ice. St. Thomas, 6-2, 7-1.
Concordia (Minn.) vs. St. Olaf
Concordia comes in four points behind third-place St. Olaf, meaning this series is huge for both teams. The Cobbers have won two consecutive games and the Oles are rolling behind a six-game win streak.
Caleb Suderman leads an offense that has tallied 68 goals this season. He has scored 13 to go along with nine assists. Jordan Christianson has been solid as well, tallying eight goals and six assists. The Cobbers are balanced for sure and goalie Chris Neamonitis is playing well. He has a goals-against average of 2.43 and has racked up 532 saves.
It's huge St. Olaf gets this series at home, where it is 4-2-2, although the Cobbers are 6-4 on the road this season.
St Olaf has leaned heavily on the play of Dan Cecka, who has tallied 14 goals and six assists. But like the Cobbers, the Oles are balanced as well offensively.
The play of Steve Papciak in goal will be key. He has a goals-against average of 1.81. Defense could decide this series. My guess is it ends in a split. St. Olaf 4-2, Concordia 5-3.
St. John's vs. Hamline
St. John's enters the weekend in fifth and still has time to climb in the standings. The Johnnies have lost two consecutive games, but should be able to get back on track against the Pipers, who have lost their last six games.
The Johnnies managed only two goals in a series against Gustavus, but the Johnnies have the ability to play well offensively. Josh Gross has scored six goals to go along with nine assists and Phil Johnson has come through with five goals and five assists.
Saxton Soley owns a 2.24 goals-against average and has tallied 359 saves. His play in goal, combined with enough weapons on offense, should give the Johnnies a chance to sweep the series. St. John's, 6-1, 5-0.
WIAC
Wisconsin-Stevens Point vs. Wisconsin-Stout
The Pointers have won two consecutive games and are legit contenders for the conference championship. Stout comes in on a three-game losing streak.
Stevens Point has been a force on offense, racking up 99 goals, including 21 off the power play. Garrett Ladd is having a stellar season with 16 goals and 15 assists and two others have scored 10 or more goals in Scott Henegar (12) and Nick D'Avolio (10).
Combine the balanced attack with the play of Brandon Jaeger in goal, and the Pointers seem poised for a sweep. Jaeger owns a 1.87 goals-against average and has tallied 349 saves.
Stout needs to score early if it's going to have a chance. The Blue Devils have scored 48 goals on the season and Kevin O'Donnell leads the way with nine goals.
Corey Koop will need to have one of his best games of the year in goal for Stout to have a chance. Koop has a 3.37 goals against average and has made 558 saves. My guess is Stevens Point rolls. Stevens Point, 6-2, 7-2.
Wisconsin-Superior vs. Wisconsin-Eau Claire
Superior could use a big weekend to get back in the mix for the WIAC title, while Eau Claire is looking to stay on a roll as its riding a two-game win streak.
Superior has to be productive offensively to have a shot in the series. The Yellow Jackets have scored 51 goals and have allowed 58.
Pat Dalbec has played well, having scored nine goals and dished out 10 assists, while Michael Rey has come through with nine goals and nine assists.
Drew Strandberg and Dayn Belfour continue to split time in goal and have each given up 26 goals. Both will have to be ready to be at their best against an explosive Eau Claire team.
The Blugolds are alive and well in the hunt for a league title and have scored 72 goals while allowing only 32.
Jon Waggoner and David Donnellan have scored nine goals apiece for Eau Claire, while Joe Krause has tallied eight goals. Waggoner and Krause have eight assists apiece as well. Jack Callahan leads the team in assists with 12.
Tyler Green and Jay Deo are both formidable goalies and either one is capable of getting the job done. Green, who has started the last five games, has made 347 saves and Deo has tallied 128 saves.
Eau Claire is just too tough on both ends of the ice to stumble and I expect the defending champs to get a sweep this weekend. Eau Claire, 4-2, 5-1.
NCHA – Katie Carito
Lawrence at Adrian
Adrian (17-1-3) was handed its first loss of the season last weekend in quite the fashion as they fell 11-1 to St. Norbert. The Bulldogs rallied the next night as they defeated the Green Knights 4-1. Lawrence (5-15-1) was most recently swept by Lake Forest. I think Adrian will bounce back from a weekend split quite well, especially at home. Adrian 3-2, 4-1
Northland at Concordia (Wis.)
Northland (3-18-1) is on a five-game losing streak, most recently getting swept by St. Scholastica. Concordia (8-9-4) was swept in a home-and-home series with Marian. The Falcons have gone 0-5-1 in the last six and will look at this weekend as a chance to get back to their winning ways. Looking at the Falcons schedule, they tend to win, and lose, in batches. Concordia 2-1, 2-1
Milwaukee School of Engineering vs. Lake Forest
Lake Forest (12-8-1) is on a tear after sweeping Lawrence last weekend with 7-0 and 3-2 scores. They have gone unbeaten in the last eight, winning seven straight. MSOE (5-9-2) is starting to find their footing after a dismal first half of the season. I think each team will win at home. Lake Forest 3-2, MSOE 4-2
St. Norbert at St. Scholastica
St. Norbert (17-3-1) and St. Scholastica (12-5-4) are meeting for the second and third time this weekend. In their nonconference matchup earlier this season, the Saints took the victory with a 4-2 win. These familiar opponents are sure to put on a show – can I pick overtime? St. Norbert 3-2, St. Scholastica 2-1
Marian at Finlandia
Marian (8-11-2) has posted two sweeps in the last two weekends against Northland and Concordia (Wis.). Finlandia (2-17-1) has been swept the last two weekends and sits at the bottom of the NCHA. Marian 2-1, 4-1
NESCAC – Tim Costello
Now that is more like it!
A 4-1-1 (.750) week of picks brought the overall percentage back into reach of my 70 percent success target. The overall season stands at 35-14-6 (.691), so if I can just get a little puck luck in some of the very tough conference games this week, I might reach my goal.
Here are the picks:
Friday, Feb. 7
Bowdoin @ Hamilton
The Polar Bears are in a tight battle for a home-ice position in the standings with Colby and Middlebury, so every point matters. Long bus ride for the visitors that only is lessened by going out and securing the valuable two points. Colin Downey continues his hot scoring streak for the visitors. Bowdoin 5-2.
Connecticut College @ Tufts
Mike Petchonka has found his mojo down the stretch for the Camels and they will need to continue to ride the hot goaltender in this travel partner battle to stay in playoff contention. A lot of confidence for the visitors on the front end of this home-and-home weekend. Connecticut College 3-1.
Colby @ Amherst
Finally, a home game for the Lord Jeffs after playing their last 10 games on the road, including a trip to Wisconsin. Everything is better at home – the food, your own bed and yes, the win. Amherst 3-2.
Saturday, Feb. 8
Williams @ Wesleyan
The Ephs don't know how to play them other than close. They score just enough and Sean Dougherty slams the door shut on the opposition. Sounds like a pretty good formula for success. Williams 3-2.
Middlebury @ Trinity
The Bantams handled the Panthers at Middlebury the first time around and offensively, the home team may have the best top six forwards in the conference. The Panthers have yet to show consistency in their game and drop a close one on the road. Trinity 4-2.
There are battles for position up and down the standings and weeks are winding down. Time to step up the game, boys – drop the puck!
SUNYAC – Dan Hickling
Friday, Feb. 7
Buffalo State (9-8-3, 6-3-1) @ Potsdam (7-12-0, 2-8-0) – Buff State 5, Potsdam 2
After a two-week layoff, the Bengals will be eager to resume their challenge for a first-round bye. Potsdam has already pulled off one major upset (Geneseo), but a second would be asking a lot.
Saturday, Feb. 8
No. 10 Oswego (13-4-2, 6-3-1) @ Morrisville (5-13-2, 2-9-1) – Oswego 6, Morrisville 3
The Lakers are laden with first-year players making important contributions, but yet to be playoff tested. No doubt, Oswego head man Ed Gosek is delivering the message that at this stage of the year, there are no more rookies, only Lakers. Morrisville's desperate fight to keep its already slim playoff chances alive may not be enough to get the job done.