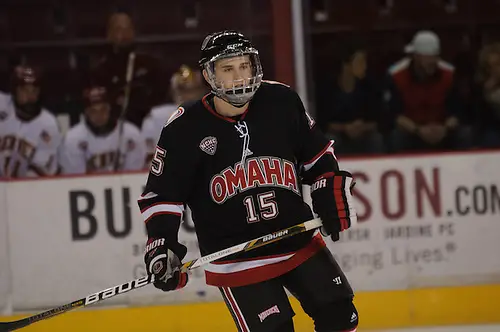 Nebraska-Omaha's Saturday games have been becoming more and more, well, interesting.
One could make the argument this pattern began with the Mavericks' 5-1 win Jan. 18 at Miami, the first time UNO had routed anyone since beating the RedHawks 6-3 at home nearly two months before that on Nov. 22.
Fast-forward to Feb. 1, then, where UNO knocked off then-No. 5 St. Cloud State 8-6 in Omaha in a game in which both teams had one player net a hat trick and in which four goaltenders – two for each team; I mean, let's not go completely nuts – saw playing time in a game where the standards of defensive play and netminding were sometimes questionable at best.
Finally, there's UNO's game last Saturday at No. 16 North Dakota. It ended well for the visitors, who won the game 6-3 thanks to five unanswered goals and a hat trick from Mavericks forward Josh Archibald, but the game didn't start so great for UNO.
The weirdness started when Archibald and UND forward Stephane Pattyn both watched the game's opening face off from the penalty boxes after picking up unsportsmanlike conduct penalties zero minutes and zero seconds into the first period.
It wasn't the only unsportsmanlike call the visitors would pick up in the opening frame, and the second one saw Mavericks coach Dean Blais kicked out of the game. When Blais refused to send a player to the box for his team's bench minor at 17:07, referee Andy Thiessen gave Blais his marching orders.
Brad Schlossman of the Grand Forks Herald reported that Blais watched the rest of the game from the Ralph Engelstad Arena's Zamboni room, a place Blais used to enjoy playing cards in when he was UND's head coach at the arena Blais helped design.
Broncos get back on track
Ahead of last weekend's series at Miami, Western Michigan hadn't won a single game in Oxford, Ohio since Nov. 19, 2004 and had gone 0-12-1 on the road against the RedHawks since then.
Those weren't the only reasons, though, that the Broncos' sweep of Miami in Oxford last weekend came at a great time.
Western had been on a 5-0-1 tear in its last six games – thus putting the Broncos back into contention for the NCHC regular season title – before getting derailed at home in a sweep Jan. 31 and Feb. 1 at the hands of Minnesota-Duluth.
Now, though, following a 5-2 win at Miami last Friday before coming up triumphant again in the rematch the following night by a 3-2 count, WMU can and should consider itself back on track in terms of how the NCHC standings are shaping up.
Western would be on the road at fourth-place Nebraska-Omaha in the first round of the league playoffs if the regular season had ended Saturday. However, with only four points separating first-place St. Cloud State from sixth-place Denver with four weeks remaining until the postseason starts – and factoring in Western's relatively favorable remaining schedule – there's still a lot of time for the Broncos to keep climbing.
Duluth takes five of six points at home
Talking of that UMD team that swept Western on the road, the Bulldogs stayed hot last weekend by getting a regulation win and shootout win over Colorado College at home.
Both games were close against the Tigers, who are are currently tied on points with Miami for last place in the NCHC. Duluth came up trumps both nights, though, winning in a shootout Friday following a 2-2 tie before besting CC again 2-1 the following night at Duluth's AMSOIL Arena.
UMD ended last weekend in second place in the league, and the Bulldogs are 4-0-3 in their last seven games. Two of those official ties came in the form of shootout wins in league games against CC and, before that, Denver back on Jan. 18.
Duluth is now only two points behind SCSU at the top of the NCHC tree, and those two teams will meet in St. Cloud this upcoming weekend in a series that could either see St. Cloud open up the gap between itself and the trailing pack or could see Duluth climb into first place with three weeks remaining in the regular season.