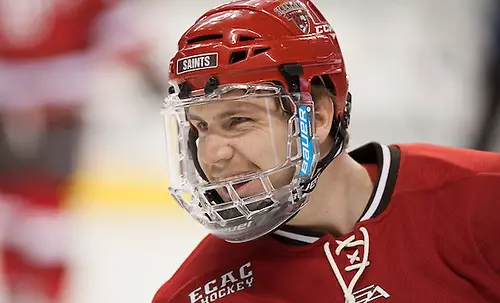 Each week, Tuesday Morning Quarterback looks at the big events and big topics in Division I men's college hockey.
Todd: Jim, ECAC Hockey is one of the leagues that has just three weeks remaining in the regular season, and we might have another team to watch.
The league is producing a handful (and then some) of NCAA tournament candidates but I think a lot of people have taken notice of what St. Lawrence has done in the last two weeks. After beating Union on Jan. 31, the Saints won at Quinnipiac last Saturday, putting the Bobcats three points behind the first-place Dutchmen.
It may be too late for the Saints to make a run at a first-round bye, but they could be in line for one of those famous ECAC playoff upset runs, don't you think?
Jim: I do think St. Lawrence is a little late to make a run in the ECAC regular season and likely will be playing for first-round home ice rather than a bye.
But any time you have one of the top players in the country in your lineup in Greg Carey, I believe your team has the ability to win each and every night. It's the execution that likely falls short on many nights. But if Carey and the nation's best power play click, watch out.
Todd: Carey's stat line for his four-year career is an interesting study. He has enjoyed big goal-scoring seasons as a freshman (23) and junior (28), but his assist total has been on the rise each season. He already has a career-high 32 helpers in 28 games this season — that's nine more than he had in 38 games last season. And it was equal to the assist total of Boston College's Johnny Gaudreau through the same number of games. If Carey had been putting up the goal total that he did last season, we'd have a lot more competitive Hobey Baker Award race.
I wanted to bring up one of the oddities of last weekend. In Saturday's game at North Dakota, Nebraska-Omaha coach Dean Blais was ejected after he refused to send a player to the penalty box to serve a bench minor. Wouldn't you like to know what that conversation with the referee was like?
Jim: That is pretty interesting. I was always under the impression that you didn't need to put a player in the box by rule but when the penalty expired you would need to wait until the next whistle before returning to full strength. Obviously, I'm wrong about that and Blais found out the hard way. Though it seems like rather than an ejection, it would be better to just assess another bench minor, no?
Todd: You might get into a never-ending cycle there, though, so I can see why an ejection would become necessary. But I thought that when a coach gets ejected at Ralph Engelstad Arena, it had to become a meme a la George Gwozdecky's walk across the ice in 2009. Blais apparently went a lot quieter.
On another note, we have a new No. 1 team in the USCHO.com Division I Men's Poll, and quite a familiar one. After Minnesota lost twice to Wisconsin last weekend, Boston College got 47 of the 50 first-place votes. Later Monday, the Eagles took home their fifth straight Beanpot title. It seems like it's just the beginning for BC, doesn't it?
Jim: I've been feeling that way for a few weeks now. We are seeing teams put forth incredible efforts against BC, including Boston University's last Monday night in the Beanpot semis and again Monday night by Northeastern. Still, it's not enough against these Eagles.
They are clicking on all cylinders, getting plenty of goal scoring and, on the back end, rookie Thatcher Demko is quickly emerging as a goaltender to watch. I like the way that a number of Hockey East teams are playing right now, particularly Massachusetts-Lowell and Vermont, but I'm not sure that even their best games will be enough to beat this potent BC squad right now.
Todd: And it's not like this is a new sight. Every other year there's a Boston College team that just seems to be playing with its prey in the second half of the season. I'm not sure why it has been an even-year thing, though. Do the Eagles have a yearlong national championship hangover and then return to form?
Jim: I don't even think last year was a hangover. BC could have won the Hockey East title to the last night of the regular season. They then ran into hot teams in BU and Union to end the season with two losses. But it does seem this is an even-year national title team. Or we will find out in April.
Lots of good games on tap this weekend. What are you looking at?
Todd: I'll be looking to see whether Minnesota finds some scoring — it has only five goals in its last four games — when Michigan arrives at Mariucci Arena. It seemed like the Gophers were insulated from scoring droughts by having so many different players contributing, but they've all run into a slump.
And St. Cloud State hosts Minnesota-Duluth in a battle of the top two teams in the NCHC. The Huskies swept the Bulldogs in Duluth in December but Duluth has been the hotter team of late. What's up out east?
Jim: There are a ton of interesting games and series but I am looking at two. There is a rematch of last year's title game as Yale faces Quinnipiac on Friday. And a two-game series between white-hot Vermont and BC should attract plenty of attention in Hockey East.