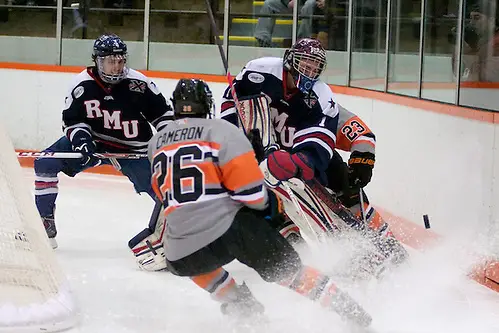 As the final month of the 2013-14 college hockey season approaches, it's customary for fans to begin wondering where their favorite program will finish in relation to the rest of its conference.
For fans of Atlantic Hockey teams, it usually ends in hours of number crunching that would make some mathematicians and physicists lose their mind.
For the third consecutive year, the AHA season is shaping for a wild run to the finish line (to be discussed at length later). And while that's enough to drive fans crazy, that's something that keeps commissioner Bob DeGregorio happy.
"There's some major parity [across the league]," the commissioner said last weekend. "You look at Mercyhurst leading Air Force 2-0 and Air Force comes back. The middle group is just as tight as the group at the top. There's a lot of playoff positioning once again that's going to come down to the wire."
It's that type of competitiveness that is exemplifying the AHA in its last year of 12-team competition.
"It's great for the league," said DeGregorio, "and all of our teams are playing much better than they did back in October. We didn't really win in nonconference play, which really had an impact on the league's RPI ranking, so we won't get two teams into the tournament [like last season].
"But if you look around the league, coach [Mike] Cavanaugh has UConn playing very well lately. Holy Cross is battling teams hard. And Niagara is a young team that's right in the thick of it. With Mercyhurst, Bentley, Air Force and the improvements at other teams, this is a very competitive league [this season]."
While Connecticut will depart for Hockey East at the conclusion of the season, the commissioner was quick to point out the growth and improvements within the league's programs.
Each team, he said, has something distinct to offer, backing up his belief that the league is about to enter one of its more competitive eras.
"I think, top to bottom, all of our teams offer something," DeGregorio said. "Army is down this year, but they're going to be improved with a good recruiting class coming in next year. If they can put it together and stay healthy, they have the potential to be contenders soon. Their athletes have dual training as cadets, which is something that's really amazing. I think they're a team that will bounce back and show us how tough they can really be.
"Sacred Heart is another team that can really fly," DeGregorio said. "They're much better and CJ [Marottolo] has brought a couple of snipers on that team. You look at AIC, too, and this is the best AIC team in maybe 10 years. Gary Wright has done an excellent job in getting his team putting pressure on teams, and they've got a team capable of beating pretty much anyone."
As the league looks toward its future, questions will always remain about its level of talent in the national spectrum. Despite having a team in the Frozen Four in 2010 and two teams in the tournament (with a third in Robert Morris knocking on the door) last year, the departure of UConn and the lack of nonconference wins provide cynics and naysayers with all the ammo they'll need.
But with only one team making the national tournament, the level of competitiveness is upped as 12 teams vie for the prize.
Don't you forget about me
One of my favorite movies from the 1980s is "The Breakfast Club." Over the course of one day, five students in detention on a Saturday somehow manage to overcome stereotypes and realize they're not all that different. And, of course, I love Bender.
After taking four points from Army, the American International Yellow Jackets are in eighth place. That's right, eighth place. That means, if the season ended today, AIC would host a first-round series.
The people at Olympia Ice Center in West Springfield just snapped their heads asking us what a playoff series is.
In the AHA era, American International hasn't so much as sniffed a home series in the first round. The Yellow Jackets' best finish came last year, when they finished ninth.
Prognosticators looked at their roster last year and saw the program's best senior class gutting its roster with graduation. Instead, the Yellow Jackets have developed into a more complete roster.
We forgot about the Yellow Jackets after they lost nine in a row. But splits against Air Force and Canisius coupled with a sweep of Army have them right where they need to be — in control of their own destiny.
They have the benefit of playing Sacred Heart and Holy Cross the next two weeks before finishing their season with Bentley. AIC at home in the playoffs would be one thing that would make us overlook their stereotype of a bottom-dwelling program and realize they're coming forward as an emerging hockey team in an emerging conference.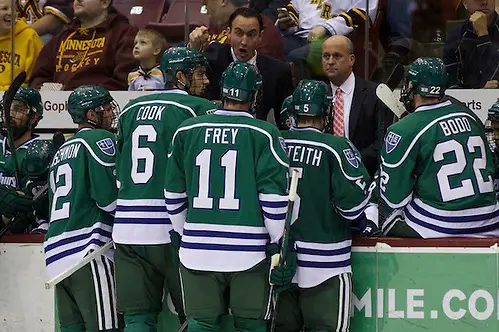 Update: What was clinched last weekend
We know that Mercyhurst already clinched at least a first-round home series. The Lakers are one win away from sealing up a slot as high as sixth despite getting swept by Air Force last weekend.
Bentley and UConn split their weekend, leaving the Falcons in second with a one-point edge over the Huskies for second — exactly where they started on Friday. The Falcons need just two points to assure a first-round home series, while UConn and Air Force both need four points for the same scenario.
Robert Morris can seal up a first-round home series with some interesting math.
On the flip side, Army already knows it's going on the road in the first round. The Black Knights are also one loss away from assuring themselves of the 12th seed.
Other than that, there's still a ton up for grabs.
Playoff newsy notes
DeGregorio confirmed two things for next season: All 11 teams will make the conference tournament in 2014-15, and the league is committed to Blue Cross Arena at least through next season.
After UConn heads to Hockey East, the top five teams will receive byes through to the quarterfinal round while seeds six through 11 will play in the first round. The sixth-seeded team will play the 11th-seeded team, the seventh-seeded team will play the 10th-seed and the eight seed will play the ninth seed. The winners of a best-of-three series advance to the second round, where they will be reseeded.
Under this format, the teams seeded fourth and fifth will receive byes but play each other in the quarterfinals. It's a takeoff from the former, 10-team format where the bottom four played off and the teams seeded fifth and sixth received byes to the quarterfinals but went on the road.
USCHO players of the month
The league named its players of the month last week, and I'll nod my head in agreement.
Offensive player of the month — Bentley's Brett Gensler: Gensler is having one of those seasons reminiscent of two years ago when he had 50 points. He scored 17 points in eight games while extending a point streak to 15 games. He had five points in a single game and eight points over the weekend when Bentley dominated Rochester Institute of Technology, and he finished January with goals in three straight games. He is just the second Bentley player with 150 career points, and he's the only player to do it exclusively at the Division I level. Already the holder of the points and goals scored record at the program's Division I level, he's continuing his assault by nearing the assists record.
Goalie of the month — Mercyhurst's Jimmy Sarjeant: Sarjeant was downright filthy in January, posting an undefeated 5-0-2 record. He registered a 1.42 GAA for the month, including a 51-save performance in a 1-0 shutout of Holy Cross. He made 30 saves or more in five games over the month and allowed just 11 goals. Mercyhurst ended the month with a stranglehold on first place, and Sarjeant is a big reason why.
Rookie of the month — American International's David Norris: Norris had the primary assist on three game-winning goals — overtime against Air Force on Jan. 3, at Niagara on Jan. 10 and at Massachusetts on Jan. 14 in the wildest game we've seen in a while. He had eight assists to register nine points — the most of any freshman in the month. After last weekend's sweep of Army, AIC is in the driver's seat for a first-round home series — something that's never happened for the Yellow Jackets.
A final note from me
When I was a little kid, I started to develop a love of hockey watching the Boston Bruins, and the greats from the 1980s and 1990s — guys like Ray Bourque, Cam Neely and Andy Moog. As I developed a love of the game, one of my favorite pastimes became listening to my grandfather talk about taking a streetcar to old Boston Garden to watch the heroes of Old Time Hockey: Eddie Shore, Dit Clapper, Woody Dumart and Milt Schmidt. He loved telling me stories about Clapper's perfectly parted hair, which when tousled by an opponent resulted in fisticuffs and physical pain.
My grandfather, Norman Rubin, passed away on Sunday at the age of 88. He plays a big part in the way I love hockey today, and he's a big reason why I love reading and learning about the history of this great game. If not for him, I doubt I'd ever be more than just a fair-weather hockey fan. I will miss him terribly, and I know he's enjoying some good laughs with a smile on his face wherever he's resting. One of the toughest guys I've ever met, he made sure to hang tough through Saturday so I wouldn't have to miss a Bentley game, a 4-1 win over UConn.