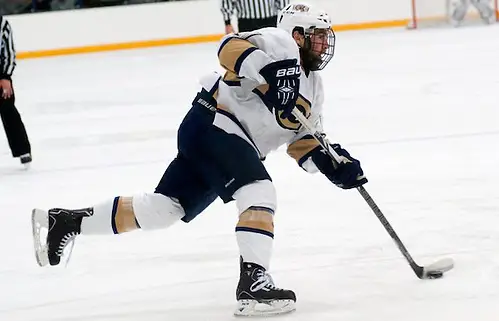 Jon Waggoner was given a chance to step into a more prominent role for Wisconsin-Eau Claire this season and he has taken advantage of it.
After playing behind talented upperclassmen early in his career, Waggoner has had a much bigger impact for the Blugolds, having tallied 10 goals and eight assists in 20 games.
"I've been given a lot more opportunities this year, especially on the power play, and I've been able to make the most of them," Waggoner said. "I've been able to make things happen and play a bigger role on the team."
Waggoner is in his senior season with the defending national champions and has made significant strides since arriving on campus. He scored four goals and dished out two assists as a freshman and tallied three goals and five assists as a sophomore.
Last year, Waggoner came through with seven goals and eight assists.
Of course, he credits his success to playing on a team with plenty of players capable of stepping up on any given night.
The Blugolds have 14 players who have scored two more goals, including Joe Krause, who has tallied nine goals to go along with nine assists.
David Donnellan has come through nine goals and seven assists, while Ross Andersen has racked up eight goals and eight assists. Patrick Moore (7-5) and Ethan Nauman (6-6) have also been key contributors to an offense that has cranked out 81 goals.
"We have a lot of skill guys and all four lines have been productive," Waggoner said. "We don't have to rely on just a few players to carry us. It's been a big part of our success."
Waggoner hails from Alaska, where he also played junior hockey for Fairbanks in the North American Hockey League, and he's happy with his decision to go off to college so far from home.
"It was tough at first because I even played junior hockey back home, but I got used to it," Waggoner said. "It was definitely a change of scenery, but it's still cold just like it is there. I wouldn't trade my time here for anything. I've enjoyed it."
His decision was well worth it as he was able to experience the thrill of winning a national championship. Even now, he still gets chills thinking about it.
"Every team goes into the season with one goal and that is to win a national championship," Waggoner said. "It was crazy being a part of the run and accomplishing that goal. We knew we had a good team going into the year and felt like we could win it. It was amazing to do it."
Eau Claire seems to be poised for another tournament run this season. The Blugolds have won four consecutive games and are 16-4-1 overall and 5-2-1 in the WIAC. They have lost only one game since the first weekend of December.
"We have good goaltending, our defensive core has been strong and we have four solid lines," Waggoner said. "As long as we stick with our systems, buy into what are coaches are telling us and come ready to play every night, we're capable of making another tournament run."
Upset Win: Wisconsin-Stout came up with one of its biggest wins of the season on Saturday as it knocked off nationally-ranked Wisconsin-Stevens Point 4-2.
The Pointers came in averaging 5.25 goals per game, but didn't have a lot of luck scoring against Chase Hollander, who made 37 saves and helped lift the Blue Devils to their second win of the year over the Pointers.
Zach Vierling, Tyler Cavemberg, Derek Sand and Joey Haydock all scored goals for the Blue Devils, who improved to 7-14 overall and to 3-5 in the WIAC.
The victory ended a four-game losing streak for the Blue Devils, who had lost 6-2 to Stevens Point in the series opener on Friday night.
Tough Battle: Wisconsin-River Falls played Gustavus Adolphus tight Friday night in a nonconference game and the two teams ended the game in a 2-2 tie.
The battle of nationally-ranked teams was as competitive as expected.
Christian George and Michael Lant both scored goals for the Falcons, who are now 12-6-3 on the season.
Tanner Milliron came through with 24 saves. Gustavus held a 26-25 edge in shots.
It was the seventh overtime game of the year for the Falcons, who have a 1-4-2 record in those games.