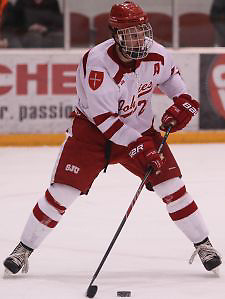 Justin Hochsprung had an opportunity to step away from hockey over Christmas break and take advantage of an opportunity of a lifetime.
Hochsprung, a senior forward and team captain at St. John's, was part of a select group of students who went to China as part of the E-Scholars Program. One hundred students applied for the opportunity to visit China, the Silicon Valley and Denver.
Only 13 were selected.
"We were able to meet with business leaders and set up information interviews with them," said Hochsprung. "I learned a lot about the business world and had a chance to network with potential employers about job opportunities."
Hochsprung said being in China was memorable.
"It's very different, but it was very cool to go over there and see a different culture," Hochsprung said. "I'm glad I had a chance to do it."
Being overseas, though, prevented him from working out as much as he would have liked over the break in order to prepare for the second half of the season.
Yet, he found a way to battle back and help St. John's stay in contention for a return trip to the MIAC tournament.
"I felt out of shape when I got back because there weren't many gyms around to work out in," Hochsprung said. "But I picked it back up pretty quick and was able get back out there and play that first weekend."
Hochsprung played in 27 games last season and led the teams in goals (11) and assists (13) en route to earning first-team All-MIAC honors. His highlight was scoring the game-winner in the MIAC tournament title game.
His numbers are down a bit this year as he has tallied just three goals and seven assists in 18 games for the Johnnies, who are 13-8 overall and 7-5 in the conference.
Still, Hochsprung can't complain as his hard work has certainly paid off.
"I put a lot of work in during the offseason and our trainer has been a big help to me," Hochsprung said. "He's done a great job of getting me ready to play. My statistics don't show it, but I feel like I'm a much better player than I was a year ago."
Having the opportunity to be a part of a tournament title team last season served as a huge boost to Hochsprung's confidence, especially considering he delivered the clinching goal in a 3-2 win over Gustavus in the MIAC championship game.
"It gave our team a lot of confidence and it gives us confidence that we can still make a run this year," Hochsprung said. "We have a lot of skilled players on our team and we know we have a lot of potential."
St. John's won't be able to earn a share of the regular-season title again this season, but it could still win another tourney championship.
The Johnnies are led in goals by Josh Gross, who has tallied seven to go along with 10 assists.
John Haeg has come through with four goals and 13 assists, while Kevin Becker has racked up five goals and seven assists. Phil Johnson has tallied six goals and five assists.
Saxton Soley has started 17 games in goal for the Johnnies and owns a 2.21 goals-against average and has made 402 saves.
No matter how the rest of the season plays out, though, Hochsprung is thankful he chose to play for the Johnnies.
"Being on this team is like being a part of a band of brothers," Hochsprung said. "We are all best friends and I've made friendships that will last the rest of my life. It's been a great experience playing college hockey here."
Moving Up: St. Thomas moved into first place in the conference by knocking off Bethel 5-2 on Saturday and completing a weekend sweep of the Royals.
The Tommies have 33 points and are 16-3-2 overall. They are 10-0-2 in the MIAC. St. Thomas is one point ahead of Gustavus in the standings.
Against Bethel, Jordan Lovick scored two goals to pave the way, while Nick Nielsen, Derek Jacobsen and Michael Dockery also scored goals for the Tommies, who are unbeaten in their last 14 games against conference opponents and are assured of a No. 1 or No. 2 seed in the upcoming MIAC tournament.
Drew Fielding made 15 saves and won his 15th game of the year. His win total ranks fourth in Division III.
Oles on a Roll: St. Olaf pushed its win streak to eight games on Saturday with a 3-2 win over Concordia (Minn.). The Oles remain in third place with the victory and are now 11-9-3 overall and 9-3-2 in the conference. They have tallied 27 points.
Dan Cecka and Peter Lindblad both scored goals in regulation and Steve Sherman came through with the winning goal in the shootout. The Oles held a decisive 41-25 edge in shots and Steve Papciak racked up 23 saves.