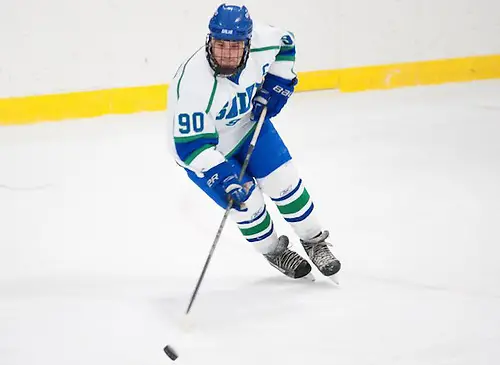 The rundown from an exciting past weekend…
ECAC East
The Norwich Cadets captured their 16th straigh ECAC East crown with victories over Babson and Massachusetts-Boston. They defeated Babson 1-0 on Friday night with the goal coming from Dean Niezgoda in the first period and Chris Czarnota stopping all 10 shots. Saturday night, Norwich defeated UMass-Boston 5-3. Stephen Buco had two goals and Travis Jenke had a goal and a helper in the victory.
Both Babson and UMass-Boston tied St. Michael's over the weekend. UMass-Boston earned 4-4 tie Friday and the Beavers earned a 1-1 tie on Saturday night.
ECAC Northeast
League-leading Nichols' lone game over the week was on Tuesday with a 5-3 win over surging second-place Wentworth. The Bison jumped out to a 4-0 lead with goals from Mike Weaver, Seth Swanson, Sean Fleming and Mike Schwartz. Wentworth responded with goals from Jordan Bourgonje, Kevin Crowe and Andrew Yarber. Greg Strootman added the empty-netter.
Wentworth defeated Becker 5-3 on Saturday.
Third-place Salve Regina picked up a 6-1 win over Becker on Wednesday. John Scorcia had two goals and an assist in the victory. Alec Butler potted a goal and two assists.
Johnson and Wales picked up a 6-3 win over Western New England Saturday. Fran Mackin had a hat trick and Alan Martin had a pair of his own.
ECAC West
Elmira earned three points over Manhattanville and is in a first-place tie with Utica. The two teams skated to a 1-1 tie on Friday night. Luc Van Natter scored for Manhattanville, while Saturday night was an offensive showdown with Elmira winning 7-4. Jordan Robertson had two goals for Elmira. Jake Mooney had a goal and assist.
Utica picked up a 5-2 victory over Nazareth. Jon Gaffney had a goal and two assists to lead Utica. Nick Therrien had 27 saves.
MASCAC
Salem State continues to be on the top of the MASCAC standings with a 5-2 win over Massachusetts-Dartmouth Saturday night. Mark Macdonald had a hat trick, while Jacob Strzalkowski and Ian Canty also scored for the Vikings. Shaun Walters had both goals for UMass-Dartmouth.
Both Framingham State and Westfield State are two points behind Salem State. Westfield State had a 4-0 win over Fitchurg State. Taylor Murphy had a goal and assist, while Eddie Davey stopped 29 shots for the shutout. Framingham State doubled up Worcester State 4-2. Brandon McCarron potted two goals in the victory.
MIAC
The top two teams in the MIAC met this weekend for two games. St Thomas swept Gustavus Adolphus 4-2 and 4-1 on the weekend. Alex Niestrom had two goals and Tyler Gubb had two assists. Jordan Lovick and Connor McBride also scored. Corey Leivermann scored twice for Gustavus Adolphus. On Saturday, Bryce Walker had a goal and assist for St. Thomas, while Leivermann picked up Gustavus Adolphus' lone goal.
Third-place St. Olaf had the weekend off.
NCHA
First-place St. Nobert had no problem with Northland this weekend with back-to-back shutouts on Friday and Saturday. On Friday, St. Nobert defeated Northland 10-0 and 7-0 on Saturday. Michael Hill had four goals on Friday and Brandon Hoogenboom had a hat track Saturday.
St. Norbert clinched its 14th Peters Cup (NCHA regular-season championship) in the last 18 seasons in the 7-0 victory.
Second-place Adrian swept Lake Forest with a 4-2 victory on Friday and a 6-5 overtime thriller on Saturday. Ryan Lowe, Zach Wilson, Jeremy Olinyk and Duston Hebebrand tallied on Friday for Adrian. Kevin Balas potted a hat trick, including the overtime goal. Zach Wilson, John Ranalli and Hebebrand also lit the lamp in Saturday's action.
NESCAC
Top team in the NESCAC, Trinity, took out the two Maine schools in Bowdoin and Colby. On Friday, they needed overtime to defeat Bowdoin 5-4. Ryan Cole had two goals and assisted on the OT goal that was scored by John Hawkrigg, who also had three assists in the game. On Saturday, Trinity doubled up Colby 4-2 with Hawkrigg notching two goals.
Amerst, the second-place team in the NESCAC,. earned two 1-1 ties last weekend. On Friday, they faced Connecticut College where Topher Flanagan scored the lone goal for Amherst. Jake Turrin scored on Sunday in the game against Tufts.
SUNYAC
Geneseo, the top team in the SUNYAC, picked up two 3-2 victories over the weekend. On Friday, Geneseo defeated Oswego as Zachary Vit had a goal and assist, Ryan Stanimir and David Ripple also scored, while Chris Waterstreet and Matt Galati scored for Oswego. On Saturday, they defeated Cortland where Vit had another goal and assist. Tyler Brickler and Jack Ceglarski scored.
Second-place Plattsburgh had the holiday weekend off.
WIAC
Wisconsin-River Falls has a one-point lead over Wisconsin-Stevens Point for the top spot in the conference. River Falls defeated Wisconsin-Stout over the weekend. They defeated Stout 9-3 on Friday where Blake Huppert had two goals and four assists. On Saturday, they needed overtime in the 3-2 win. Christian George had the hat trick.
Stevens Point swept Wisconsin-Eau Claire over the weekend. Friday night, they lit the lamp six times in the 6-1 win. Joe Kalisz had two goals, while Brandon Jaeger made 25 saves. On Saturday, Eau Claire sent Stevens Point into overtime where Stevens Point came way with 2-1 win. Kyle Sharkey and Garrett Ladd scored.