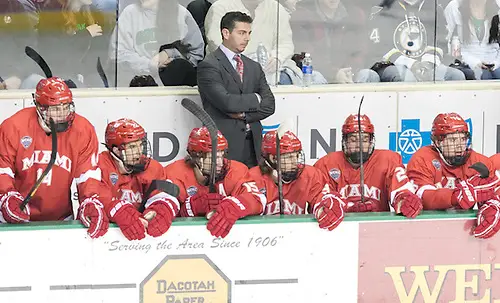 Tuesday Morning Quarterback looks at the big events and big issues in Division I men's college hockey.
Jim: This week, we have one of our NCHC columnists, Matthew Semisch, pinch hitting for Todd Milewski. So this seems like a perfect time to bring up what has been a pressing question on my mind about the NCHC: What is the mentality of the NCHC teams as we get closer to the NCAA tournament selection?
These are all teams used to being in contention for an NCAA bid. Right now, just St. Cloud State and North Dakota would be in the tournament. And while Minnesota-Duluth and Denver are both near the bubble, the rest of the teams are in a position where it is win your conference tournament or hit the golf course early. That has to strike some of these teams as a little abnormal.
Matthew: I think it certainly would have hit all eight teams that way when the season started, but I wonder if maybe that's the case less and less now as reality and the home stretch of the regular season have crept up on us.
Candace Horgan (our other NCHC columnist) and I asked coaches around the league in the fall for our league season preview what they thought the nature of this beast was going to be, and the consensus opinion was that all eight teams were going to beat up on each other all season and then do the same all over again in the NCHC playoffs. They've been right about that, although it's heartening to see that the league would have two teams in the NCAA tournament now instead of just the one in St. Cloud State, and that looked to be the case even only a couple months ago.
You talked about Minnesota-Duluth, which fell down a couple places this week in the USCHO.com Division I Men's Poll, but I'm excited to see how things continue to shake out, not least because I could still see one of Minnesota-Duluth, Denver, Western Michigan or even Nebraska-Omaha making a push to get into the NCAAs. I'm curious as to the league's perception from the outside, though, Jim. Looking at the league from out east, what has been your take on how the first NCHC season is unfolding?
Jim: I agree that I had a concern that the league members would beat up on one another, something that proves true to this point. I have been surprised, though, to see that aside from St. Cloud State, every team has had some inconsistencies, not just in league play but overall.
The fact that Miami is dead last has been shocking. Denver has been streaky. North Dakota started slow but seems to be clicking now. Up and down, I'm just a little surprised that no team besides St. Cloud has put forward anything to write home about.
Let's move out east, where our first league champion has been crowned in Boston College. The Hockey East regular season does end a week earlier this year but still I really have to think WAY back to remember a league champion crowned by the midpoint of February. Maybe Maine in 1992-93? Regardless, these Eagles continue to impress with a three-win week. I feel like we're asking this question week in and week out, but this BC team seems unstoppable, doesn't it?
Matthew: "Seems to be" or "is"? It's unbelievable to think BC hasn't lost — and has won everything apart from picking up one tie — since right after Thanksgiving when the Eagles lost at home in that high-scoring but close game against Holy Cross on Nov. 29.
What makes the Eagles' run all the more impressive is they've been beating some pretty good teams during this streak they're on. Three of them (Notre Dame, Maine and Vermont) would be in the NCAA tournament if the season ended right now, but they've also won a grueling edition of the Beanpot and beaten Boston University twice. Although BU isn't having its best season, the cliche about having to throw out teams' records in big rivalry games does hold up there to a degree.
My concern for BC, though, is that maybe a loss before the postseason begins could be a good thing — you often learn more about yourself from a loss than you do from a win. To that end, is there any concern in your mind about BC possibly peaking a bit too early?
Jim: If it was any team besides BC, I might say yes to that question. For the Eagles, and particularly coach Jerry York, winning streaks are second nature. This team has put together a number of impressive streaks over the last 15 years, and knowing that a good number of players on this team already won a national title in 2012 makes me believe that with or without a loss between now and NCAA tourney time, this team should be OK.
That said, this weekend will be an excellent test for the Eagles facing Massachusetts-Lowell in a home-and-home series beginning Friday night in Boston. If that loss is to come, maybe this is the weekend?
Another team that is pretty close to clinching a title is Minnesota in the Big Ten. It could happen Feb. 28 or March 1 when the Gophers host Penn State, depending on what Wisconsin and Michigan do this weekend. That said, I'm excited to watch the Big Ten tournament given how unpredictable results have been in the league in recent weeks. Do you agree this could be a wide-open field?
Matthew: Absolutely, and there's plenty of evidence to back that idea up. Just looking at the PairWise Rankings, half of the Big Ten would get into the NCAA tournament right now, and that's impressive when you consider it's a smaller league like the NCHC where everyone beats the tar out of one another every week.
Penn State would have to go on a huge tear to make any hay in the playoffs, but teams one through five in that league have every chance to keep going after the Big Ten tournament ends. I'll be interested to see what Minnesota's able to do in the Big Ten tourney, though, partly because I think the Gophers will still have fresh in their minds the fact they didn't really show up in their one WCHA Final Five game last year. They bowed out right away against Colorado College, albeit thanks in large part to a red-hot Tigers goalie in Joe Howe that had put CC on his back over an improbable run.
Moving to ECAC Hockey, though, what do you make of Union and Quinnipiac as possible contenders for the national title? Cornell would be in the NCAAs right now, too, and Yale still has a chance of defending its title if it catches up a bit. But it's good to see the ECAC somewhat quietly being a big force to be reckoned with once again.
Jim: I haven't seen Union play this season but there is no reason to believe based on results this season that they can't return to the Frozen Four. Same goes for Quinnipiac. I was very impressed by that team every time I have seen them play and the one concern I had about the Bobcats entering the season — goaltending — might be their strongest position as Michael Garteig is near the top of the nation in all of the goaltending categories.
Let's look ahead at this weekend as the regular season winds down. Out east, we've already mentioned the Lowell-BC series in Hockey East. Maine and Northeastern will also square off in two at Matthews Arena, with both battling for home ice in the quarterfinals.
Cornell heads to Quinnipiac on Friday in the ECAC, while Clarkson needs to right the ship and will have two tough games against Union and Rensselaer.
In Atlantic Hockey, Mercyhurst plays a home-and-home series with rival Niagara beginning on Friday in Erie, Pa., knowing that, if things fall right, the Lakers could clinch the regular season title this weekend. (They could also fall out of first place, which shows how close things are in the AHA.)
How about out west? What are the key games to watch?
Matthew: Nothing in the Big Ten this weekend really stands out to me so much because Michigan should sweep Penn State at home and Wisconsin will surely take points off of Michigan State in Madison.
In the WCHA, though, Alaska-Anchorage going to Ferris State is a very intriguing series. Ferris State has been great all season, but UAA has had a fabulous turnaround this season under first-year coach Matt Thomas. I wrote a feature on him right after the Seawolves hired him, and it's good to see him doing so well right away, so much so that he ought to be in the race for national coach of the year honors.
Maybe the biggest remaining regular-season series in the NCHC is actually next weekend when North Dakota goes to St. Cloud State, but I'm excited to see what happens this weekend when UND goes to Minnesota-Duluth. Duluth has been much improved in the second half of this season and it could go a long way toward locking up a top-half finish in the NCHC. The problem for UND there, though, would be that anything less than a split against Duluth could lead to SCSU opening up its three-point lead at the top of the league standings even further.