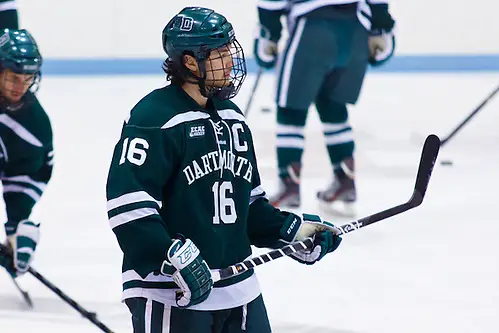 It has been a struggle for Dartmouth this season, but the Big Green's first sweep of the year came at an opportune time.
In a weekend of splits and ties throughout the league, Dartmouth was the only team to get four points, going on the road and scoring three unanswered goals in a 3-1 win over St. Lawrence on Friday before beating Clarkson 6-1 on Saturday.
"It was tough for the kids; they've played really hard and not gotten the results," Dartmouth coach Bob Gaudet said. "They played hard this weekend and got some points. It's just really key in terms of confidence going down the stretch here."
The win against the Golden Knights marked the first time that the Big Green had scored a goal at Cheel Arena since November 2010, while Friday's game was the program's seventh straight win at St. Lawrence.
The sweep also leaves the Big Green with the possibility of hosting a playoff series in the first round, which would be an impressive accomplishment given that they started the year with eight straight losses and hadn't been able to get on track before last weekend.
Dartmouth hosts Yale and Brown this weekend, with plenty of playoff seedings at stake. The Bulldogs are among four teams looking for the final first-round bye position, while the Bears presently hold the final home-ice spot.
See the ECAC Hockey standings here
While center Tyler Sikura returned to the lineup for the first time since Dec. 30, the Big Green will be without several key players for the rest of the season.
Gaudet said forward/defenseman Brett Patterson, who hasn't played since January, is out for the rest of the season, while defender Ryan Bullock is out indefinitely. Those players join forward Eric Robinson, who was lost for the year after just two games, on the injured list.
Gaudet hopes that freshman center Troy Crema, who scored two goals in a 4-1 win at Yale on Dec. 6, is back this weekend.
With all the injuries, Dartmouth has been forced to play defensemen at forward. Senior Nick Lovejoy centered the fourth line last weekend and has played all three spots up front. Freshman Brandon Kirk also has seen time at forward, although he'll likely slide back to defense with Bullock out.
"He's a big, strong kid," Gaudet said of Lovejoy. "There was a void there in the middle and he filled it. I'm really pleased with how he's done. He's a real leader; he's says the right things on the bench. He really goes under the radar; he's not going to be a guy that scores a boatload goals but he's created good scoring chances."
Despite a depleted lineup, Dartmouth was able to hold St. Lawrence's top-ranked power play to one goal in five chances last Saturday, including a five-on-three situation at the start of the third period.
"Guys made good reads and were aggressive to force them to pass before they wanted to," Gaudet said.
Sophomore Charles Grant was solid in goal both nights, and made 17 saves in the final period against the Saints.
"It wasn't like we were sitting on it. There were a number of shots from a distance but Chuck made some really good saves," Gaudet said. "They were kind of bang-bang plays. They came on hard and we needed him to come up big."
Dartmouth will need to continue to string together wins and hope for some help if it wants to host a playoff game, but last weekend's sweep at least gives it an opportunity.
"The team has really stuck together and come along, regardless of who is playing," Gaudet said. "That resiliency is something that I really admire and respect in our guys."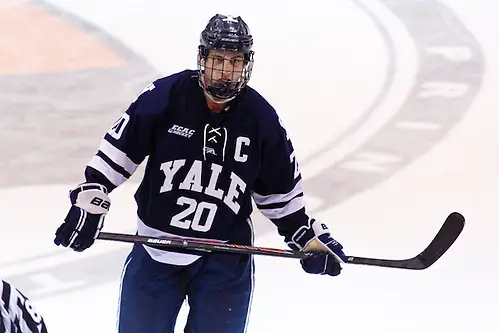 Special teams showcase
It was an odd night for both Yale's and Princeton's special teams last Saturday at Ingalls Rink.
The Bulldogs avoided a weekend sweep by winning 7-5 in the league's highest-scoring game this season. Yale won despite going 0-for-4 on the power play while giving up two goals to the Tigers on the man advantage. The reason? Three short-handed goals, the most in program history.
Jesse Root, Ryan Obuchowski and Kenny Agostino each scored with the Bulldogs down a man. Agostino's goal came on a late Princeton power play with goalie Sean Bonar pulled.
"Once we got the first short-handed goal, I thought we started cheating a little bit," Root told YaleBulldogs.com. "The moral of that story is we need to play solid defensively. You can't cheat the offense, especially on a penalty kill. You have to kill the penalty first and make sure the puck gets out of the zone, but when we did get opportunities it was good that we capitalized on them."
While the Tigers are virtually locked into last place, Yale is among four teams looking for the final top-four spot. (Colleague Brian Sullivan broke down the standings on Monday.) There's also a useful site for figuring out playoff possibilities here.
Around the league
• Two weeks ago, the focus was on Cornell's balanced offense, which had been helping the Big Red put together some key wins entering February. That's quickly disappeared, though, as Cornell has lost three in a row, scoring one goal in each of those games. Last weekend's sweep came without top forwards Dustin Mowrey and Christian Hilbrich, who were out with injuries. Cornell's power play started the year on a roll, but the Big Red are on an 0-for-25 skid with the man advantage.
• Quinnipiac likely will remember Providence fondly as the location of the program's first NCAA tournament win last spring, but not so much for the recent regular season games it has played there. The Bobcats lost to Brown 4-2 last Saturday, dropping the program's record at Meehan Auditorium to 2-4-3 all-time. Quinnipiac hasn't won at Brown since Jan. 31, 2009. The league's other top team, Union, hasn't won there since Dec. 3, 2010. The Dutchmen end the regular season at Meehan on March 1.
• Former Rensselaer goalie Mathias Lange turned in a strong showing for Austria in the Olympics. Lange, who played at RPI from 2005 to 2009, stopped 49 of 50 shots in a pair of wins before making 31 saves in a 4-0 loss to Slovakia on Tuesday that knocked Austria from the tournament.