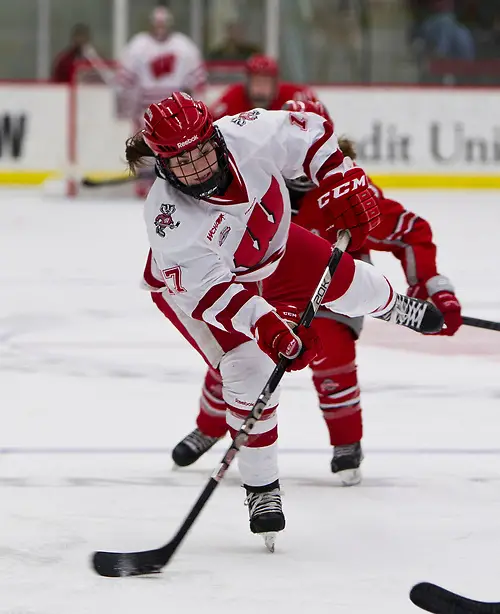 Looking back at where the Wisconsin Badgers were one year ago on the eve of the final weekend of the regular season, most teams would not have viewed it as a negative place. The Badgers were ranked sixth at the time and in the midst of an eight-game winning streak. Senior Brianna Decker had won the Patty Kazmaier Award as a junior. Goaltender Alex Rigsby was closing in on the program's record for career wins and backstopped the country's third-stingiest defense.
However, the Badgers couldn't score, at least not when it counted the most. A 2-1 loss to North Dakota in a semifinal of the WCHA Final Face-Off ended their winning streak and their season, just shy of an at-large berth in the NCAA tournament. The loss to UND was the team's 10th, and the Badgers mustered a total of only four goals in those 10 defeats that included being shut out six times. For the season as whole, Wisconsin was only able to find the net 103 times, a sharp drop from the 196.5 it averaged over the previous two campaigns in reaching the title game.
Much of the drop was attributable to the graduation of senior stars, but the problem was compounded by injury. Stefanie McKeough and Brittany Ammerman were the only returning players besides Decker who had as many as 20 points the season before, and concussions prevented McKeough from taking the ice and limited Ammerman to just three games.
"It's just a very dark and dreary time, as many people know," Ammerman said. "It's an injury you can't see, and so it's very moody, and it's all psychological, and a lot of things come from that. But having Steph — obviously, each concussion is different and so we were going through different things, but at the same time, it was a similar journey."
The journeys of the pair reached far different destinations. In McKeough's case, the effects of concussions suffered during her junior season ended her career. She took part in Wisconsin's senior recognition before Friday's game, her first time in a Badgers uniform since competing and scoring in the 2012 final.
Ammerman is back as a junior after a medical redshirt.
"I've said it a few times to many people that in a way, last year was a blessing in disguise," she said. "It stinks to miss a whole year, but you kind of remember just how much you love the game and just how fortunate you are to be playing and how eventually, your career will end, so you've just got to take it all in. I was fortunate enough to work hard in the spring to get my game back to where it is and better than what it was. I think every time I step on the ice, it's a different viewpoint than others."
She knows that the impact of concussions goes beyond the ice.
"It takes over everything," Ammerman said. "It takes over your schoolwork. It takes over your personal life. You spend a lot of time in a dark room. You don't know how you're going to feel in six hours, six days, six weeks. Some people, if they haven't been through it, they don't understand, and so they can get frustrated with you, because it's something they can't see. If you tear your ACL and you're on crutches, everyone knows you're hurt. You come into the locker room and you're moody one day because you have such a bad migraine and that's not something people can see, so they might take it the wrong way, so I think that makes it a little bit more difficult. But I was lucky to have teammates, and [my sister] Brooke was still living with me at the time, so I was lucky to have her to support me."
Wisconsin was glad to get her back for this season.
"When we sat here in September, we didn't know what kind of year it was going to be for her, but she's had a great year and put up some big numbers for us and certainly helped us win a lot of hockey games," coach Mark Johnson said. "It's nice that one, she's healthy, and two, she's having a successful season."
Ammerman is the team's leading scorer with 21 goals and 17 assists, both career highs.
"I would attribute that to my spring training and my summer training," she said. "I stayed here all summer and was able to work on skills and off-ice stuff. I think that obviously helped a lot. And then also, when I was a freshman, sophomore, I had great people to look up to who are playing in the Olympic Games right now, so I think it just took a little while for that to mature. To be able to step into a role where I'm getting more ice time and I'm on a power play and I'm killing penalties, I think that helped a lot, too."
Johnson points to improvement in her conditioning and strength as reasons why Ammerman has excelled in an expanded role.
"She was coming back with our power-skating instructor and her skating has gotten better," he said. "I think the combination of that has just helped her with her confidence. The big thing, and it was like with Blayre [Turnbull, second on the team in points,] too, if they can get off to good starts, it's going to help them confidence wise. She got off to a good start and has just kept rolling right along."
It helps to possess talent as well, and like her sister Brooke, who piled up 215 points in her Wisconsin career, the younger Ammerman is a sniper when it comes to shooting pucks.
"It's a hard shot, but it's an accurate shot," Johnson said. "If she gets some time and space and can load it up, she can hit spots. We've seen her score a bunch of different goals by doing that, creating some space, getting some time, and picking corners. She's scored some nice short-handed goals for us this year. It's been a big positive, because at the beginning of the year, we were like, 'Who is going to score for us? We're going to play hard and we're going to defend well, but who is going to get the puck in the net?' But we've had a pretty good committee of players score at different times for us."
The committee has a few standouts, such as Turnbull. With 31 points as a junior, she has already eclipsed her production from her first two seasons.
"[Turnbull has] a lot of similarities with Brit where we're going to put her in a leadership position and we're going to ask her to grow some, not only off the ice, but on the ice," Johnson said. "She got off to a good start and continued to progress, and confidence is a big factor where she took it upon herself and has done very well with it."
Both Ammerman and Turnbull displayed their abilities last Friday night when No. 2 Wisconsin hosted No. 1 Minnesota. Ammerman deflected a power-play shot to give the Badgers an early lead, and after the Gophers went ahead 2-1 in the third period, Turnbull answered with a great solo rush up the ice to tie the game. That was the only time in the eight meetings between the teams over the last two seasons that the Badgers have scored multiple goals, underscoring the importance of Wisconsin's always-tight defense. Even with a rebound offensively, the Badgers (23-5-2, 19-5-2 WCHA) are ranked as high as they are because of how well they defend.
"I think it's just being responsible," Johnson said. "We don't spend any extra time this year than we did in previous years. Obviously, with Alex [Rigsby] back there, and when she was hurt, [Ann-Renée Desbiens] jumped in there. That's where it starts, from the net out. With some young defensemen back there, you didn't know how they were going to react to the league and going through the process. Everybody has sort of bought into things, and when you can create some goals and offense, it makes playing in your end a little bit less time than if you're not going to be able to do that."
Ammerman hasn't seen a change in the team's philosophy from her freshman season when Meghan Duggan, Hilary Knight, Decker, and company where running roughshod over opponents.
"I think we still play the same game we do, we just don't have as many offensive threats as we used to," Ammerman said. "People just have to start stepping into those roles, and Blayre has done a great job. The freshmen — Sarah Nurse has had quite a good season so far — and as they mature, that'll help even more. You just need to find new roles for players who weren't in a scoring role, and I think that could take a year or two."
In the short term, she thinks added offensive help may be on the horizon.
"I think like Kaitlyn Harding and Karley Sylvester, that line, the three of them, they do well and they work really hard, it's just a matter of them clicking offensively," Ammerman said. "I think that will come in the right part of the season, and that's all you can hope for."
The Badgers may have hoped for a little more in their recent showdown versus the Gophers, but the series brings positives in spite of the two losses.
"The nice thing is we've become a better team over the course of the winter, which is good," Johnson said. "This weekend was a good testing opportunity for us as to where we stand with Minnesota. You don't want to lose, but we just need to continue to make some more strides here. After this weekend, we're going to be better because of it, just because of the pace and the speed of it. It's nice playing them this late in the season where it prepares you for the playoffs."
Wisconsin closes out the season with a series in Mankato, and it is a strong possibility that it will be hosting the Mavericks the following weekend in a WCHA quarterfinal. Should it advance, attention will turn to the WCHA Final Face-Off in Bemidji.
"After next Saturday's games, everybody goes back to the starting line," Johnson said. "That's the exciting part about the playoffs. As we've seen, not only with our league this year, but in the whole landscape of women's hockey, funny things are happening. People, I don't know if they're prepared for them, but as a coaching staff and players, other teams are doing a lot of good things and they're winning hockey games. Maybe a couple years ago, they might not have won those games. I think if you look at our league, there are two, three, four teams that could come out of it."