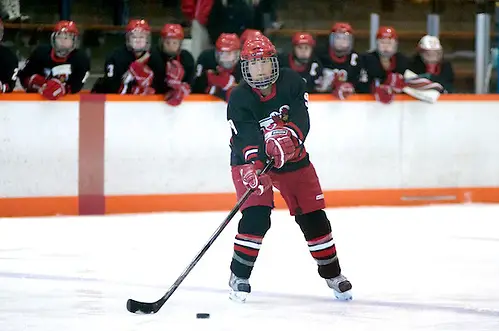 It's been said that statistics are often manipulated to bolster a point of contention. For Plattsburgh, the ECAC West co-leaders, contradiction comes to mind.
At 21-1-1 (13-1-0 ECAC West) and stunning, above-the-norm individual numbers, it hardly appears that the Cardinals have arrived at this point in the season with sleight of hand. Heading into the final two contests of the regular season, the club has compiled an outstanding 48-2-3 record over the past two seasons. With one goal allowed through the first 11 games of 2013-14, opponents were effectively put on notice that going through the Cardinals would be a must if one had thoughts of reaching the NCAA finals.
For senior goalie Sydney Aveson, part of a cadre of high-performance players like senior defenseman Allison Era and forwards Bridget Balisy, Shannon Stewart and Jordan Caldwell, the journey has proved productive thus far. Well, almost.
"We have unfinished business," said Aveson.
That business is a national championship, something the Cardinals have not accomplished since 2007-08.
As the Cardinals continue to register eye-opening numbers, Aveson continues on a parallel path. The laundry list of accolades is expansive. Not surprisingly, she has left the Cardinals' record books in tatters. As program leader in wins and shutouts, and whatever else might be concocted from a statistical spreadsheet, Aveson is admittedly thankful for her experience at Plattsburgh.
However, like most of her teammates, remnants of Middlebury's ousting the Cardinals from the NCAAs with a 4-1 win remain active. For Aveson, it was only the second occasion that she allowed four goals.
"We want to complete what we couldn't last season," Aveson said.
Aveson made her presence felt from the opening puck drop of the season, compiling consecutive shutouts in her initial six starts. In 2011-12, the West Covina, Calif., native allowed 44 goals in 28 games for a 1.62 GAA. Last season, she ramped up her game considerably with her first 20-plus win season and a then-career best .937 save percentage.
The Cardinals' success from the get-go added fuel to the club, which went into camp with a collective goal in mind.
"Once it (18-game unbeaten run) started, it became that more exciting to keep it going," Aveson said. "It gave us an extra push."
Aveson credits Era, whom she skated with on various youth teams, as the other half of the two-part equation that makes the Cardinals defense intimidating.
"I've always had confidence in her," Aveson said of Era, "I've played with her for so long, I know when she is going to jump up or she is going to back off and I might have to make a big save. I think that she is one of the biggest assets of our success."
As Plattsburgh has continued to dominate most teams, it has put up the top offensive and defensive numbers in the country, something Aveson points to as a boost for her teammates.
"It's definitely nice to have a vote of confidence." said Aveson. "But we know that we cannot take one shift off. If that happens, well, we don't want to give anyone quality chances. Goalies can come up big. There is quality goaltending throughout Division-III hockey. We've had some close games because of that."