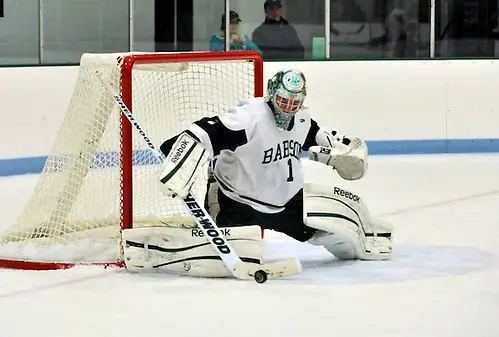 The ECAC East announced Thursday its award winners for the 2013-14 season and Babson was the big winner.
Beavers' goalie Jamie Murray was named the league's player of the year and goaltender of the year, while Jamie Rice earned coach of the year honors.
In addition, St. Michael's defenseman Danny Divis and Southern Maine forward Kelby Lorenz shared rookie of the year laurels.
ECAC East First Team All-Conference
| Player's Name | Position | Class | Team |
| --- | --- | --- | --- |
| Travis Janke | F | Sr. | Norwich |
| Peter MacIntyre | F | So. | Massachusetts-Boston |
| Mike Driscoll | F | Jr. | Babson |
| Alex Pompeo | D | So. | Southern Maine |
| Ryan Heavey | D | Sr. | Babson |
| Jamie Murray | G | So. | Babson |
ECAC East Second Team All-Conference
| Player's Name | Position | Class | Team |
| --- | --- | --- | --- |
| Travis Daniel | F | Sr. | Massachusetts-Boston |
| A.J. Pieprzak | F | Jr. | St. Michael's |
| Johnny Daniels | F | Jr. | St. Anselm |
| Ryan Whitell | D | So. | Norwich |
| Greg Merrill | D | Fr. | St. Anselm |
| Sebastian Anderson | G | Sr. | New England College |
ECAC East All-Conference Honorable Mention
| Player's Name | Position | Class | Team |
| --- | --- | --- | --- |
| Cheyne Matheson | F | So. | New England College |
| Jared Melman | F | Jr. | University of New England |
| Chris Duszynski | F | Sr. | Norwich |
| Mike Vollmin | D | So. | Babson |
| Brad Schuler | D | Sr. | Skidmore |
ECAC East All-Rookie Team
| Player's Name | Position | Team |
| --- | --- | --- |
| Michael Phillips | F | Babson |
| Anthony Bird | F | Skidmore |
| Kelby Lorenz | F | Southern Maine |
| Cole Klippenstein | D | Southern Maine |
| Danny Divis | D | St. Michael's |
| Jack McDonald | G | Skidmore |