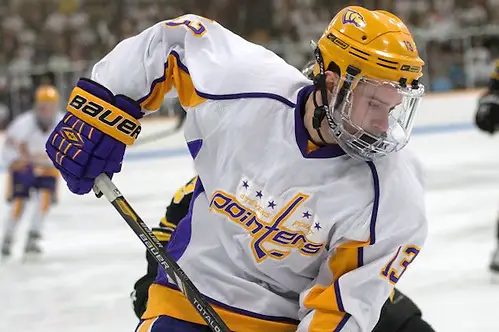 Wisconsin-Stevens Point has spent this season as one of the nation's top teams and is currently ranked third in the country as it prepares for the WIAC tournament.
And while the Pointers did finish second in the standings after a 5-4 loss to Wisconsin-River Falls on Friday, coach Chris Brooks is confident his team will be ready to roll for its opening postseason series against defending national champion Wisconsin-Eau Claire.
"This group of guys competes hard, whether it's a practice on a Monday or a game on the weekend," Brooks said. "We always hit the ice ready to play hard and we go into each game expecting to win."
The Pointers and Blugolds have met three times this season and the Pointers have won all three games, including a 2-1 win in overtime.
Of course, Brooks knows nothing will come easy this weekend against Eau Claire.
"They are an extremely good hockey team and are very disciplined," Brooks said. "We'll be prepared for the challenge, but it's going to take our best effort to come out on top."
Stevens Point has been a machine on offense, cranking out 123 goals. It has given up just 51.
Garrett Ladd has led the Pointers, tallying 18 goals and dishing out 20 assists. He is one of five players who has scored at least 11 goals this season. Kyle Sharkey and Joe Kalisz have come through with 13 goals apiece and Scott Henegar has tallied 12 goals. Nick D'Avolio has added 11 goals.
Brandon Jaeger has been strong in goal. He owns a 2.04 goals-against average and has made 502 saves.
"We just have to keep doing what we've been doing all season," Brooks said. "We've been able to play at a good pace and create a lot of offense. We've also done a good job on special teams and are goaltending has been great."
The Pointers have also remained focused.
"We've done a good job of staying in the moment and not looking ahead," Brooks said. "Our focus is good and we'll show up ready to play."
The Pointers will get the luxury of playing at home this weekend for their playoff series with the Blugolds. Stevens Point is 10-2-2 at home this season.
"It's a huge deal to be able to play at home," Brooks said. "Our crowds have been outstanding this season and they do a great job of supporting us. Hopefully, we can go out there and put ourselves in a position to advance to the championship round and play for a WIAC title."
On Top: River Falls finished on top in the conference standings during the regular season and will be the top seed for the WIAC tournament.
The Falcons clinched the top seed with a 5-4 win over Stevens Point last Thursday. Alec Hagaman scored two goals in the win, while Scott Lewan made 34 saves. Hagaman has racked up eight goals on the year.
Willie Hess also scored in the victory and has tallied a team-best 11 goals this season. The Falcons did fall 2-1 to Eau Claire in its season finale, but ended the year winning three of its last four.
River Falls will either play Wisconsin-Stout or Wisconsin-Superior in its first playoff series. The Blue Devils and Yellow Jackets play a one-game playoff tonight.
Tight Standings: River Falls finished 8-4 in the conference, Stevens Point was a game behind the Falcons at 8-4-1 and Eau Claire ended up third with a 6-5-1 league mark.