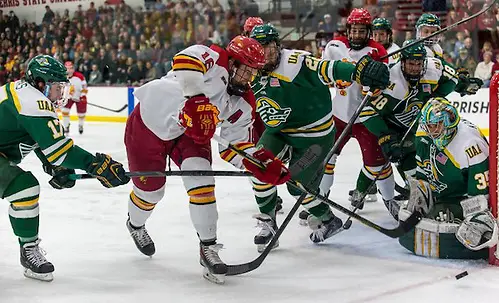 If Minnesota State stumbles this weekend on the road at Lake Superior State, No. 4 Ferris State can clinch its first MacNaughton Cup and second regular season league title in three seasons when it travels to Fairbanks to play the Alaska Nanooks on Friday and Saturday.
The Mavericks caught the Bulldogs two weeks ago in the league standings, but after a bye week for Minnesota State, Ferris moved back up by four points via a sweep of Alaska-Anchorage in Big Rapids with just two weeks remaining in the regular season.
The Bulldogs, who sit tied for third in the PairWise Rankings, won the CCHA regular season title in 2011-12 en route to the Frozen Four and an appearance in the NCAA championship game. What they didn't win that season, however, was the CCHA tournament and Mason Cup.
The top-seeded Bulldogs, who got a first-round bye, were upset on their home ice in three games by Cinderella Bowling Green, which finished last in the CCHA.
That's why a WCHA regular season title isn't the be-all, end-all for Bulldogs coach Bob Daniels, who won two CCHA regular season titles in his 22 seasons in Big Rapids but never a postseason conference title.
While it would mean a lot and be remembered fondly come summer, Daniels said he and his staff haven't even discussed the regular season WCHA championship. He doesn't want his team to lose sight of what's beyond the regular season, such as the Broadmoor Trophy and NCAA tournament.
"All of a sudden we reached that goal and I felt like we slipped in that second round," Daniels said about winning the CCHA's 2012 regular season title. "We were able to pull it together and have a good NCAA run. I want to guard against so much talk and so much focus on a league title with the understanding that we may lose sight of there's an awful lot yet at stake beyond this."
Ferris State still boasts 12 players from the national runner-up team, including seven who played in 30 or more games that season.
Defenseman Scott Czarnowczan played in all 43 games as a sophomore, and forward Garrett Thompson played in 41 games during the Frozen Four run.
Daniels said those senior captains have been strong leaders this year and have kept the team focused on the big picture. Those leadership skills were passed down to players like Czarnowczan and Thompson from the senior class that led Ferris State to its best season in school history.
"One of the traits of this year's senior class was when they were sophomores and even when they were freshmen, because we've been on a pretty good run for a number of years now, they were really good at being followers," Daniels said.
"In other words, instead of coming in and trying to impose their thoughts and their will on the team, they came in and acquiesced to the leadership that was there. They observed, they listened, they followed. They learned a lot of real positives from those upperclassmen at that time and now because they learned that and embraced that, it's easy for them to sell it to the next generation."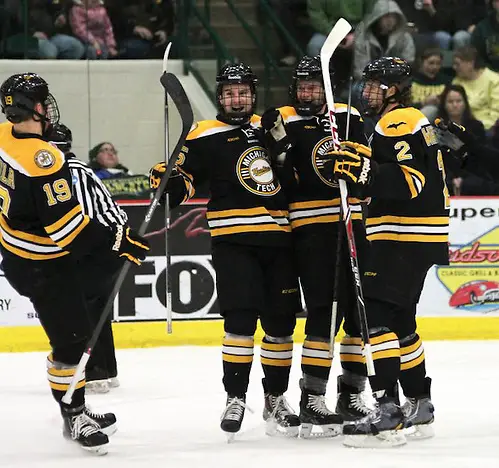 Act like you've been there before
Whether it was after his team's two home losses to Alaska or following his program's home-and-home sweep of archrival Northern Michigan, Michigan Tech coach Mel Pearson admitted he and his players are still learning how to handle success.
The Huskies, who were picked by the WCHA coaches during the preseason to finish third, were able to erase the home losses to the Nanooks with two wins over the Wildcats last week to get back to third place for a shot at a home-ice first-round WCHA playoff series.
Tech lost its cool, however, Saturday against the Wildcats in Marquette and it nearly cost the Huskies the game.
With less than five minutes to play and the Wildcats on their heels killing a five-minute major, two Huskies upperclassmen — including senior captain Blake Pietila — received 10-minute misconducts for arguing with referees. Also, a controversial goaltender interference call went against Tech, and Pearson received a bench minor for also jawing at the officials. The goalie interference and bench minor not only negated the Huskies' power play, it gave NMU a one- and later two-man advantage.
Luckily for the Huskies, they killed the penalties to survive.
"It starts with the coach," Pearson said. "The coach has to stay a little bit more calmer than I was.
"I'm an emotional guy. I wear my emotions on my shoulder and sometimes I need to rein it back a bit."
Daniels, meanwhile, said controlling your emotions is a big part of learning how to win, and that comes with experience.
Few in the new-look WCHA have experienced the success Ferris State has recently. In the past five years, FSU is the only school to have won a CCHA or WCHA title, with Bemidji State winning the four-team College Hockey America regular season titles in 2009-10 and 2008-09 before the league folded. The highest the Beavers have finished in the WCHA is ninth (2011-12).
Tech's best finish in the last five years is eighth (2011-12), which is also the highest Alaska-Anchorage has reached (2010-11). Minnesota State finished in a three-way tie for fourth last year.
In the CCHA, Northern Michigan took fourth in 2009-10, Alaska was fifth that same year, Lake Superior was seventh in 2011-12 and Bowling Green was ninth a year ago.
"When you first start winning, it almost comes as a surprise at times," Daniels said. "You question whether you deserve to win. Once you experience it, you don't question yourself quite as much.
"If some calls go against you, you don't hit the panic button. If you fall behind a goal or two, you don't hit the panic button. If you lose one or two in a row, you don't hit the panic button. It seems to almost self correct."
Around the WCHA
• The only thing settled in the WCHA standings at this point is Ferris and Minnesota State will finish either first or second and Alabama-Huntsville will finish last. Michigan Tech has clinched a playoff spot and can finish no lower than eighth. The league released a potential first-round playoff schedule for every team except UAH. Every team except Alaska would host Friday-Sunday (if necessary). A series in Fairbanks would run Thursday-Saturday. Start times are all 7:07 p.m. local time with the exception of a Friday game at Lake Superior (7:37 p.m.) and Sunday games at Anchorage (5:07 p.m.), Bemidji State (5:07 p.m.) and Ferris State (5:07 p.m.).
• According to the WCHA (via Tim Danehy of collegehockeystats.net), there remain 387,420,489 playoff scenarios in the league despite just two weeks and 18 games remaining. Third-place Michigan Tech and fourth-place Alaska-Anchorage will be doing plenty of scoreboard watching and number crunching this weekend. They are idle and the other eight teams are in action.
• Alaska returns to play after a week off, and the Nanooks are hoping that the bye didn't cool them off, especially with Ferris State coming to Fairbanks. Led by the play of senior Colton Beck, Alaska won six of seven games before the week off, outscoring its opponents 33-14 in that stretch. Beck has 11 points, including four goals in those games. The Nanooks are part of a three-way tie for fifth place with Bowling Green and Lake Superior State.
• Minnesota State moved back into the USCHO.com Division I Men's Poll this week at No. 19. It's the first time the Mavericks have been ranked in the top 20 since before Thanksgiving. They close out their road schedule at Lake Superior State. Minnesota State is 6-12 away from Mankato and 13-1 at home. Asked if he appreciates having a late-season road test, coach Mike Hastings quipped, "I like playing at home."
• Lake Superior State senior goaltender Kevin Kapalka returned from a groin injury last week to lead the Lakers to a pair of tight 2-1 victories at Alabama-Huntsville. He made 20 saves in his first game since Jan. 10 on Friday and 18 saves on Saturday. LSSU coach Jim Roque said two weeks ago he was anxious to get Kapalka back on the ice, not for his team's sake, but for Kapalka's. Roque said he felt Kapalka had a chance to sign an AHL contract at the end of the season if he could get back on the ice for scouts to have a look. In 17 games, the 6-foot-1, 206-pound Kapalka is 9-5-1 with a 2.39 GAA and a .931 save percentage.
• After a week at home, Alabama-Huntsville heads north again, this time to take on Bemidji State. The Chargers have played more games against the Beavers than any other team in their history. The rivalry goes back to their Division II days as well as their time together in College Hockey America. Bemidji State leads the all-time series 40-28-4. The Beavers, meanwhile, are trying to stay on the right side of the league's playoff line. They are in eighth place with a one-point lead on Northern Michigan.
• WCHA players of the week: Ferris State senior forward Cory Kane (offensive), Lake Superior State senior goaltender Kevin Kapalka (defensive) and Michigan Tech freshman forward Reid Sturos (rookie).