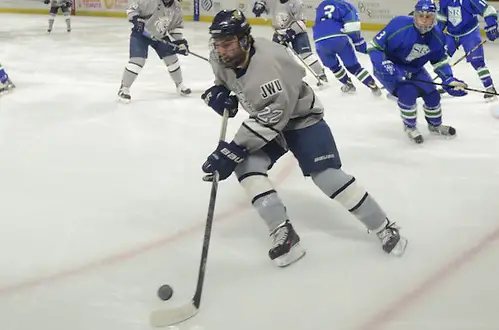 The ECAC Northeast doled out its year-end awards Thursday and four different schools were represented in the major awards.
Johnson and Wales sophomore forward Josh Obregon was named player of the year, while Curry junior Derek Mohney took home goaltender of the year laurels, Suffolk's Simon Leahy earned rookie of the year and R.J. Tolan from Wentworth was tabbed coach of the year.
Obregon leads all conference in overall scoring with 17 goals and 15 assists for 32 points in 26 games and is second on conference scoring behind Sean Fleming of Nichols.
Mohney is second in overall goaltending with a 2.05 goals-against average and a .935 save percentage with only Johnson and Wales netminder Joey Ballmer better in those categories.
With nine goals and 19 points, Leahy is atop the Suffolk scoring race with senior Charlie McGinnis.
Wentworth went 11-12-2 overall in 2013-14, but 9-5-0 in conference games under the tutelage of Tolan.
In addition, the ECAC Northeast named its First and Second All-Conference Teams, All-Conference Honorable Mentions and its All-Rookie Team.
2013-14 First Team All-Conference
| Player's Name | Position | Class | School |
| --- | --- | --- | --- |
| Josh Obregon | F | So. | Johnson and Wales |
| Sean Fleming | F | So. | Nichols |
| Tyler Beasley | F | So. | Nichols |
| Kyle Shapiro | D | Jr. | Nichols |
| Mike Mazzotta | D | Fr. | Johnson and Wales |
| Derek Mohney | G | Jr. | Curry |
2013-14 Second Team All-Conference
| Player's Name | Position | Class | School |
| --- | --- | --- | --- |
| Charlie McGinnis | F | Sr. | Suffolk |
| Marc Biggs | F | So. | Salve Regina |
| Cody Sarmiento | F | So. | Johnson and Wales |
| Beau Burgau | D | Jr. | Wentworth |
| Lawton McCracken | D | Sr. | Wentworth |
| Lucas Sousa | D | So. | Salve Regina |
| Jon Stauffer | D | Sr. | Suffolk |
| Joey Ballmer | G | Fr. | Johnson and Wales |
| Alex Larson | G | So. | Nichols |
2013-14 All-Conference Honorable Mention
| Player's Name | Position | Class | School |
| --- | --- | --- | --- |
| Peter Gintoli | F | So. | Salve Regina |
| John Scorcia | F | Jr. | Salve Regina |
| Brandon Smolarek | G | So. | Suffolk |
| Dave Chiokadze | G | So. | Salve Regina |
2013-14 All-Rookie Team
| Player's Name | Position | School |
| --- | --- | --- |
| Simon Leahy | F | Suffolk |
| Jonathan Felteau | F | Salve Regina |
| Stefan Brucato | F | Johnson and Wales |
| Mike Mazzotta | D | Johnson and Wales |
| Rob Belger | D | Nichols |
| Joey Ballmer | G | Johnson and Wales |