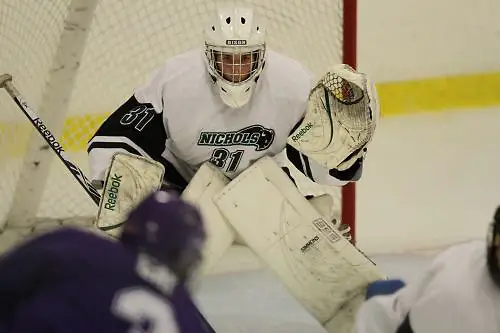 The ECAC Northeast and MASCAC tournament semifinals go down this week, with championship hardware to be decided this weekend.
ECAC Northeast
Wednesday, March 5
Curry at Nichols
Curry is playing very good hockey right now, beating Johnson and Wales in the final game of the regular season and Salve Regina in the ECAC Northeast quarterfinals. The Colonels will have to beat another tough test in Nichols, a team they lost both games to in the regular season. They played the Bison tough losing 2-0 and 2-1. I think this will be another good game. Nichols wills fight off rusty legs early on, but will come away with a 4-3 win.
Johnson and Wales at Wentworth
This should be a battle. Wentworth has played well in the second half of the year and Johnson and Wales has been consistent all season long. The teams split this season with each team winning on their home ice. This will be a back and forth game, but I see Johnson and Wales winning this one 5-4
MASCAC
Tuesday, March 4
Westfield State at Plymouth State
This game should be a wide-open contest. The two teams met in the final regular-season contest of the year with Plymouth State winning 5-2. The Panthers did win the season series, though, outscoring the Owls 17-8 in three games. I think this game will be within two goals with the Panthers pulling off the tough task of beating an opponent four times in a year. Plymouth State 5-3.
Framingham State at Salem State
Three weeks ago, Framingham State came away with the 4-3 victory at home. Framingham State is the only team to beat the Vikings at the Richard H. Rockett Arena this season and that's where this semifinal matchup is being held. Both teams have a win, loss and a draw this season. Someone will have to win this game and I will take the Vikings in a 3-1 game.