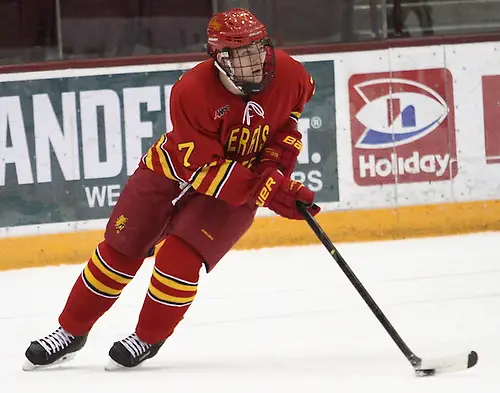 Tuesday Morning Quarterback looks at the big events and big issues in Division I men's hockey.
Jim: The regular season ended last weekend for three leagues — Hockey East, ECAC Hockey and Atlantic Hockey — but for those leagues about to end this weekend, we have two incredible races.
The NCHC settled nothing as North Dakota and St. Cloud State remain tied after a weekend split, with Nebraska-Omaha just three points behind. In the WCHA, Ferris State and Minnesota State have pulled away from the rest but they, too, are tied with 38 points. That should create some great drama to the last night in each of these two leagues.
Todd: Just a week ago, Ferris State was in the driver's seat for the MacNaughton Cup and the No. 1 playoff seed in the WCHA. After losing twice at Alaska last weekend, the Bulldogs can claim a share of the trophy with two home wins over Lake Superior State this weekend, but they'll need help to get the top seed.
Minnesota State now has the top playoff seed in its grasp and can lock it up at home against Michigan Tech. What's really too bad, though, is that the Mavericks and the Bulldogs played only one series against each other this year, although I suspect we might see them face off for the playoff title in Grand Rapids.
Jim: I was a little surprised to see Ferris State swept by Alaska, but it proves that the Nanooks will be a tough out in the WCHA tournament. There have been a number of times this season I've thought Alaska might emerge as a contender but have never been completely sold. Six straight wins and victories in eight of the last nine makes me believe that this Alaska team is really playing well heading into the playoffs.
Out East, there are a number of teams that we think of as pretty strong who are not playing well heading into the postseason. Two in Hockey East are Maine and Northeastern, both of whom controlled their home-ice destiny headed to the final weekend and each took zero points.
For Maine, that actually means the Black Bears will play a single-elimination game this Saturday just to reach the quarterfinals. And Northeastern will be hitting the road.
The same goes for defending national champion Yale, which couldn't earn enough points to avoid a best-of-three first-round series against Harvard in the ECAC. The Bulldogs will really need to catch fire if they will have any chance to defend in Philadelphia.
Todd: The last weekend of the regular season is definitely not when you want to be pulling your starting goaltender, but Maine did so last Saturday when Martin Ouellette gave up three goals on 17 shots in what ended up being a 3-2 loss to Providence that sealed their first-round fate.
Senior Dan Sullivan has played in only three games this season but came on in relief and stopped all 13 shots he faced. Can Ouellette get back to form and get the Black Bears past the first round?
Jim: It's not whether Ouellette can regain his form. He HAS to regain his form if Maine is going to have any hope in the postseason. The Black Bears have plenty of quality players up front but a major reason this team has been successful has been because of the play of Ouellette.
Todd: We're well into that time of the year when goaltending becomes paramount, and in that environment, Union has to like what it's seen from Colin Stevens recently.
The junior had a stretch where he allowed three goals or more in five of eight games, but he has responded with shutouts in two of his last three outings. The Dutchmen didn't allow a goal to either Yale or Brown last weekend, and defense could be their ticket to a deep run in the NCAA tournament.
Jim: Notre Dame's Steven Summerhays is another goaltender who has been lights out of late. When Johnny Gaudreau from Boston College scored BC's only goal in its 2-1 overtime loss on Saturday, he snapped a scoreless streak for Summerhays that spanned 206 minutes, 40 seconds — a school record.
That, however, was 52 seconds fewer than his team's streak over the same span as, little known to most, Summerhays pulled himself for 52 seconds two Saturdays ago on senior night so senior teammate Joe Rogers could get some time in his final home regular season game.
Let's look ahead at this weekend. I'll start in the East, where it is playoff season. Notre Dame and Boston University, both coming off big weekends, will face one another in a single-elimination game in South Bend in the Hockey East playoffs.
In the ECAC, all eyes will be on Yale to see if the Bulldogs can get past rival Harvard to keep their chance at repeating as national champs alive. And in Atlantic Hockey, I think the Rochester Institute of Technology-Holy Cross series has the potential to be the best of the four first-round series.
Todd: In the West, we'll be watching those battles for first place in the NCHC and the WCHA. North Dakota hosts fourth-place Western Michigan while St. Cloud State is at seventh-place Colorado College. The standings say UND, which holds the tiebreaker, has a tougher road to the Penrose Cup but the Huskies have to go on the road.
And don't forget that Nebraska-Omaha is three points back of the leaders in a league where wins are worth three points, so the Mavericks' series at fourth-place Minnesota-Duluth could factor into the title race if both North Dakota and St. Cloud State falter.
There's a good race for first in the WCHA but there's also a race for the last playoff spot. Five teams go into the final weekend in danger of missing the postseason.
And in the Big Ten, Minnesota can seal the regular season championship by keeping pace with Wisconsin. The Gophers play at Ohio State; the Badgers are at Penn State.