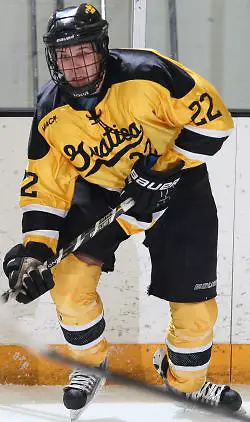 Perhaps the only surprise over the opening weekend of the MIAC tournament is that no surprises unraveled in a league that was once again competitive throughout the year.
St. Thomas and Gustavus Adolphus, the top two seeds in the tourney, survived and advanced and will play for the championship Saturday night at St. Thomas. An automatic bid to the NCAA Division III tournament will be on the line.
The top-seeded Tommies, ranked No. 2 in the nation this week, rallied for a 2-1 win over St. Olaf while the 12th-ranked Gusties punched their ticket to their third consecutive league tourney championship game with a 3-2 win over St. John's.
St. Thomas head coach Jeff Boeser is pleased reached the title game after coming up short of that goal a year ago despite winning a share of the regular-season title.
"The kids are excited because they were able to get the monkey off their back of not getting to this game the last three years" Boeser said. "St. Olaf was a very good team. They played a great hockey game and we were fortunate to find a way to win. We're looking forward to the opportunity to play for a championship."
For Gustavus, it's a common scenario. The Gusties are in the tourney final for the fifth time in the last six seasons overall.
"It's not easy getting here, but we have been consistent in finding a way to do it," Petersen said. "This isn't unfamiliar territory for a lot of these guys. They've been through this before and we know it's going to take a great effort to win it."
The Tommies (20-4-2) trailed 1-0 against the Oiles before Tyler Gubb tied the score at 1-1. Alex Altenbernd broke the tie and Drew Fielding made 21 saves as he won his 19th game of the year.
St. Thomas has scored 80 goals and allowed 37. Fielding has been tremendous in goal, allowing only 35 goals and making 583 saves. He owns a goals-against average of 1.39.
Offensively, the Tommies have been led by Altenbernd, who has scored 11 goals and dished out 14 assists. Nick Nielsen ranks second in points as he has tallied seven goals and 16 assists. Gubb has come through with eight goals and 11 assists.
Alex Niestrom is the only other player on the team with double-digit goals as he has scored 10.
Gubb, Niestrom and Bryce Walker are the only seniors on the roster and Boeser said their leadership has been instrumental to the Tommies' success up to this point.
"We only have three seniors, but all three have been great leaders for us," Boeser said. "It's really shown through for us when it's mattered and we're counting on the experience of those players again this week."
Gustavus (16-6-4) advanced thanks to a game-winning goal by Andy Pearson in the third period.
Blake Schammel and Tyler Lapic scored as well for the Gusties, while John McLean won his first playoff game since 2012. He won his 15th game of the year as he made 20 saves.
The Gusties have scored 77 goals and have given up 57. Corey Leivermann has paved the way with 17 goals and 12 assists and Adam Smyth has tallied 11 goals and eight assists.
Gustav Bengtson has come through with eight goals and eight assists, while Lapic has scored six goals and dished out 10 assists. Pearson has scored five goals on the year, none bigger than the one on Saturday, and has 10 assists to his credit.
McLean has allowed 48 goals and has made 552 saves this season. He owns a goals-against average of 1.96.
Petersen said health has played a vital role in his team's success.
"Last year, we were dealing with injuries right out of the gate," he said. "We've been able to stay away from major injuries this year. It's allowed us to be more consistent as a team."
As for playing St. Thomas, Petersen knows nothing will come easy against the Tommies, who could still make the NCAA tourney even with a loss.
For Gustavus, though, it's win or go home.
"St. Thomas has had a terrific year and they were the best team in the league," Petersen said. "We're looking forward to the challenge. We know goal scoring will be at a premium. Hopefully, we can play our best game and earn a chance to keep playing hockey."
Boeser knows his team will have to be at its best to win a title on Saturday.
"Gustavus is a very good hockey team. They play hard and they are well-coached," Boeser said. "It's going to be a high-energy hockey game and we have to be at our best to win it."