If all WCHA eyes weren't on Fairbanks, Alaska, late Saturday night/early Sunday morning last weekend, they certainly will be this weekend.
It's possible that little will be decided for the WCHA playoffs until Alaska and Alaska-Anchorage wrap up their series — and the league's regular season schedule — this Saturday night.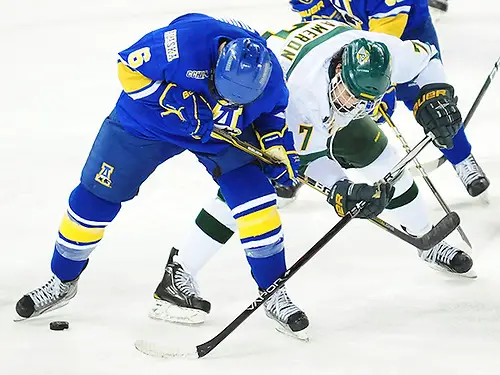 "It's definitely a big weekend," coach Dallas Ferguson said. "There are lots of things at stake."
And not just for Ferguson's Nanooks, one of the hottest teams in the conference, if not the country, who made the WCHA very interesting with last weekend's sweep of Ferris State.
That result locked up a league playoff spot for Alaska — winner of six straight and eight of its last nine — knocked Ferris State into a first-place tie with Minnesota State and kept the middle of the standings a jumble.
The only secure spot is dead last, 10th, where Alabama-Huntsville will finish.
"From a competitive standpoint, a lot of teams — all the teams — are evenly matched," Ferguson said. "There's a fine line between winning and losing every weekend and every night."
And with the bottom two teams eliminated from postseason contention, every series carries weight this weekend.
Two teams are vying for the MacNaughton Cup (Minnesota State and Ferris State) and could end up sharing the trophy by the end of the weekend.
Six teams are battling for two open home-ice positions (Alaska, Michigan Tech, Bowling Green, Alaska-Anchorage, Bemidji State and Lake Superior State).
And of those six teams, four (Bowling Green, Anchorage, Bemidji and Lake Superior) are, along with Northern Michigan, trying to avoid finishing ninth and missing the postseason altogether.
"The one thing I can say about our league the entire year is: It's not easy. It really isn't," said Minnesota State coach Mike Hastings, whose team has won seven games in a row to get its chance at a title. "The depth of our league speaks for itself. … The way I look at it is: It's college hockey."
How the league shakes out this weekend will make for some interesting matchups for the first round of the WCHA tournament. Anyone in the field, Ferguson said, will have a legitimate shot of making the Final Five in Grand Rapids, Mich., and advancing to the national tournament from there.
"There's a lot of parity, and it's at a high level," said Ferguson, whose team was sitting in that unenviable ninth-place position midway through the season. "Some battle-tested teams are going to come out of our league, and they're going to represent our league very well."
We know who will finish first and second (just not the order) and 10th. But for the teams sitting third through ninth and separated by just five points in the standings, it's pretty messy.
Here's how the final weekend breaks down. (Numbers indicate a team's seed if the season ended today.)
Thanks to Geof Morris of the independent UAHhockey.com for fact checking and collaborating on compiling these scenarios. For a more detailed breakdown with more scenarios, visit www.uahhockey.com.
3. Alaska (28 points, 13-11-2)
The Nanooks have already clinched a spot in the WCHA playoffs and can secure a top-four finish by winning on either Friday or Saturday at home in Fairbanks against Alaska-Anchorage in Games 3 and 4 of the Governor's Cup series.
Alaska has won six straight to make the playoffs and is 7-5 in WCHA play at the Carlson Center this year.
Best-case scenario: The Nanooks sweep UAA to finish third and win the Governor's Cup. They just need to stay even with Michigan Tech to finish third.
Worst-case scenario: The Nanooks are swept by UAA, Bowling Green sweeps Bemidji State, Lake Superior State sweeps Ferris State and Tech gets at least a point at Minnesota State, dropping Alaska to seventh.
4. Michigan Tech (28, 12-10-4)
The Huskies have clinched a spot in the WCHA playoffs and can lock up a first-round, home-ice series by taking three of four points at Minnesota State.
The Huskies have a winning record on the road in WCHA play this year at 6-5-1, but the Mavericks are on a seven-game winning streak are 11-1 in league play this year at the Verizon Wireless Center and, oh yeah, the Mavs are fighting for the MacNaughton Cup and a No. 1 seed in the league playoffs.
Best-case scenario: The Huskies sweep Minnesota State and the Nanooks get only three points, leaving Tech alone in third place. Tech could still stay home by getting swept, but it would need a lot to go its way.
Worst-case scenario: Tech gets swept, Lake Superior State sweeps Ferris, Bowling Green sweeps Bemidji State and Alaska-Anchorage takes three of four points from the Nanooks, dropping the Huskies to seventh.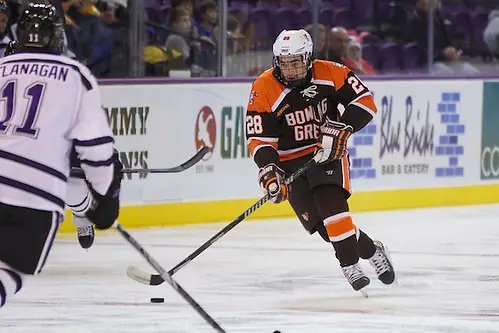 5. Bowling Green (26, 11-11-4)
The Falcons clinch a playoff spot by taking two or more points at home against Bemidji State.
Bowling Green and Bemidji State are separated by just two points heading into their only regular season meeting, with the Falcons holding a 6-5-1 record at home in WCHA play this year.
Best-case scenario: The Falcons sweep and then either Tech or Alaska comes up with one point or no points this weekend.
Worst-case scenario: They lose twice to Bemidji while Northern Michigan and Lake Superior State sweep. Then they'd need the Nanooks to sweep Alaska-Anchorage or they'd be out of the playoffs.
6. Alaska-Anchorage (26, 11-11-4)
The Seawolves need just two points to secure a playoff spot. While they split with the rival Nanooks in Anchorage earlier this year in a pair of one-goal games, the Seawolves are 2-8-2 in WCHA play away from home.
Best-case scenario: UAA gets home ice by sweeping Alaska while Bowling Green does anything but sweep Bemidji State. That plus a one-point weekend for Tech vaults the Seawolves to third.
Worst-case scenario: The Seawolves get swept to lose the Governor's Cup, Northern Michigan sweeps, Lake Superior State takes three-plus points and Bemidji State takes exactly three points. Then Alaska-Anchorage misses the playoffs.
7. Bemidji State (24, 10-12-4)
The Beavers, who are 5-5-2 on the road in the WCHA this year going into their series at Bowling Green, need a sweep to guarantee a playoff spot due to faring poorly in a number of tiebreaker scenarios.
Best-case scenario: Bemidji State sweeps the Falcons, the Nanooks sweep the Seawolves and Minnesota State sweeps Tech. Then the Beavers are No. 4 and at home.
Worst-case scenario: The Beavers get swept and finish tied for seventh with Lake Superior State and Northern Michigan because the Lakers got swept and the Wildcats managed only one point at Alabama-Huntsville. Northern Michigan and Lake Superior State win the tiebreaker and the Beavers get to spend the offseason knowing anything but a loss to the rival Chargers last Friday gets them in the playoffs.
8. Lake Superior State (24, 12-14-0)
Lake Superior State only needs three or more points to clinch a playoff spot, but it'll have to get those points at Ferris State, where the Bulldogs are 11-0-1 against WCHA foes in Big Rapids.
To the Lakers' credit, they are 7-4 on the road but were swept in Sault Ste. Marie by Ferris State on Dec. 6-7, losing both games by a pair of goals.
Best-case scenario: The Lakers sweep Ferris, Minnesota State sweeps Tech and a third team — Alaska, Alaska-Anchorage or Bowling Green — finishes with 28 points. The Lakers get home ice via their 14 conference wins.
Worst-case scenario: Lake Superior State could muster a split, but if Northern Michigan sweeps Huntsville, Bowling Green and Bemidji split and Alaska-Anchorage takes a point in Fairbanks, the Lakers are done. Two losses dooms the Lakers for sure, because all Northern Michigan needs is two points.
9. Northern Michigan (23, 11-14-1)
The Wildcats cannot host a WCHA playoff series but can clinch a playoff spot with a sweep at Alabama-Huntsville.
The Chargers, who lost 3-0 and 4-0 in Marquette in November, are 0-13-1 this year at home in WCHA play while NMU is 4-8 on the road against conference foes.
Best-case scenario: The Wildcats can climb as high as fifth if Lake Superior State wins two points or less, Alaska-Anchorage gets one or no points and Bemidji State takes three of four at Bowling Green. Conference wins gives Northern Michigan the edge over Alaska-Anchorage, Bowling Green and Bemidji State, but not Lake Superior State.
Worst-case scenario: Northern not only hands Alabama-Huntsville its first home win, but second. There's nothing that can help the Wildcats then. They could get in with a tie if Bemidji State is swept.
Players of the week
This week's WCHA players of the week are Alaska forward Colton Beck (offensive), Minnesota State goalie Cole Huggins (defensive) and Alabama-Huntsville goaltender Matt Larose (rookie).