Playing in the first round of the playoffs and then potentially heading to the road for a quarterfinal series might not be the easiest way for Yale to attempt to become the first team since Denver in 2004-05 to win back-to-back national titles.
Then again, there was nothing conventional about the Bulldogs' first national championship last year. Yale endured a five-game losing streak late in the season after the loss of starting goalie Jeff Malcolm. The Bulldogs then won five games in a row once Malcolm came back, but were shut out twice at the ECAC Hockey championship in Atlantic City.
Yale didn't lose again after that, beating three No. 1 seeds in the NCAA tournament and becoming the lowest overall seed (15th) to win a national title.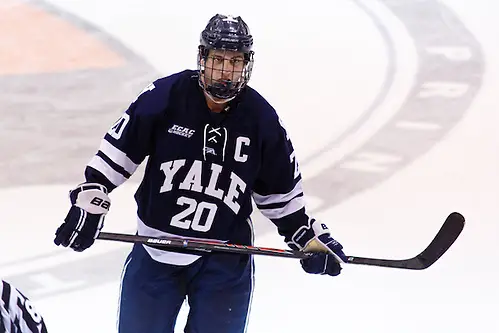 This year's team tied Clarkson for fifth but lost the tiebreaker and is the No. 6 seed. The Bulldogs will host No. 11 Harvard this weekend and play in the opening round of the ECAC playoffs for only the second time in the last six seasons.
A week off in the postseason doesn't always guarantee success, as last year's Rensselaer team can attest. The Engineers used a red-hot second half to jump into second place, only to have their season ended by Brown in the quarterfinals.
ECAC Hockey playoffs
See the tournament bracket and get links to schedules and stories at ECAC Hockey Playoff Central.
"We had a long road last year, too," Bulldogs senior captain Jesse Root said. "It's not easy whether you have a bye or don't have a bye."
Yale has plenty of underclassmen at forward, while freshman Alex Lyon has started every game in net during the second half.
"It's great to get a bye and rest your legs, but especially with this team and so many young guys, I think it's great that we're getting right into it," forward Kenny Agostino said. "Sometimes too much time off can be bad. Not to say that you look at the first round as something you can smoothly bypass, but with the amount of young guys and the roles they have in our lineup I think it's great to just dive right into it."
Yale enters the postseason following a 5-0 win over RPI on senior night at Ingalls Rink. That win came after the Bulldogs were blanked 2-0 Friday, thanks to 49 saves from Union's Colin Stevens.
Most of Yale's shots against Union came from the perimeter. But the Bulldogs improved their net-front presence Saturday and it paid off.
"If we can play like that and put it together through the postseason, we'll be satisfied with the results," Root said.
Yale hosts Harvard after losing to the Crimson in the 2012 quarterfinals. The Bulldogs are 4-0-1 against Harvard since then, including a 2-0-1 mark this season. Should Yale advance past Harvard, it'll likely face third-seeded Quinnipiac in a rematch of last year's national title game.
One area that may be stronger for the Bulldogs is defense. Five of Yale's regular defensemen played in the national title game last April, while the sixth, Matt Killian, was in the lineup as a forward.
"[Saturday] might have the best game we've hard in terms of overall team defense," said Gus Young, the Bulldogs' lone senior defender. "It's obviously going in the right direction heading into the playoffs."
Stay up-to-date on the playoffs with the ECAC blog
Rensselaer moving on
There's only so much preseason polls are worth, but expectations were fairly high for Rensselaer entering this season. The Engineers were picked first in the media poll and second in the coaches' poll.
RPI scuffled a bit in the middle of the season but has been playing better lately and secured home ice for the opening round of the playoffs with a win at Brown last Friday.
"We've been inching forward toward being a better hockey team the last six weeks," Engineers coach Seth Appert said. "We struggled in December and January, but the last six weeks we've been pretty good."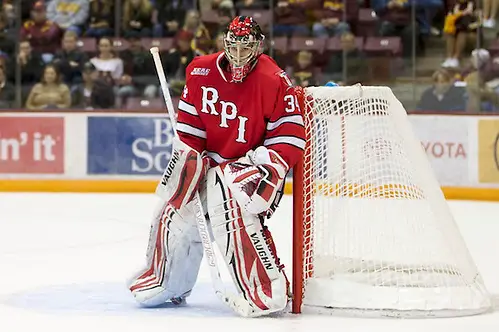 Junior Scott Diebold has started every game in net since Jason Kasdorf went down with an injury early in the season. Diebold has been solid for the most part, while Ryan Haggerty won the league scoring title with 14 goals in ECAC play.
Brock Higgs and Matt Neal have been steady as well, but RPI could use more consistent scoring through the lineup entering the postseason.
The Engineers host 10th-seeded Dartmouth, a team that's struggled most of the season but has played better down the stretch.
"What's done is done," Appert said. "Now we have to ready ourselves for this week with good practices and good measured rest to make sure we have the mental and physical energy necessary to win a playoff series."
Around the league
• It was a good weekend for current and former Cornell goalies. Big Red senior Andy Iles set the program's all-time saves record in a 1-0 loss to Dartmouth on Friday. The player he surpassed, Ben Scrivens, signed a two-year deal with Edmonton. The Oilers are Scrivens' third NHL team; he was previously with Toronto and Los Angeles after graduating from Cornell in 2010.
• Quinnipiac's Matthew Peca set the program's Division I game scoring record Friday night against St. Lawrence, finishing with two goals and four assists against the Saints. The junior added an assist Saturday at Clarkson.
• After scuffling much of the year, Dartmouth ended the regular season on a 5-2-1 run, thanks in part to goalie Charles Grant. The Big Green sophomore checked in at No. 4 on the NCAA's top plays of the week for his save against Cornell on Friday. He finished with 36 saves to help Dartmouth post its first shutout in Ithaca since Jan. 23, 1960.
• Brown lost out on a chance to host a playoff series for the second year in a row after getting swept last weekend. The Bears were shut out in both games and are on a 2-7 skid entering the postseason.
• ECAC Hockey announced that America One will stream all of the league's playoff games. More information is available here.
Looking back
I'm always hesitant filling out preseason polls, and here's why. This is how I had the ECAC teams ranked before the start of the season. Each school's actual finish is in parentheses. Feel free to send any mocking emails to [email protected]. The full preseason polls can be found here.
1. Rensselaer (7)
2. Yale (6)
3. Dartmouth (10)
4. Union (1)
5. Cornell (4)
6. Quinnipiac (3)
7. Brown (9)
8. St. Lawrence (8)
9. Colgate (2)
10. Princeton (12)
11. Harvard (11)
12. Clarkson (5)