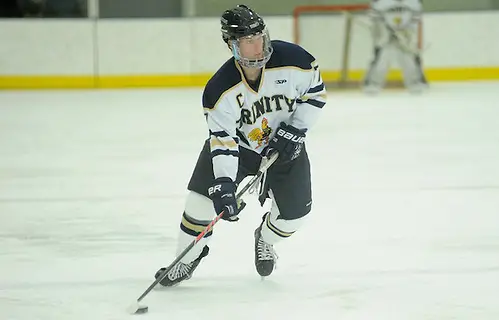 The NESCAC quarterfinals went mostly to form as the top three seeds moved on to this week's conference championship final rounds hosted by Trinity.
Trinity, the top offensive team in the conference, will be equally challenged by the top defensive teams in Amherst and Williams and no one should dare underestimate the balance and overall game Bowdoin brings to the Hartford, Conn., area this weekend.
Here is a preview of the semifinals scheduled for Saturday with the winners moving on to Sunday's championship final and a chance to represent the NESCAC in the NCAA tournament.
No. 5 Bowdoin @ No. 1 Trinity
Can anyone stop the offensive juggernaut that Trinity has unleashed this season? Bowdoin hopes it has some answers and certainly played Trinity tough in their last regular-season game, which ended in an overtime win for the Bantams.
"All of the teams are here for a reason," stated Trinity coach Matt Greason. "We are not taking anyone lightly and know how dangerous Bowdoin really is with [Colin] Downey, [John] McGinnis, [Harry] Matheson and [Kyle] Lockwood. They played us really tough in our last game and we had to fight hard to come back from a 4-2 deficit. We certainly don't want to dig a hole like that against them on Saturday afternoon, so we will need to be ready to play and take advantage of the home-ice advantage we worked so hard all season to get."
While the record-setting guys up front get a lot of attention for the Bantams, their coach knows just how much their captain means to their overall success this season and expects Michael Flynn to be a standout this weekend when the games matter most.
"[Flynn] is the glue that holds this team together," said Greason. "He is our captain as a junior and brings such a level of professionalism in his approach to the game and leading our team. He has had a huge impact on our young guys on the blue line and is just so important to us always being focused and ready to play. The other guys with their numbers may get more attention, but they all know what Michael brings on the ice, in the locker room and around campus."
The Polar Bears will be looking to keep their road magic going this weekend in Connecticut after using a three-goal outburst in the second period last weekend at Middlebury to blow open a tie game on the way to a convincing 6-3 win. Downey scored his 20th and 21st goals of the season for Bowdoin against the Panthers and the defending champions from last season will be a game opponent for the top-seeded Bantams.
No. 3 Williams vs. No. 2 Amherst
"Some people may just want to look back at the score from just a week or two ago and that would be a mistake," Amherst coach Jack Arena said. "These two teams are very much alike and very close in style and level of play. We both like to play things very close and have played in a lot of close one-goal type games all season. It is funny how things work out with the seeding and it won't matter that we are playing at a neutral location. You hope the crowd is a factor, but we are playing our biggest rival, so both teams will be up for this and the outcome will probably be decided by just one play that someone makes, or doesn't make, on Saturday."
During the last weekend of the regular season and specifically, the last game of the regular season, Amherst defeated Williams on the road by a score of 4-1 to maintain the second seed. It was a win that following last weekend's quarterfinals, makes Amherst the home team and enables last change options for Arena and his staff.
Earlier in the season, Williams took a 1-0 win at Amherst, so the rubber match and deciding game in the series is a high-stakes affair with the winner advancing to the conference championship on Sunday afternoon.
"Only our seniors and juniors have been in this final four weekend before," said Arena. "They probably have more guys with experience playing on this weekend than we do and certainly both teams are comfortable in playing close games, so I don't expect any nerves to be a factor in determining the outcome. We feel like we are bringing our best to the ice this weekend and will need contributions from everyone. Dave [Cunningham] has been terrific for us down the stretch and you need that kind of goaltending if you are going to go very far in any kind of playoffs."
Williams can boast of some solid goaltending as well with junior Sean Dougherty having played 24 of 26 games for the Ephs, who are looking to claim their first NESCAC title despite several consecutive trips to the final four weekend. Last weekend saw an offensive eruption for Williams in its 7-3 win over visiting Colby. The seven goals represent a high-water mark for the season and surpassed their six goals for in a game on Feb. 1 against Tufts at home.
Despite last week's scoring barrage, expect this game to be very tight and executed like a high-speed chess match. This is likely to be a one-goal game since both teams are so comfortable in those types of games and the goaltending will present challenges for either team scoring.
It's a great rivalry game with a great reward for the winner.
You will have to wait for Friday's game picks to know who I envision playing in the final on Sunday and I will preview that game as part of the weekend picks. There is a lot riding on every shift and that little extra effort, clear or blocked shot can be the difference in playing more important March hockey.