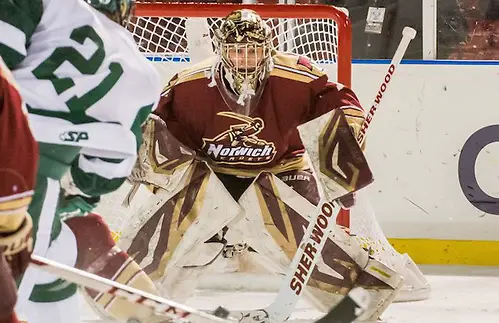 Naturally following the Oscars© weekend, the theme for the ECAC East championship preview seemed obvious as the third in the trilogy of the games between these two rivals bears great expectations for terrific hockey with, like the awards ceremony on Sunday, much riding on the outcome in terms of hardware and participation in the NCAA tournament.
The first two games, including a date at Frozen Fenway, finished in thrilling 1-0 scores in the favor of the Cadets. The games had the atmosphere and level of play one would normally associate with playoff hockey, so Saturday evening's game should be a very familiar environment for both teams that know and respect their opponents on the other bench.
While the goalie of the year and player of the year in the ECAC East (Babson's Jamie Murray) wears the green and white of Babson, the guy in the Norwich net may bear as much inspection as a key factor in the outcome on Saturday.
Senior Chris Czarnota has a streak of 180 scoreless minutes against Babson dating back to last season's quarterfinal round in the NCAA tournament. Czarnota has posted three straight shutouts against Babson and taken the head-to-head match-up with Murray by the slimmest of margins in both regular-season contests this season. While Czarnota totaled 31 saves in the pair of wins over Babson, Murray was clearly the busier of the two goaltenders having faced a total of 79 shots and stopping all but two in the two games.
No doubt both netminders will be called upon to give their team a chance to win and there is no reason to expect that this game will be low-scoring like the previous two games.
With Mike Driscoll, Nik Tasiopolous and Andrew Bonazza leading the Beavers offensively with 33 of the team's 81 goals, the Babson attack is very balanced with 20 rostered players having contributed scoring this season. Ironically, that balanced attack is going to need to produce goals against a team they have yet to break through upon this season. That is a challenge the team is likely to be facing largely in even-strength hockey as the two previous games produced a total of just 14 penalty minutes and the Beavers were collectively 0-for-4 with the man-advantage during the regular season.
"It's not lost on us that we need to figure out how to pop a couple of goals," noted Babson coach Jamie Rice. "They really present a lot of challenges for teams and really are a different type of team this year than in years past. This team is physically tough and can wear you down. They also have skill, so it's not just a function of being physical, but they make it difficult for teams to get any flow. It was tough from the bench to watch them dominating the last time we visited and outshooting us 48-10, so we know we need to bring our best game. We want to be able to practice on Monday and there really is only one way to guarantee we have the opportunity to do that."
For Norwich, the task may be equally daunting in facing Murray and a team defense that has surrendered just 42 goals on the season. While holding a significant shot advantage in the series and particularly in the second game at home (48-10), Norwich scored both game-deciding goals in the third period of play to break scoreless ties.
Travis Janke leads the Cadets offensively and linemate Shane Gorman did pick up the game-winning goal at Frozen Fenway where he has twice been the Norwich player to lead the Cadets to victories over Babson. Senior Chris Duszynski, along with freshmen William Pelletier and Paul Russell, are the only other Cadets with double-digit goals, but none to date have been able to solve Murray or the Babson defense.
"[Jamie] Murray has had a terrific year for them," Norwich coach Mike McShane said. "We have had chances and we are going to need to continue to get shots, get bodies in front and do what we do to create offense. There usually aren't many penalties in these games. There is usually a lot of flow and good back and forth, which is the game we want to play, so hopefully we will get our chances and need to find a way to get some pucks behind him. Travis [Janke] has been playing very well for us over the last few games and [Chris] Duszynski popped one last weekend which was a good sign.
"We have better depth than we have had in a while, so it's good to see guys like Pelletier, Russell and [Dean] Niezgoda contributing. We are going to need everyone playing well."
Finally, there is the home-ice factor, which may be significant in some matchups, but in this case may not mean a lot if one looks at the past four games inclusive of last year's conference final won by Babson in overtime and the NCAA quarterfinal game where the stakes are very high.
During those past four games, the teams are 2-2-0 with Babson winning during the regular season and in the conference tournament last year and the Cadets winning in the NCAA tournament and this year's regular-season game. The Cadets are on a three-game win streak overall and outscored the Beavers by a 6-0 margin. There is great familiarity and respect between the teams and respective coaches and familiarity about the setting of Saturday's game that doesn't necessarily favor the home team.
Check Friday's game picks for my prognostication on the outcome of this game, which also carries dual importance of the auto-bid and unquestioned entry into the national championship hunt.
The rivalry between Babson and Norwich continues to grow and has provided a great showcase not only for the ECAC East conference, but for the excellent level of play at the Division III level overall.
Only one team gets to skate off with the championship and if the regular season is any indication of how close the game will be, then expect another one-goal game and a game that may take overtime to reach an outcome.