With two weekends of regular season Big Ten play left, the views from the top and bottom of the league's standings couldn't be more different — but you might be surprised at how similarly the teams in each of those positions are approaching the final four games of 2013-14.
"This time of the year you want to be playing good defensively," said Minnesota coach Don Lucia. The Golden Gophers enter this weekend as the Big Ten leaders with 38 points, seven ahead of second-place Wisconsin. "We've been able to rest Adam [Wilcox] now so he should be ready to go."
The Gophers spend their last two weeks on the road, first at Ohio State and then against Michigan. In spite of their position in the standings, the Gophers take nothing for granted. Lucia has said repeatedly this season that his team is good but not dominant and that every point the Gophers earn comes through old-fashioned hard work.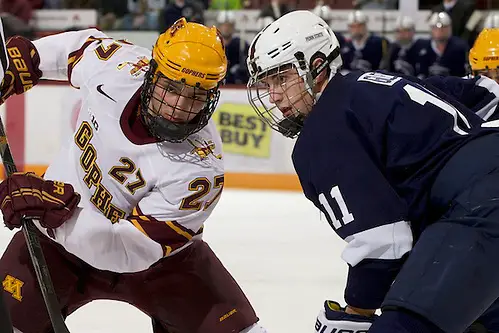 When it comes to these two remaining series, said Lucia, "You'd better pack your goaltender, you'd better pack your defense, and you'd better pack your special teams."
At the other end of the spectrum, last-place Penn State remains home for its final two series, first hosting Wisconsin and then Ohio State.
"We're looking at the same things," said coach Guy Gadowsky. "We're just trying to improve as much as we can and play our game against great opponents."
Gadowsky knows that the Nittany Lions likely will finish the season exactly where they are now, in last place. Penn State trails fifth-place Michigan State by 12 points.
He said, though, that the wins and losses are not the marks by which his young program measures success.
"First we had to learn to play, then we had to learn to play consistently," said Gadowsky. "It's certainly a process of many stages and we have a way to go. I think we're getting a lot more consistent performances."
The Nittany Lions were swept on the road by the Golden Gophers last weekend, 5-1 and 2-1. "Friday they really beat us pretty badly," said Gadowsky, "but out of the past seven games, we played very, very well in at least five of them."
Penn State is 2-4-1 in its last seven, with the two wins coming against Michigan — one home, one on the road — and the tie against Michigan State on Valentine's Day. Like every team in the league, Penn State wants to finish the season strong even with the near certainty of a last-place record.
"Any momentum will help going into the playoffs," said Gadowsky.
Ah, the playoffs — that single weekend in St. Paul that will determine the league's first postseason champion and provide automatic entry into the NCAA tournament. With just six teams in the league and all six making the trip to the Xcel Energy Center — and with lower-half teams showing marked improvement and consistency in recent weeks — the first Big Ten postseason championship trophy really is up for grabs. Lucia knows that.
"There's no question that for some teams they have an avenue into the NCAA to win that weekend," said Lucia, "and it's been done in three games before. Look at last year [in the WCHA]. Wisconsin did it and they played Colorado College."
At the end of the 2012-13 season, the only way for either Wisconsin or Colorado College to get to the NCAA tournament was with the WCHA's automatic berth.
"They met in that championship game," said Lucia. "Let's face it. There'll be highly motivated teams in St. Paul."
One of the things that may help the Golden Gophers prepare for the championship tournament is the way in which their regular season ends.
"I'm glad we're back on the road.," said Lucia. "I think that the timing's right as much to be away from your own your environment. It prepares you for neutral venues. You don't have the home crowd support and all of a sudden if things go wrong, you can't fall back on that.
"We'll be on small sheets for the rest of the year, and that will be good for us. This week the most important thing is getting used to the small sheet."
The Gophers, who play on an Olympic-sized sheet of ice in Mariucci Arena, practice this week at Ridder Arena, a standard ice sheet and home to Minnesota's women's hockey team.
Lucia said that the Gophers are trying not to get ahead of themselves. "We're going to worry about Ohio State this weekend and fly home and think about Michigan," he said. "I like Ohio State's team."
Lucia pointed out that while the Buckeyes have Ryan Dzingel, who leads the Big Ten in scoring (9-10–19) and is 11th in the country in goals per game, Ohio State is a team that scores by committee — something the Buckeyes have in common with the Golden Gophers.
"We don't have a superstar up front," said Lucia. "We have a lot of balance."
The Buckeyes and Gophers met in mid-January, with Minnesota sweeping, 1-0 and 4-2.
"One thing I took away from that series is that we're very similar," Lucia said.
Minnesota's offense is sixth in the nation, averaging 3.53 goals per game; Ohio State's is ninth (3.33).
In these last two weeks, Lucia said that there's something else that each team has in common, regardless of where they are in the standings.
"You're in conference play and you're playing for points," he said.
And it doesn't matter that the six teams in the Big Ten are finishing the league's inaugural season.
"I think it's like any other year," said Lucia. "Teams are fighting for position. Teams are fighting for a championship.
"The only difference for us is that instead of finishing against Duluth or St. Cloud, we'll finish the year at Ohio State and Michigan."
Somewhere in the middle
In the second-to-last weekend of play, Michigan State plays its most familiar foe. The Spartans and Michigan will meet in a home-and-home series, with the Wolverines hosting Friday night.
Michigan swept Michigan State Jan. 23-24; the first game was a 2-1 contest at Detroit's Joe Louis Arena and the second a 5-2 game in Munn Ice Arena in East Lansing.
After that second game, Michigan State coach Tom Anastos let it be known that he was unhappy with his team's performance, calling the effort "unacceptable." Anastos said this week that the loss was something of an aberration.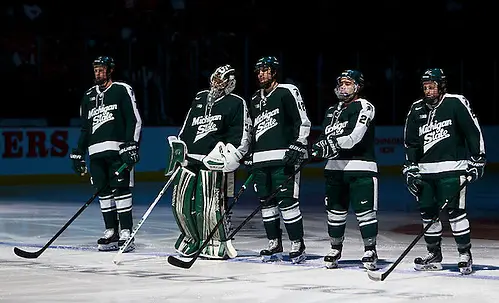 "I don't expect to see it again," he said. "I think we didn't deal with some frustrating circumstances all that well. I didn't like the way we responded to it. We let the game get away and it was a result of our discipline."
Anastos said that the longstanding rivalry between the programs undercuts any of the newness that may be associated with the teams meeting in a new conference.
"I don't think the conference affiliation changes the dynamic any," Anastos said. "Given that you're competing against your rival school and your conference, it's kind of the same."
Like Lucia, though, Anastos is well aware of the kinds of possibilities that the Big Ten playoff tournament brings.
"The big thing that is so different in this conference," said Anastos, "is that the playoff format is significantly different. You want to finish your regular season with as much momentum as you can going into that weekend."
With a conference record of 3-7-6-4, the Spartans are in fifth place, a dozen points ahead of last-place Penn State, three points behind fourth-place Ohio State and eight points behind third-place Michigan. Michigan State has more ties than any other Big Ten team, results in six conference games that certainly make a difference in the standings.
Still, Anastos has a positive take on the ties.
"When you look at it, many of those ties probably would have resulted in losses a year ago," he said. "I like to think it's a small sign of progress. At the same time, I think we could have a number more wins if we could score a little bit."
The Spartans are struggling mightily with the scoring. Averaging 2.10 goals per game, Michigan State is No. 54 offensively in the country.
In their last 10 conference games, the Spartans have scored two or fewer goals, and while Michigan State lost to the U.S. Under-18 Team in an exhibition last Saturday night, the Spartans did net three.
"Goal scoring clearly is an issue," said Anastos, "but in team defense we've been pretty good for the most part. If we can be consistent on that end and have good goaltending, we can compete."
Michigan State has the No. 13 offense nationally, allowing 2.35 goals per game.
"I don't see our work habits wavering in spite of some frustrations," said Anastos.
Michigan State last played Division I games against Wisconsin on Feb. 21 and 22, 5-2 and 2-0 losses.
"We go to Wisconsin [Feb. 22] and we lose a really good game," Anastos said. "We did everything we could except finish against a really good goaltender.
"The good news is that we have a group of kids willing to work really hard. You want to see them have some success with all the energy they're putting in. We're in every game."
Players of the week
Not surprisingly, two from the Golden Gophers and one from the Wolverines.
First star — Minnesota junior forward Travis Boyd:
Boyd had one goal and three assists in Minnesota's sweep of Penn State last weekend. He assisted on the game-winning goal in Friday's 5-1 decision and factored into each goal — scoring one — in Saturday's 2-1 game. Boyd has nine goals in 32 games this season. That's five more than he recorded in the 75 games he played total in his first two years of college hockey.
Second star — Michigan junior forward Alex Guptill:
Guptill — who was a healthy scratch in Michigan's 5-2 win over Penn State on Feb. 22 — had two goals and an assist in Michigan's home-and-home series against Ohio State. Both of Guptill's goals came during Friday's 2-2 tie against the Buckeyes, including the game-tying goal with 5:16 left in the third period. Guptill has 11 goals in 26 games this season, five shy of the 16 he registered in each of his two previous seasons.
Third star — Minnesota sophomore goaltender Adam Wilcox:
Wilcox had a .968 save percentage in Minnesota's 5-1 win over Penn State last Friday, stopping 30 of 31 shots on goal. In his last 19 starts, Wilcox is 13-2-4 and is second in the Big Ten in save percentage (.932) and seventh nationally. He's 21-4-5 overall, four wins short of his win total of 2012-13.
My ballot
1. Boston College
2. Minnesota
3. Union
4. St. Cloud State
5. Ferris State
6. Wisconsin
7. Quinnipiac
8. Massachusetts-Lowell
9. Providence
10. North Dakota
11. Cornell
12. Minnesota State
13. Northeastern
14. Colgate
15. Maine
16. Michigan
17. Yale
18. Minnesota-Duluth
19. Vermont
20. Ohio State
Tweet us
Just a reminder to follow Drew Claussen and me on Twitter.