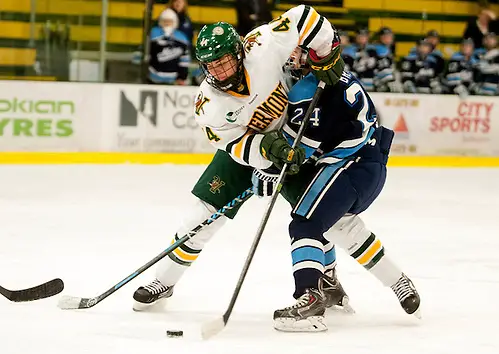 Vermont hosted Maine on Saturday in the Catamounts' first home playoff game. They won, 3-2, their first postseason win, advancing them to their first Hockey East semifinal. The game ended in the third overtime, and at 117 minutes and 12 seconds, it was the longest game in program history.
"Obviously, it's super exciting to do things for the first time," coach Jim Plumer said. "When you don't have a lot on your resume, it's pretty easy to do things for the first time. I think last year, we made a couple strides, and even with the modest success that we had last year, people were giving us more credit for doing [it]. Last year was our first year in the playoffs. This year, obviously our second time in the playoffs, first win, first home game. I think to feel like we've improved as a team and a program and to get the confidence that goes along with that is really the most important thing."
For much of the game, it looked as though Vermont (18-13-4, 13-7-1 Hockey East) would win in far more routine fashion. Freshmen Victoria Andreakos and Rachael Ade scored to give Vermont a 2-0 lead before the game was seven minutes old, and it stayed that way for the next 44 minutes. Then the Black Bears scored twice, and suddenly, the Catamounts had no lead and none of the momentum.
"I think the way that we handled the adversity of losing the lead is exactly an example of the lessons that we learned this year," Plumer said. "We had a stretch of three games in a row where we lost leads late in the third period: Brown, and two Colgate games. So when we started after New Year's, our focus was, 'What are we going to have to be able to learn and be better at in order to have some success in the playoffs?' Mental toughness was probably at the top of the list, and consistency."
Maine outshot the hosts by a two-to-one margin over the third period and first overtime combined.
"We bent pretty far, and we didn't break," Plumer said. "I think there's a lot to be said for the sort of mental toughness that you get out of a situation like that."
In the second overtime, UVM was able to reverse the trend and have the better chances.
"We had a lot of chances in overtime, especially in the second overtime and didn't finish them," Plumer said. "I guess the odds finally go in your favor after you have a certain number of them."
Ultimately, a couple of junior forwards combined to give the Catamounts cause for celebration. Amanda Pelkey carried the puck from the wall to the net front, and when it was jarred loose, it wound up on the stick of Brittany Zuback, and she popped it by Meghann Treacy's blocker and into the top of the net.
"You can't account for those difference-makers," Plumer said. "We can game plan and we can scheme all we want and try to play great defense and try to keep it close and slow other teams down. But at the end of the day, and I've seen it in my two years here, and particularly with [Marie-Philip] Poulin, [Kendall] Coyne, and [Alex] Carpenter last year, you can play a near-perfect game and those kids can make a play that you can only tip your hat to. So it is nice to have a couple of those kids on your side, for sure."
The goal was Zuback's 11th of the year and tied her with Andreakos and Dayna Colang for second on the team. Pelkey is tops with 21 goals and 40 points, both program records, while Zuback's 22 assists also establishes a new season mark.
"I will tell you, besides all the records and all those things, the proudest thing that I am about this team is that we were able to face that adversity and not fold our tents, but respond with resolve," Plumer said. "I think we were really resolved that we weren't going to let this get away from us."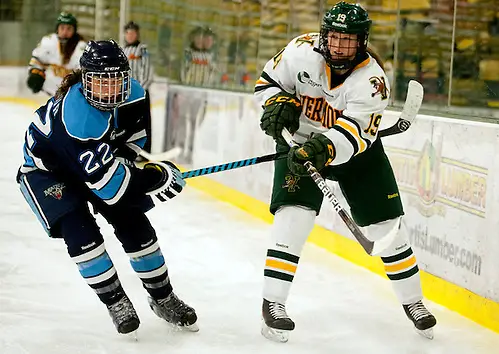 The game didn't get away from the Catamounts, thanks in large part to goaltender Roxanne Douville. The senior won her 14th game of the season, another program best, making 50 saves, including 24 shots in the overtimes that could potentially have ended the historic season and her Vermont career.
"It starts with her; there's no question about that," Plumer said. "I think any team that has a goalie that's playing as well as she is will play with confidence and not feel like every single mistake is going to end up in the back of the net."
Plumer is in his second season at Vermont, and the transition has required some patience.
"The kids on the team had unrealistic expectations that a coaching change was going to turn a switch, and that last year, it was going to be suddenly all roses and we still had a lot of learning to do," he said. "There's no way to get confidence. You can't buy it at a store; you have to do something to earn it. It took us probably mid-January of my second season for us to start to feel that we could start to do some things that would give us confidence."
Vermont and Douville have had success of late, including winning seven straight games and nine times in the last 10 games, because the team is playing better in front of her.
"We've moved people around a lot since I've been here," Plumer said. "Some of it has been us figuring out the best possible combination of players to maximize both our team defense and our offense. Our corps of defensemen that are playing regularly, the five we're playing on a regular basis right now, are doing a much better job at cleaning up our D-zone than we have done at any other time since I've been here. It certainly has to be a commitment for the entire team to play defense more in the D-zone, but it starts with Rox. She's really been focused and on her game."
Nearly 120 minutes is a long time to stay focused.
"I had never played a game that lasted for that long before," Douville said. "The closest I've had was a second overtime that ended at the beginning of the period in a national championship final game. This experience is definitely a first and I will always remember it as one of my top ones, especially since it was a victory for me to be able to stay focused for that long and with that kind of pressure."
The winner of a hockey marathon, unless it occurs in the final game like Minnesota-Duluth and Cornell four years ago, quickly must turn its attention from the celebration to the next game.
"We were all exhausted after the game, both mentally and physically," Douville said. "We had two days off and had a short practice Tuesday to get back at it progressively. I am starting to feel rested and ready to go."
While a third overtime was new territory for Douville and her teammates, it was more familiar for their coach.
"I did have this experience once before in my first NESCAC championship at Amherst," Plumer said. "We won a triple-overtime game against Middlebury, and it took us until like Thursday to be able to be functional, so I think we'll be okay. It was the equivalent of playing our normal two games on the weekend, it was just in one day."
Still, playing six periods in one day is far more taxing than playing three periods on back-to-back days, so it can't be business as usual.
"We gave them [Monday] off, so we went bowling; that was our team activity other than training room and stretch," Plumer said. "Knowing that we're not playing until Saturday again, we'll ease into it."
The Catamounts can only go easy for so long, because awaiting them in the semifinals is top-seed Boston College.
"The margin for error just becomes that much smaller," Plumer said. "When we played them in January, it was actually the first weekend that we felt like we were turning the corner on consistent, good play. Our second game of the weekend against them, we lost, 2-0. We had about six two-on-ones in that game and didn't convert on any of them. You look at a team like that and you can't say, 'We're going to shut them down.' They're going to get chances. So you're going to have to have excellent goaltending, and obviously, we're going to want to minimize the number of chances that they get. But at the other end of the ice, we're going to have to convert on some percentage of the ones that we get. Otherwise, we're just chasing a game that we can't win if we don't score. I feel like our depth is much better, our lineup, since we moved Colang to center. I feel like we can match up pretty well, but we're going to have to play an A-plus game."
BC features the country's third-highest scoring offense, presenting a big challenge for Douville.
"Boston College's skills and speed let them create a lot of good scoring chances," she said. "They are also very good at finding their rebounds and they usually take a lot of shots on goal. It is going to be important for me to control as many rebounds as I can and to always be aware of my surroundings."
Those surroundings aren't always hostile. Although the No. 4 Eagles represent the bully of the conference standings, that doesn't extend to their demeanor on the ice.
"Playing BC is always fun because they play a clean type of hockey," Douville said. "It is a very fast-pace game and there are not a lot of penalties. They are a very respectful team; I have even heard a couple times their players saying, 'Nice save!' to me during the game. They are the only team doing that."
Whether the Eagles will still be as friendly if they find themselves trailing on the scoreboard remains to be seen. They've only trailed Vermont once this season, and that deficit lasted a mere seven seconds.
However, Vermont has come a long way since the teams played in mid-January.
"I think you always want to peak at the end of the season, so we feel like we're playing our best hockey right now," Plumer said. "They're all one-game seasons at this point, right? You win, you get to play another game."
Should the Catamounts do the unthinkable and reach the conference final, they'd face the winner of Northeastern and Boston University, a team Vermont swept in January.
"Northeastern has been a tough matchup for us since I've been here," Plumer said. "They seem to be that team that converts a very high percentage of the chances that they get. With BU, hard to say — either we caught them in their funk or we caused their funk, I don't know. We played fantastic hockey in the two games we played against BU. It's hard to look too far ahead."
Soon, win or lose, it will be time to look back on the season for the Catamounts and back on their careers for the senior class. For the first time, those memories will include getting to be part of the Hockey East Tournament in Hyannis, Mass.
"It means a lot, especially to us, the seniors, to see that we succeeded at helping the program to improve," Douville said. "It feels very special to be part of this and we are going to enjoy every single part of it. I went to the hockey banquet last year to receive an award and it was painful to not have my team with me. We certainly take this weekend as another opportunity to take another step forward for our program and also to enjoy the time we have left with our team."