It's difficult to tell who has the bigger headache at the moment: Josh Fenton or his travel agent.
Heading into the final weekend of the inaugural regular season of the NCHC, three league teams still have a chance of winning the Penrose Cup as regular season champion. The variables that come with that uncertainty meant that, as of early this week, the league's commissioner wasn't sure where he'll be Saturday night.
"We're still figuring that out," Fenton said in a phone interview Monday afternoon. "Right now, we're all going to Minneapolis for the next three days for a site visit and preparation meetings with the Target Center (for the league's playoff finals), and then just based upon scenarios of how situations can work, we know it's going to be difficult to be in two places at once."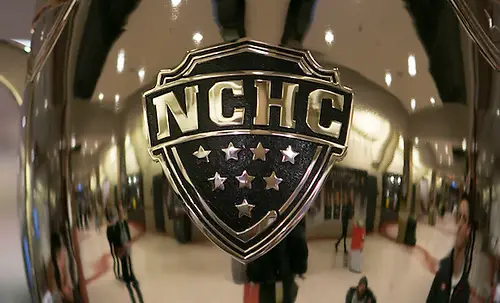 Fenton most likely will find himself Saturday night at one of two places.
One is Ralph Engelstad Arena in Grand Forks, N.D., to hand the Penrose, a giant copper chalice, to North Dakota. UND is tied for first place in the NCHC with 42 points with two games remaining, both at home against fifth-place Western Michigan.
Another scenario might require Fenton to travel hardly at all. St. Cloud State — also at 42 points but behind UND on the league's first tiebreaker (most league wins) — is at Colorado College this weekend at the Colorado Springs World Arena, only about a 10-minute drive from the league's office.
Also still in with a chance of winning the league is third-place Nebraska-Omaha (39 points), which would win the Penrose Cup — the Mavericks' first league regular season championship in program history — if it sweeps Minnesota-Duluth on the road this weekend and sees both St. Cloud State and North Dakota slip up.
Fenton sees it all as a nice problem to have.
"It's not really a nightmare for me," Fenton said. "It's exciting and I'd love to be in all the places, but trying to figure out the travel is probably where the nightmare comes into play.
"The interesting component that goes into this weekend's dynamic is we've got three teams still in the race, and last week we were talking about two teams with a chance to clinch without Nebraska-Omaha if (St. Cloud State or North Dakota) had swept or if CC had climbed into its way of having at least a chance, although I know they'd have to have gotten some help."
There's also, of course, the issue of the conference's multiple time zones.
"But what's interesting with where teams are playing this weekend is Western obviously is at North Dakota, so that's in the Central time zone," Fenton said. "And St. Cloud is at CC, so you can't really award a trophy on Friday in Grand Forks right away because the game won't be over at Colorado College.
"Even if UND would clinch a share of the championship Friday, you couldn't [award the trophy] at the venue because the other game won't be over. There's a lot of things that make this complicated and a bit tricky, but rest assured we've been thinking of all of them and trying to work through the most logical way of approaching it. It's just a bit difficult."
Contingency plans were made before the season started for such an eventuality. The league is under budget for this season thanks to the office staff's selective travel policy, and more than one Penrose Cup was commissioned.
"We do have two Penrose Cups," Fenton said.
"We've had a few people that have been very perceptive and picked up on this, because we've had a trophy tour that's been going on the last four, five, six, seven weeks, and one weekend we had it where the tour was in CC and DU, one night each, and a tour date at the same time where I think it was at Duluth, and so one trophy can't be in two places at once, and that was intentional.
"One will be held by the championship-winning institution and one will be held by the conference office, and if we have a situation where there's a shared championship, we'll utilize both trophies. If we have a situation where we have more than two teams tied [at the end of the regular season], then we'll have to figure out a type of rotational schedule where teams will have the trophy on their campus for a certain amount of time leading up the next season's champion being announced."
Keep an eye out Sunday night on our NCHC Blog for reaction from around the league as the NCHC's first regular season comes to a close.
Tigers' offensive woes continue
After Colorado College came away from last weekend's series at Nebraska-Omaha — a 6-0 drubbing by the Mavericks on Friday before the hosts came away 2-1 overtime winners the following night — Tigers coach Scott Owens considered how this season's CC team stacks up against last year's WCHA playoff finalists.
The biggest problem, Owens said, is his team's issues putting the puck in the net.
"We were the ninth-leading scoring team in the country last year going into the playoffs," Owens said about last season's Tigers, who picked up a surprise WCHA first-round victory at archrival Denver and continued advancing until they lost in the playoff final to Wisconsin. "And we're about the 57th-leading scoring team right now."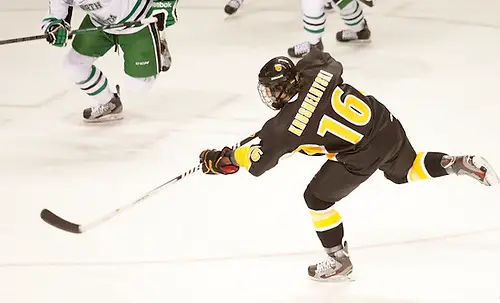 CC is locked into the seventh seed in the inaugural NCHC playoffs by virtue of last-place Miami getting swept at home last weekend by Minnesota-Duluth.
Whom the Tigers will play in the first round this time is still uncertain — only the bottom two positions have been decided — but while CC is only averaging 1.91 goals per game this season, Owens hopes the positive attitude his team has showed lately will help carry them.
"I do like the way the team mentality has come together the last five weeks," Owens said.
"I think they're getting more of a competitive approach, a winning approach, and I like that, except for [Friday] when [UNO] was so good and we were so poor. We just have to keep battling and get back home against St. Cloud next weekend and see where we go."
UNO overcomes senior night butterflies
Every team's final home game of the regular season is earmarked as a day to recognize the team's seniors, but while that's a long-standing tradition, Nebraska-Omaha coach Dean Blais said his team wasn't prepared for its latest one last Saturday against Colorado College.
"It's always tough on senior nights," Blais said. "Players are skating around on the ice and seeing their mom and dad, knowing this could be their last game here, and it's emotional.
"It's kind of a depressing thing. I was more worried [Saturday] about the fire than I was tonight," Blais said, referring also to the dormitory complex fire last Wednesday that displaced the eight freshmen on the team as well as many others who had called that Scott Village building home. "They knew it was going to happen, and they've seen it now for the last four years, so they should be mentally prepared for it, but they weren't, and I don't think we had the same intensity."
One Mavericks senior who came up big Saturday, however, was defenseman Michael Young. His first goal of the season — only his 11th in his nearly four years with UNO — 55 seconds into overtime clinched a weekend sweep for his team and put it on the brink of clinching home ice in the first round of the NCHC playoffs.
"How appropriate; his first goal of the year by a captain who's done nothing but lead," Blais said. "The hockey gods were kind of looking out for us, and there are hockey gods … and tonight, 'Younger,' being a good guy all year and a good leader, he was rewarded for it.
"He's a role player in every sense of the word. He's on the power play, he's on the penalty kill, he's our captain, he says the right things at the right times in the dressing rooms. He's a Canadian that grew up his whole life battling and playing 80 to 100 games a year, so he knows how to win."
Players of the week
Offensive player of the week — Chase Balisy, Western Michigan: The senior forward and Nashville Predators prospect scored four times last weekend against Denver to help the Broncos pick up a split against the Pioneers. Balisy scored the Broncos' first goal of the third period Friday in a 4-2 loss, and he then went on to score all three of Western's goals Saturday in a 3-1 win in Balisy's final regular season home game at Lawson Ice Arena.
Defensive player of the week — Michael Young, Nebraska-Omaha: The senior defenseman likely will be remembered most from UNO's final home series of the regular season for his game-winning goal — his first goal of the season, in fact — 55 seconds into Saturday's overtime period to lift the Mavericks to a 2-1 win over Colorado College. Young, however, ended up with three points on the weekend, including a pair of assists in Friday's 6-0 win over the Tigers.
Rookie of the week — Kyle Osterberg, Minnesota-Duluth: The forward tallied four points last weekend in the Bulldogs' sweep at Miami. Three of those points came in the form of assists, all on consecutive goals in the second period during UMD's 5-4 win in which Duluth came back from being two goals down earlier in the game. He then picked up the only goal in Saturday's game; it was the first game-winning goal of Osterberg's collegiate career.
Goaltender of the week — Ryan Massa, Nebraska-Omaha: The junior was a big reason the Mavericks swept CC last weekend in Omaha. Massa picked up this award for the second time this season after giving up only one goal against the Tigers over their two-game set and picking up his first shutout of the season Friday in a 6-0 romp in which he made 20 saves. He made 26 stops the following night and ended the weekend with a .979 save percentage.