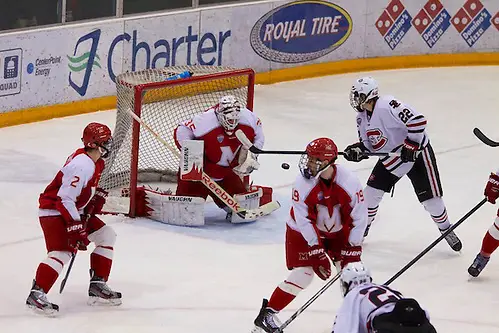 Entering their final regular season series last weekend against Colorado College in Colorado Springs, the St. Cloud State Huskies were tied with North Dakota for first in the NCHC.
On the line was the top seed spot in the conference, but it wasn't in St. Cloud's hands. North Dakota owned the first tiebreaker, having more conference wins.
NCHC playoffs
See the tournament bracket and get links to schedules and stories at NCHC Playoff Central.
On Friday, St. Cloud raced out to
a 7-4 win over CC
, thanks in part to four assists from Kalle Kossila and a hat trick by Jonny Brodzinski. North Dakota, meanwhile,
edged Western Michigan 2-0
.
It came down to the final game. St. Cloud struck twice in the first and twice in the second en route to a 4-1 win over the Tigers. Kossila and Brodzinski both scored. Meanwhile, Western Michigan edged North Dakota 2-1, meaning St. Cloud won the Penrose Cup outright.
However, coach Bob Motzko and his team never thought ahead.
"The biggest thing we were concentrating on is first and foremost our goal is to win series against the teams in your league," said Motzko. "Our whole focus was on Friday night and to get the win on Friday, and that would give us the best chance.
"That's what we talked about: the task at hand, the game in front of us, and to be at the top of our game. We're much more consistent right now, and that's what we were concentrating on, controlling our own destiny night to night and period to period."
After a difficult stretch in January where the Huskies went 3-4-1, they finished strong, going 7-2-1 in February.
Kossila was a big part of that success, recording 17 points in his last 12 games. Motzko said he believes Kossila's success is due to his becoming a more complete player, especially with his defensive play.
"He's out there against every team's top line, and he's done just a terrific job with that," Motzko said. "And then now for a top center, he has to find ways to produce offense, and he's consistently been a part of the offense for us. But we really think the second half, he's had much bigger games and more impact in hockey games from an offensive standpoint.
"The big thing is confidence in his play and confidence in his line obviously with Jonny Brodzinski and Ryan Papa right now. That's the biggest single factor for that group, is the confidence that they have defensively, and that they know offensively they can contribute in critical times."
The Huskies will host Miami in the first round. The two played in mid-February in Oxford and split, with Miami winning 4-3 on Friday and St. Cloud rebounding for a 3-0 win Saturday.
Miami is the only NCHC team to split both of its series with St. Cloud, and Miami won both games on Friday nights, so starting strong will be a big focus for the Huskies.
"We need to make sure our tank is full and our energy level is back up by Friday," said Motzko. "It's obviously very critical going into the playoffs, especially a three-game series, is Game 1. That's where we are putting our emphasis right now, is our energy level for Game 1 and to make sure we are ready to go, because we know that this is going to be one difficult and one hard-fought series against Miami."
If the Huskies are to have success, one area of concentration will be the penalty kill, which ranks 51st nationally. Miami's power play is effective, clicking at a 20.26 percent success rate, good for 14th nationally.
"They've got great talent in [Blake] Coleman, [Austin] Czarnik, [Riley] Barber and a group like that," Motzko said of the Miami power play. "Our penalty kill, we're interested in the goals-against. I know that our percentage is low, but our goals-against is more middle to the top.
"It's a little deceiving when you play as many games and have as many opportunities on the penalty kill to look at percentage, so I think we're trying to be a little better now on the penalty kill. We think that it's gotten stronger the last month and is doing a much better job."
Bulldogs look for continued success
For Minnesota-Duluth, the last month has been about swings.
After a solid run that saw them start the second half 6-1-3, including a tie against Minnesota and two in-conference shootout wins, the Bulldogs went up against St. Cloud State and North Dakota, the top teams in the conference, on consecutive weekends. They came out of that run without any points.
However, the Bulldogs regrouped by sweeping Miami in Oxford and splitting with Nebraska-Omaha last weekend, good enough to get them home ice for the first round of the playoffs, where they will host Western Michigan.
"I thought obviously we had to regroup after the couple of weekends against North Dakota and St. Cloud," said Bulldogs coach Scott Sandelin. "We did that, and obviously a strong weekend in Miami. That was a good rebound for us. Certainly, I thought we played well against North Dakota, not to take anything away. They were playing very well.
"We had to find something, and kind of had a little meeting, went over some things, and our guys regrouped and had a strong weekend. It was a very difficult weekend, real physical, real battle against Miami; they're certainly not an eighth-place team. It was great to come out of there with two wins, and then Friday come out with a win against Omaha."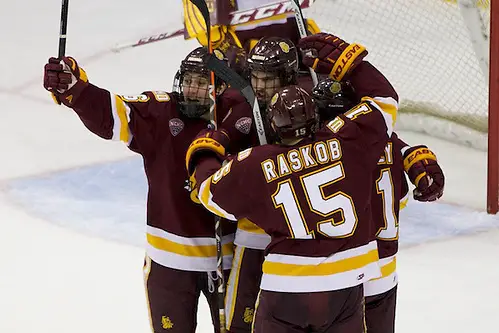 Western Michigan is one of the teams the Bulldogs did well against this season, going 3-1. Sandelin is expecting a tight series, noting that all four games were tight-checking contests.
"They really lean on you. They have some big bodies, and they grind you out and they make it very difficult," said Sandelin. "You don't get a lot of clean opportunities playing against that team, and we've got to be ready for that.
"Hopefully, our guys have some confidence after the way the last couple weekends went. We know it's going to be a series that very well could go three games; we hope it doesn't, and they probably don't, either. I just expect a real tight-checking, kind of grind-it-out series."
One area the Bulldogs will work on this week is the power play, which has a success rate of only 16.46 percent, ranking 41st nationally.
"Certainly, it's something that at this time of year, in the playoffs, we have to find a way to get something out of our power plays, whether it's goals, which is the ultimate goal, or momentum or chances, all those things," said Sandelin. "It's been one of those things where it's been kind of inconsistent."
Western Michigan might take a positive from Minnesota-Duluth's struggles at home. The Bulldogs have gone only 5-8-3 at Amsoil Arena, which Sandelin finds puzzling.
However, he said there are still advantages to being home, despite that statistic.
"I don't have the answers to that actually; if I did, we probably wouldn't have a losing record," Sandelin laughed. "No, it's weird. We've had some good games, we've had some not-so-good games. I think we've been more consistent on the road.
"It's still nice to be home. It's nice to not have to travel. We've been gone every other weekend, so it's nice to be here. We've got to take advantage of that, and hopefully we can do that."
Sale at Target
Tickets are still available for the Frozen Faceoff at the Target Center in Minneapolis.
There will be two games each day of the Friday-Saturday tournament, including a consolation game at 3:38 p.m. CDT on Saturday, March 22, followed by the championship game at 7:38.
Single-day tickets are available for $70 and $35, while a two-day pass is available for either $130 or $60.
In conjunction with the Frozen Faceoff, the NCHC will hold a Fan Fest on both days at Target Plaza, right next to the rink, that will include food, drinks, games, live music and more. The Fan Fest is free.
For more information on tickets, click here.
Watch on the web
The NCHC announced Wednesday that all games from the quarterfinal series would be available on streamed live for free on NCHCHockey.com.
Players of the week
Offensive player of the week — Blake Coleman, Miami: Coleman scored all of Miami's goals in a weekend series against Denver, helping the RedHawks get a split. On Friday, Coleman got the tying goal in the first period and then in the second got Miami to within one on a power-play goal in a 5-2 loss. On Saturday, Coleman put the RedHawks on the board first in the second period, then scored the game-winner on a breakaway at 7:33 of the third in Miami's 2-1 win. Coleman earned a plus-2 on the weekend, and has scored eight of Miami's last 10 goals.
Defensive player of the week — Ian Brady, Nebraska-Omaha: Brady returned from an injury that kept him out for two weeks and helped the Mavericks notch a split with Minnesota-Duluth, getting four assists in the series. His second assist on Saturday set up the game-winning goal in UNO's 4-1 win over the Bulldogs. Brady posted a plus-1 rating on the weekend and helped UNO kill seven of nine power plays.
Rookie of the week — Kyle Osterberg, Minnesota-Duluth: Osterberg earned the award for the second consecutive week after notching four points in the Bulldogs' split with Nebraska-Omaha. In Friday's 8-2 win, he scored UMD's fifth goal and assisted on the second and eighth goals while posting a plus-3 rating. On Saturday, he assisted on the Bulldogs' only goal in a 4-1 loss and posted a plus-1 rating. Osterberg has earned rookie of the week four times this season.
Goaltender of the week — Zane Gothberg, North Dakota: Gothberg allowed only two goals on the weekend in North Dakota's split with Western Michigan, stopping 40 of 42 shots while posting a 1.01 GAA and .952 save percentage. He earned his second collegiate shutout in Friday's 2-0 win, and in Saturday's 2-1 loss, he didn't allow an even-strength goal. He finished the regular season with a 2.26 GAA in NCHC play, leading all conference netminders, and has earned goaltender of the week three times this season.