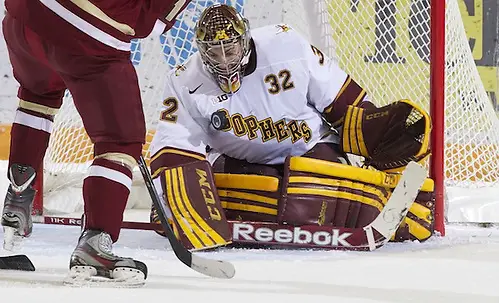 Minnesota sophomore goaltender Adam Wilcox heads up the inaugural Big Ten year-end awards as he was named the conference's player of the year and goaltender of the year on Monday.
Wilcox is 23-4-6 this season with a 1.91 GAA and a .934 save percentage with three shutouts.
Gophers' sophomore defenseman Mike Reilly was selected defensive player of the year and Minnesota's Don Lucia took home coach of the year accolades.
Michigan forward J.T. Compher was a unanimous pick for freshman of the year.
All awards were voted on by Big Ten coaches and a media voting panel.
In addition, the Big Ten announced All-Big Ten First and Second Teams, a team of honorable mention players, the All-Freshman Team and six sportsmanship award honorees.
2014 All-Big Ten First Team
| Player's Name | Position | Class | School |
| --- | --- | --- | --- |
| Ryan Dzingel | F | Jr. | Ohio State |
| Michael Mersch | F | Sr. | Wisconsin |
| Mark Zengerle | F | Sr. | Wisconsin |
| Mike Reilly | D | So. | Minnesota |
| Jake McCabe | D | Jr. | Wisconsin |
| Adam Wilcox | G | So. | Minnesota |
2014 All-Big Ten Second Team
| Player's Name | Position | Class | School |
| --- | --- | --- | --- |
| J.T. Compher | F | Fr. | Michigan |
| Kyle Rau | F | Jr. | Minnesota |
| Nic Kerdiles | F | So. | Wisconsin |
| Mac Bennett | D | Sr. | Michigan |
| Frankie Simonelli | D | Sr. | Wisconsin |
| Joel Rumpel | G | Jr. | Wisconsin |
2014 Big Ten Honorable Mention
| Player's Name | Position | Class | School |
| --- | --- | --- | --- |
| Andrew Copp | F | So. | Michigan |
| Alex Guptill | F | Jr. | Michigan |
| Greg Wolfe | F | Sr. | Michigan State |
| Hudson Fasching | F | Fr. | Minnesota |
| Sam Warning | F | Jr. | Minnesota |
| Jake Chelios | D | Sr. | Michigan State |
| Ben Marshall | D | Jr. | Minnesota |
| Brady Skjei | D | So. | Minnesota |
| Jake Hildebrand | G | So. | Michigan State |
2014 Big Ten All-Freshman Team
| Player's Name | Position | School |
| --- | --- | --- |
| J.T. Compher | F | Michigan |
| Hudson Fasching | F | Minnesota |
| Nick Schilkey | F | Ohio State |
| Michael Downing | D | Michigan |
| Drew Brevig | D | Ohio State |
| Christian Frey | G | Ohio State |
2014 Big Ten Sportsmanship Award Winners
| Player's Name | Position | Class | School |
| --- | --- | --- | --- |
| Luke Moffatt | F | Sr. | Michigan |
| Greg Wolfe | F | Sr. | Michigan State |
| Nate Condon | F | Sr. | Minnesota |
| Tanner Fritz | F | Jr. | Ohio State |
| David Glen | F | So. | Penn State |
| Frankie Simonelli | D | Sr. | Wisconsin |