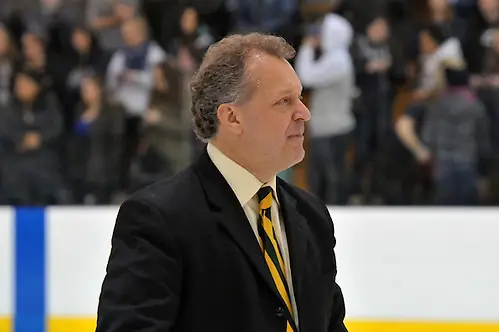 Oswego's Ed Gosek and St. Norbert's Tim Coghlin are previous winners of the Edward Jeremiah Award for Division III national coach of the year and both are nominees again this year.
Gosek last won the award in 2007, with Coghlin winning a year later.
The 2014 nominees include any coach who won or shared conference coach of the year accolades or any coach whose team is in the D-III Frozen Four.
The winner will be announced during the D-III men's banquet in Lewiston, Maine, on Thursday, March 20, and formally presented at the AHCA convention on Saturday, May 3, in Naples, Fla.
Wisconsin-Eau Claire's Matt Loen was the 2013 recipient of the Edward Jeremiah Award.
2014 Edward Jeremiah Award Finalists
| Coach's Name | School | Nomination |
| --- | --- | --- |
| Jeff Boeser | St. Thomas | MIAC coach of the year |
| Chris Brooks | Wisconsin-Stevens Point | NCAA semifinalist |
| T.J. Brown | Framingham State | MASCAC coach of the year |
| Tim Coghlin | St. Norbert | NCAA semifinalist |
| Steve Freeman | Wisconsin-River Falls | WIAC coach of the year |
| Ed Gosek | Oswego | NCAA semifinalist |
| Ken Hutchins | Southern New Hampshire | Northeast-10 coach of the year |
| Ryan McKelvie | Lake Forest | NCHA coach of the year |
| Jamie Rice | Babson | ECAC East coach of the year |
| Aaron Saul | Elmira | ECAC West coach of the year |
| Chris Schultz | Geneseo | SUNYAC coach of the year, NCAA semifinalist |
| R.J. Tolan | Wentworth | ECAC Northeast coach of the year |
| Jim Ward | Connecticut College | NESCAC coach of the year |