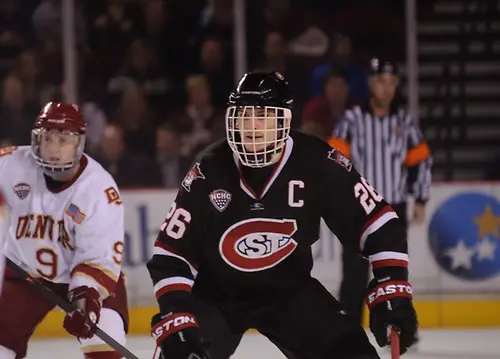 The NCHC handed out its year-end awards Thursday night and Nebraska-Omaha's Josh Archibald, St. Cloud State's Nic Dowd and Denver's Joey LaLeggia each walked away with a pair of awards.
Archibald earned player of the year honors, as well as forward of the year, while Dowd was named defensive forward of the year and scholar-athlete of the year and LaLeggia took home defenseman of the year and offensive defenseman of the year.
Colorado College freshman forward Jaccob Slavin is the NCHC rookie of the year and teammate Eamonn McDermott was selected for the sportsmanship award.
Denver senior Sam Brittain, also a finalist for the Mike Richter Award, was picked goaltender of the year.
St. Cloud State's Bob Motzko was tabbed coach of the year to round out the honors doled out in the first year of NCHC play.