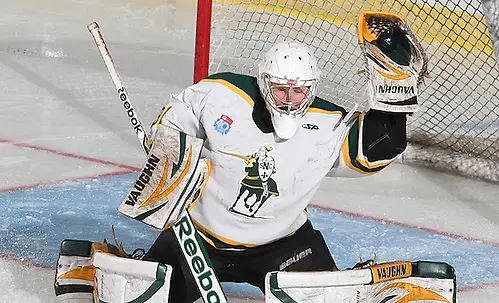 LEWISTON, Maine — The Geneseo-St. Norbert Division III semifinal game turned on one play.
With 6:29 remaining in the second period, Geneseo's Zach Martin was given the gate as he was given a game misconduct penalty for contact to the head. The game was tied 2-2 at that point and St. Norbert's Michael Hill went on to score two even-strength goals before the end of the second period at the 17:29 and 18:53 marks, respectively.
"I didn't get a good look at it," Geneseo coach Chris Schultz said of the hit.
Schultz wouldn't comment further on the play.
"The power play does a lot of different things, you can't just evaluate power plays on goals for," St. Norbert coach Tim Coghlin said. "It's time of possession in the offensive zone, it's second-chance opportunities, it's momentum building opportunity if you can build shift on shift."
Coghlin said they used three groups in that power play so as to not tire their players.
Goaltending also helps and David Jacobson made a key save during that stretch.
"My d-man had the backdoor like he's supposed to take," Jacobson said. "He had all shot and I came out and challenged. He let the kid go around, I see that a lot in practice, guys will try that one. I got tangled up and made it a little worse than it was."
In the third period, the Knights couldn't create any offense to make up the deficit.
"We weren't able to get shots and we were having a difficult time just getting shots to the goaltender and to the net," Schultz said. "They are one of the top two or three positionally-sound teams we've played against. There's never a player out of position. Their bigger mistake was in the first four seconds of the game."